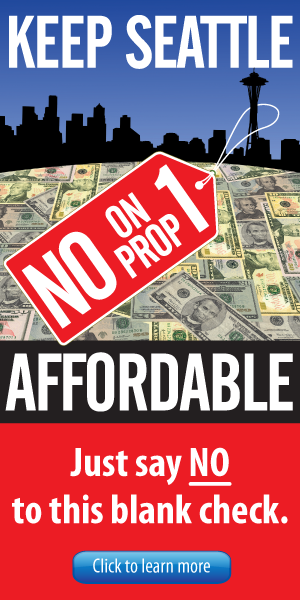 This is rich. I spotted the ad at right this morning.
I laughed out loud when I read it. Specifically the first word there: "keep."
If you're not wealthy, Seattle is already unaffordable by nearly any metric. Rents are soaring, home prices are hitting new all-time highs, and inventory of both rentals and for-sale homes are at all-time lows.
I don't live in Seattle proper, nor do I have any desire to. I have no position on Seattle Proposition No. 1 (a.k.a. "Move Seattle"), but I find the language in this ad to be laughable.
The numbers listed on the KeepSeattleAffordable.com "Facts" page are amusing as well.
Consider this sample tax bill from a home without a view on Queen Anne.

The property's assessed value is $713,000. The total property taxes last year came to $6,833, of which the city's portion was $1,870.

…if voters approve Proposition 1, the burden will jump another $439…
So $37 a month on a $700,000 home. That's the line between "affordable" and "unaffordable." Right.
I'm sure there are good arguments for and against this transportation levy, but "keep Seattle affordable" is not among them.