Get access to the full spreadsheets used to make the charts in this and other posts, as well as a variety of additional insider benefits by becoming a member of Seattle Bubble.
April market stats have been published by the NWMLS yesterday. Here's their press release.
Shrinking inventory putting "stranglehold" on sales

"Frustrating" is how brokers are summarizing the mood of buyers, brokers – and industry professionals – during the current housing market frenzy. New statistics from Northwest Multiple Listing Service show declines in inventory and sales, while prices continue their upward trajectory, but those numbers only tell part of the story.

"The real estate market is going absolutely gangbusters," remarked OB Jacobi, president of Windermere Real Estate. "The remarkably low number of homes for sale can be blamed for the drop in sales," he emphasized, adding, "The uptick in interest rates at the end of last year has clearly done nothing to slow things down."
…
"Without a doubt this is the most frustrating market for both buyers and sellers that we've experienced in 24 years of business," stated George Moorhead, designated broker at Bentley Properties. He said the frustration of low inventory is prompting sellers who haven't been able to find their next home to look into undertaking major remodels instead of moving, thereby putting even more pressure on buyers who are struggling to find a home. Although buyers are being aggressive, Moorhead believes offer prices are starting to plateau. "Educated buyers cannot justify many of the home prices," he reported.
…
The pressure is across county borders and across the price spectrum. "Market mayhem is wreaking havoc for homebuyers," suggested J. Lennox Scott, chairman and CEO of John L. Scott. The inventory shortage is fueling the market and prompting shifts in seller behavior, according to Scott, who described the market as "intense as ever with 80 percent of homes in King County selling within 30 days of being listed."
You can practically hear OB Jacobi and J. Lennox Scott drooling over all those sweet, sweet high commissions. At least George Moorhead seems relatively level-headed, pointing out that prices might be getting a bit out of control.
Here's your King County SFH summary, with the arrows to show whether the year-over-year direction of each indicator is favorable or unfavorable news for buyers and sellers (green = favorable, red = unfavorable):
| April 2017 | Number | MOM | YOY | Buyers | Sellers |
| --- | --- | --- | --- | --- | --- |
| Active Listings | 1,888 | +10.9% | -27.4% | | |
| Closed Sales | 2,032 | -2.3% | -5.6% | | |
| SAAS (?) | 1.32 | +4.1% | -8.7% | | |
| Pending Sales | 2,795 | +2.6% | -7.8% | | |
| Months of Supply | 0.93 | +13.4% | -23.1% | | |
| Median Price* | $625,000 | +4.2% | +15.7% | | |
Pending sales have been down year-over-year for three months in a row, and now closed sales have finally declined year-over-year as well. That said, even with the drop, closed sales in April came out higher than the April level in thirteen of the last twenty-four years. Given the continued extreme shortage of inventory, it's no surprise then that strong demand + very low supply = surging prices.
Here's your closed sales yearly comparison chart: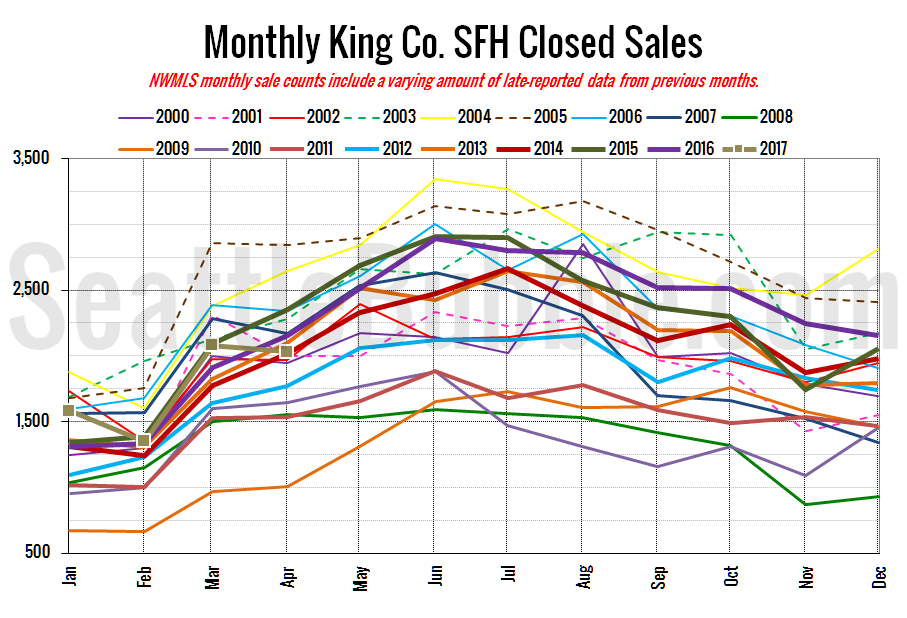 Closed sales fell two percent from March to April. Last year over the same period closed sales rose 13 percent. Year-over-year closed sales fell from up nine percent in March to down two percent in April.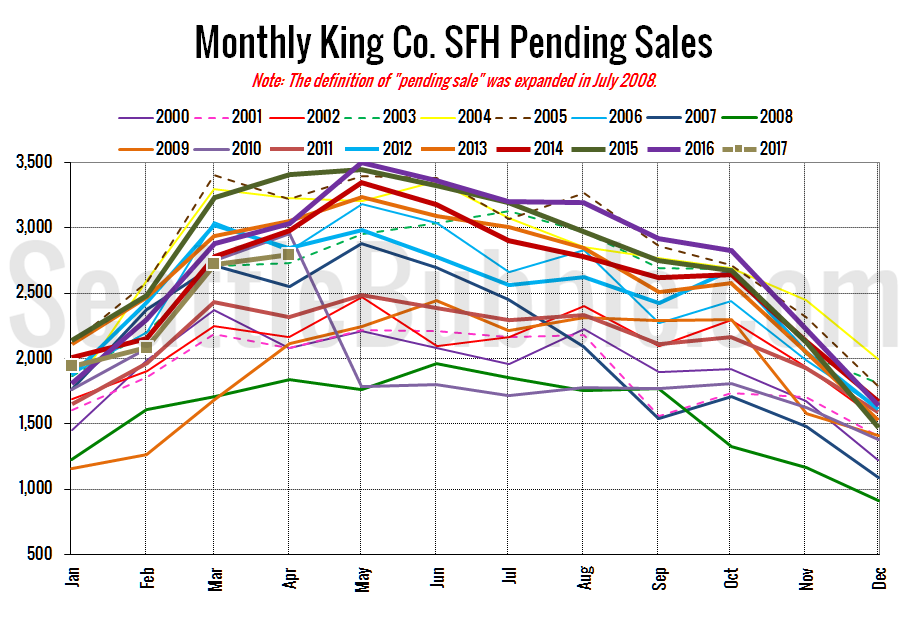 Pending sales rose just three percent from March to April, and were down eight percent year-over-year.
Here's the graph of inventory with each year overlaid on the same chart.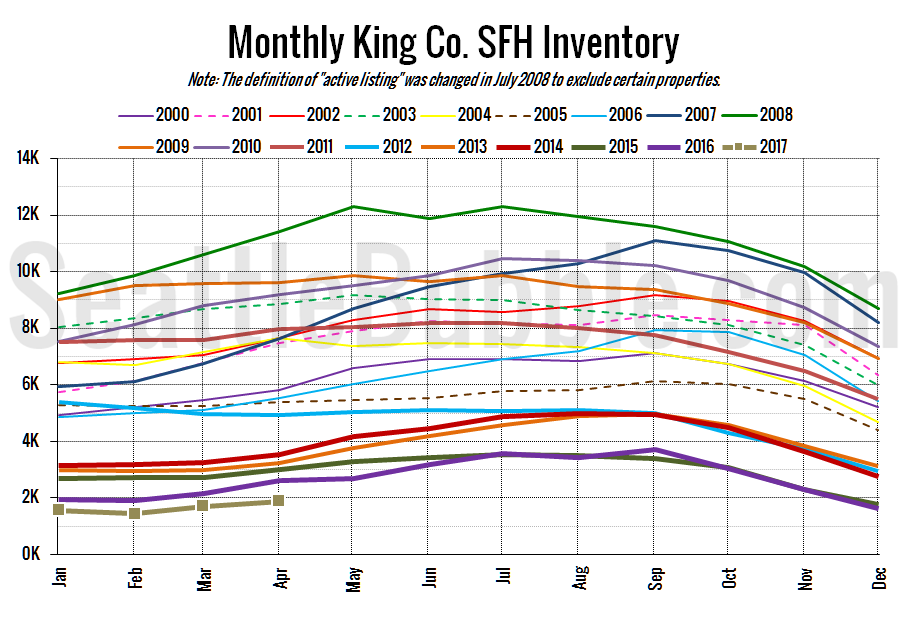 Listings rose 11 percent from March to April, which is about half the size of the 21 percent gain we saw last year. Year-over-year listings were down 27 percent.
Here's the chart of new listings:
New listings were basically flat month-over-month, and down 14 percent from last year. Pending sales and new listings were almost at the same level as each other. In other words, effectively every home that hit the market in April went pending within the month.
Here's the supply/demand YOY graph. "Demand" in this chart is represented by closed sales, which have had a consistent definition throughout the decade (unlike pending sales from NWMLS).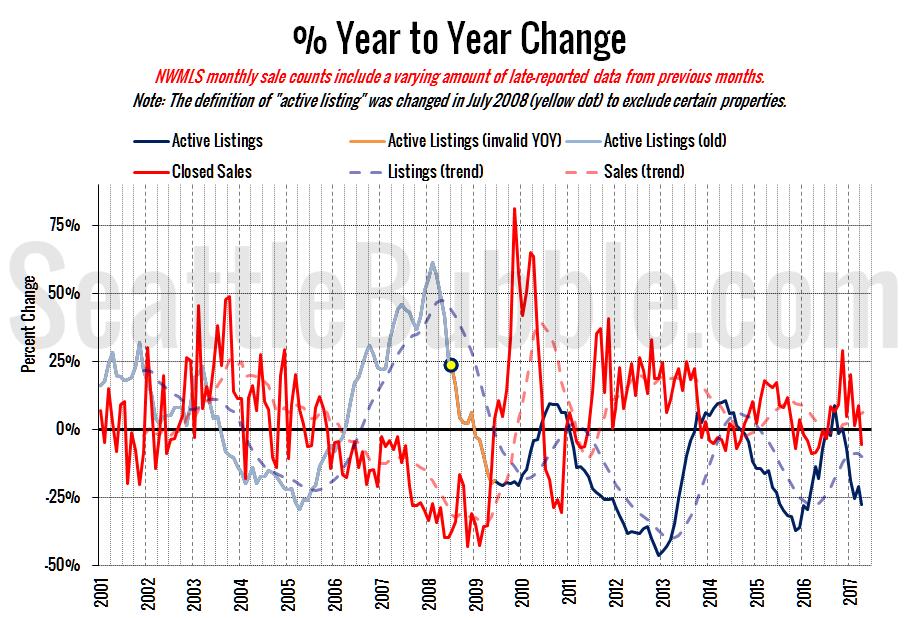 Still a strong seller's market, but it will be interesting to see if the trend in the closed sales line keeps heading down into buyer's market territory.
Here's the median home price YOY change graph: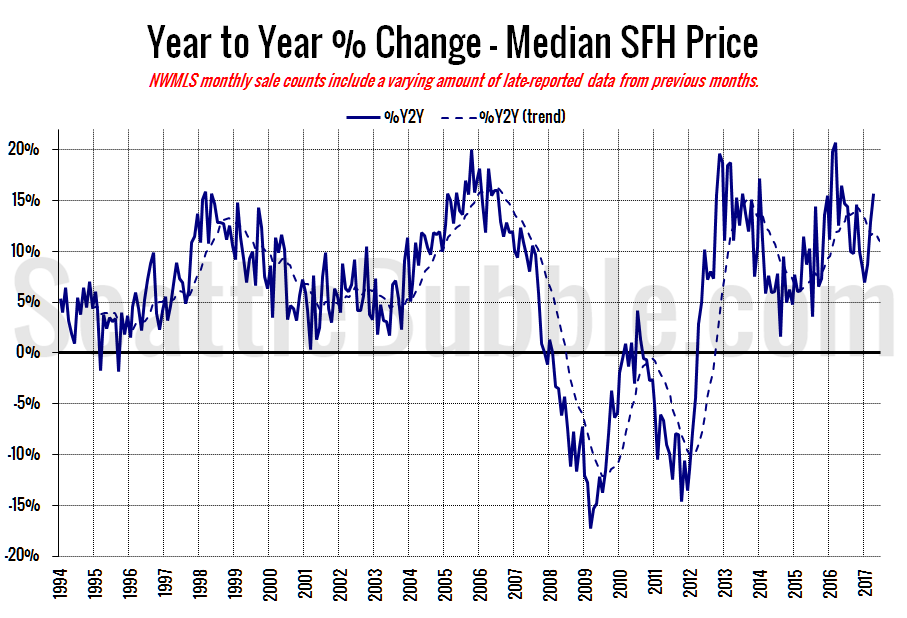 Still in strong double digits.
And lastly, here is the chart comparing King County SFH prices each month for every year back to 1994 (not adjusted for inflation).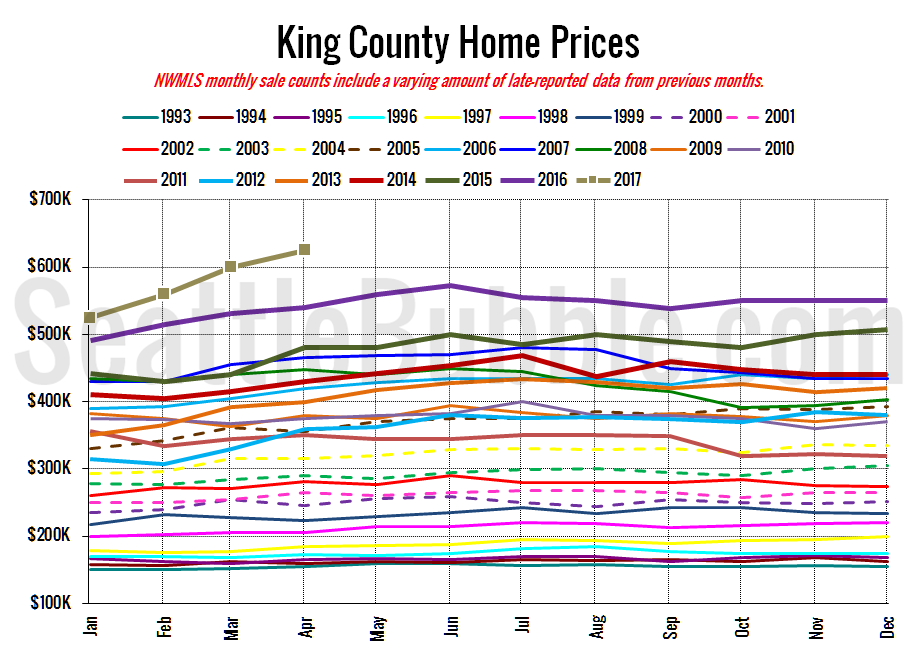 Looks like we're going to hit some pretty wild new highs this year. Sorry, homebuyers.
April 2017: $625,000
July 2007: $481,000 (previous cycle high)
Here's the article from the Seattle Times: More records fall: Median home price hits $722,000 in Seattle and $880,000 on Eastside