Get access to the full spreadsheets used to make the charts in this and other posts, as well as a variety of additional insider benefits by becoming a member of Seattle Bubble.
May market stats have been published by the NWMLS this morning. Here's their press release.
Brokers suggest improving inventory may mean"season of opportunity" for weary house hunters

Would-be buyers who have been shut out of the real estate market should test the "real estate waters" during the summer months suggests one industry leader.

"Summer might provide some competitive relief for weary buyers," said Gary O'Leyar, owner of Berkshire Hathaway HomeServices Signature Properties, pointing to some of the newly-released statistics from Northwest Multiple Listing Service as indicators.
…
Despite murmurs of the possibility of relief for disenchanted house hunters, May was a hotbed of activity. Brokers notched 9,188 pending sales (mutually accepted offers) in the four-county region, the highest ever reported for the region. Overall, members reported 12,607 pending sales, up 2.7 percent from a year ago.

"May was a Grand Slam month for housing activity," exclaimed J. Lennox Scott, chairman and CEO of John L. Scott Real Estate.
A more lengthy quote from J. Lennox Scott was distributed by email:
"May was the best month for sales activity of any month in history in the four-county area of King, Snohomish, Pierce, and Kitsap Counties. As Dave Niehaus, the voice of the Mariner's, used to say: "My, oh my! Get out the rye bread and the mustard Grandma, it's grand salami time". We finally saw new inventory come on the market in May, and although we had a slight delay in the timing, the spring Puget Sound housing market is in full swing and just as intense and frenzy as it has ever been.
Based on J. Lennox Scott's quotes in recent NWMLS releases, Seattle Bubble commissioned this exclusive artist's depiction: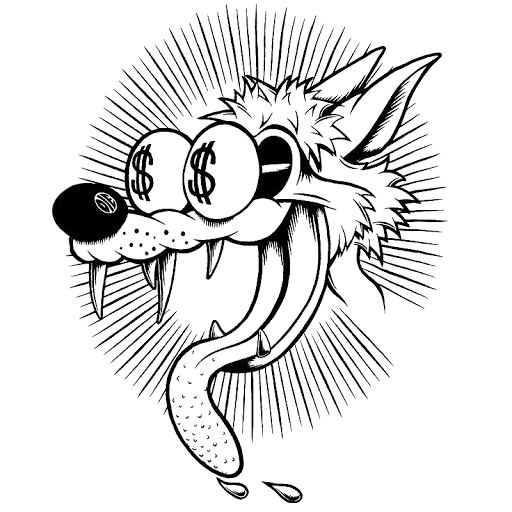 Here's your King County SFH summary, with the arrows to show whether the year-over-year direction of each indicator is favorable or unfavorable news for buyers and sellers (green = favorable, red = unfavorable):
| May 2017 | Number | MOM | YOY | Buyers | Sellers |
| --- | --- | --- | --- | --- | --- |
| Active Listings | 2,149 | +13.8% | -20.3% | | |
| Closed Sales | 2,576 | +26.8% | +2.7% | | |
| SAAS (?) | 1.31 | -0.9% | +2.0% | | |
| Pending Sales | 3,455 | +23.6% | -1.3% | | |
| Months of Supply | 0.83 | -10.2% | -22.4% | | |
| Median Price* | $632,250 | +1.2% | +12.9% | | |
Pending sales have now been down year-over-year for four months in a row, but for three of those four months, closed sales have increased, which is certainly a bit odd. Perhaps this is indicative of a shift from last year toward fewer pending sales falling through. I'll see if I can find anything else interesting in the data about that.
Here's your closed sales yearly comparison chart: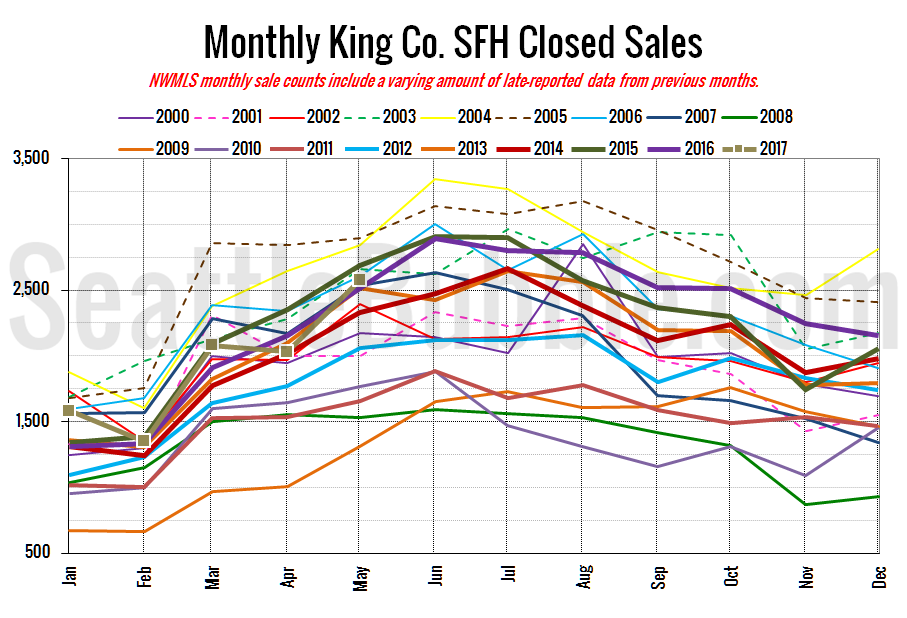 Closed sales increased 27 percent from April to May. Last year over the same period closed sales rose 17 percent. Year-over-year closed sales were up three percent.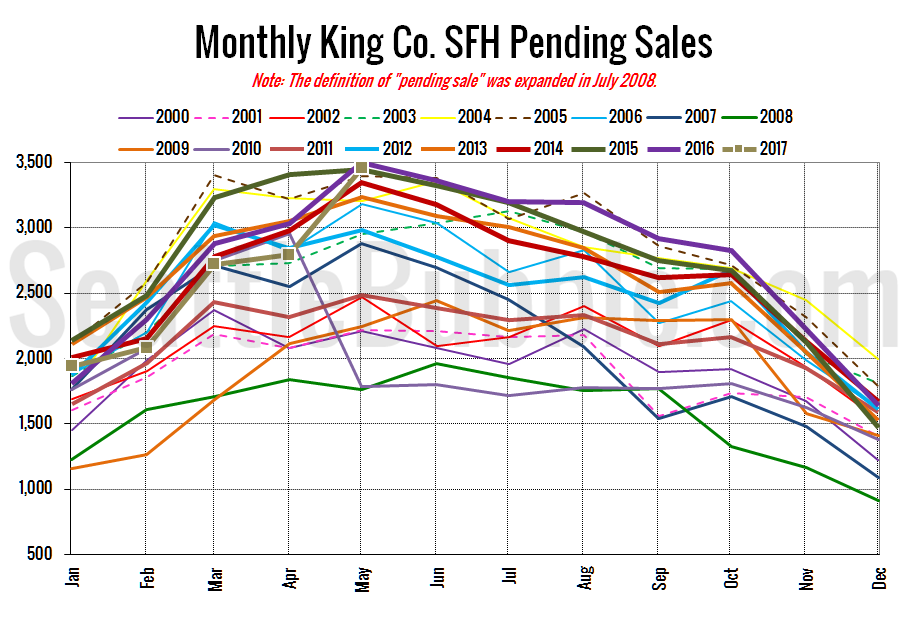 Pending sales shot up 24 percent from April to May, and were down one percent year-over-year.
Here's the graph of inventory with each year overlaid on the same chart.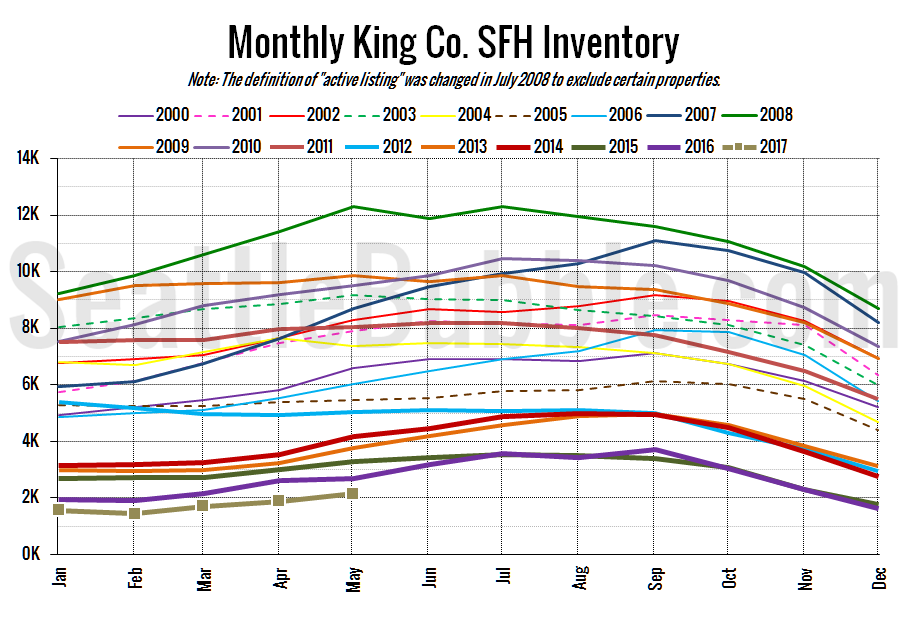 Listings rose 14 percent from April to May, which is much better than the meager four percent gain we saw last year. Year-over-year listings were still down 20 percent.
Here's the chart of new listings: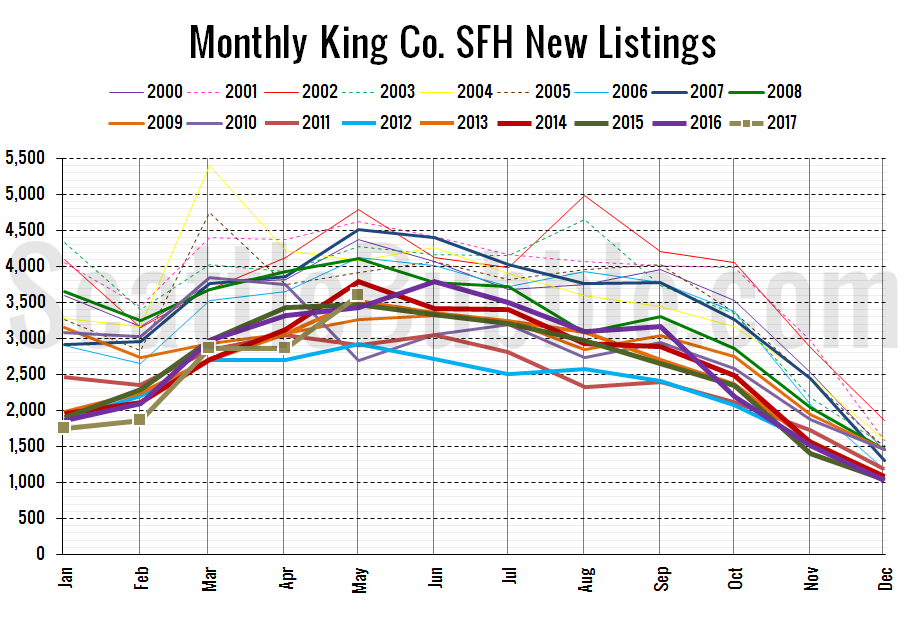 New listings shot up month-over-month as they tend to most years in May, gaining 26 percent from April. They were also up 5 percent from last year. New listings slightly outpaced pending sales for the month.
Here's the supply/demand YOY graph. "Demand" in this chart is represented by closed sales, which have had a consistent definition throughout the decade (unlike pending sales from NWMLS).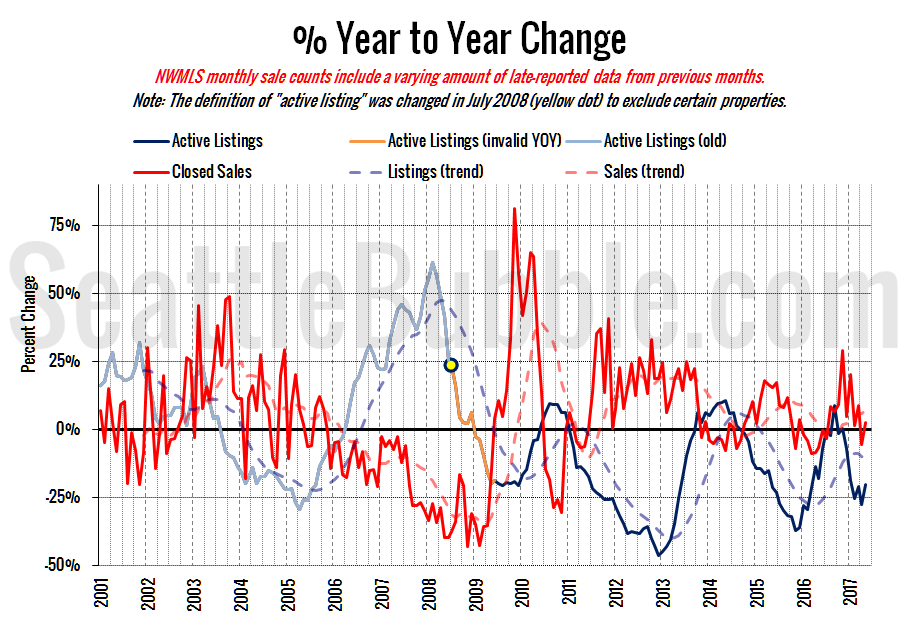 We're still in the midst of a very strong seller's market, but at least the supply and demand balance isn't getting appreciably worse for buyers.
Here's the median home price YOY change graph:
Year-over-year price growth fell off slightly from April to May but is still well into double-digit territory.
And lastly, here is the chart comparing King County SFH prices each month for every year back to 1994 (not adjusted for inflation).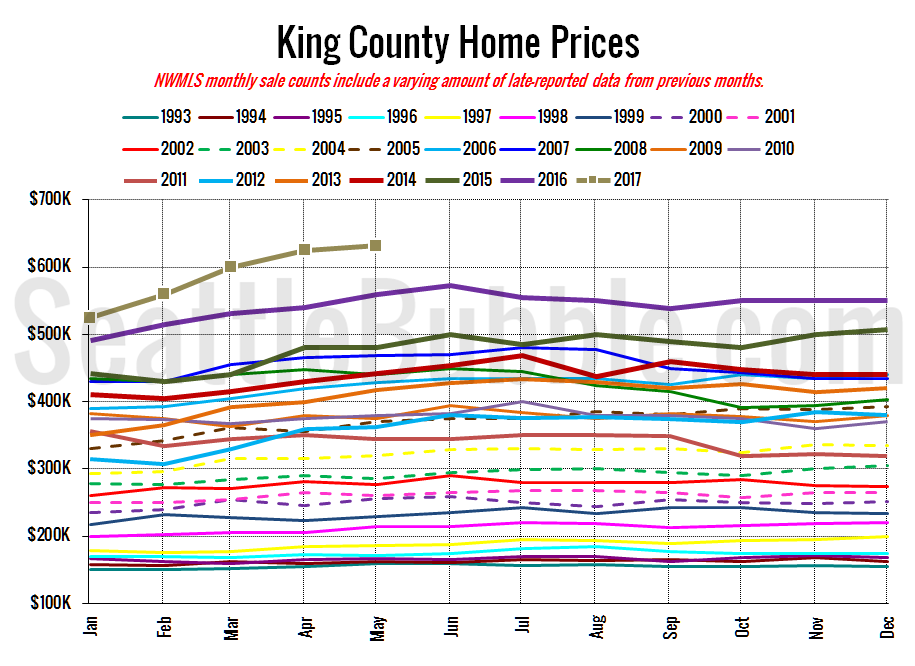 Another new all-time high, although the pace of growth is not as strong as last year at this time, so there's that I guess.
May 2017: $632,250
July 2007: $481,000 (previous cycle high)
Here's the article from the Seattle Times: No escape for priced-out Seattleites: Home prices set record for an hour's drive in every direction