It's time once again for a reporting roundup, where you can read my wry commentary about the news instead of subjecting yourself to boring rehashes of the NWMLS press release (or in addition to, if that's what floats your boat).
To kick things off, here's an excerpt from the NWMLS press release:
For frustrated house hunters, there's hope: the volume of new listings added to inventory during June (13,658) was the highest total for any single month since May 2008 (14,176 new listings), according to the latest statistics from Northwest Multiple Listing Service.

"This time of year we see more new listings coming on the market than pending sales, and June didn't disappoint," stated J. Lennox Scott, chairman and CEO of John L. Scott.

Noting the pace of sales is slowing and the number of multiple offers is moderating, broker Gary O'Leyar suggested a summer breather is under way (as anticipated), which could yield "the season for a successful purchase" for weary shoppers.
For a month that saw home prices shoot up to insane new all-time highs, the quotes from home salesmen in this month's release are surprisingly calm.
I do want to address one glaring error in the release, though:
Seattle's growing population is another likely factor. Recent U.S. Census Bureau data shows Seattle is gaining about 1,100 residents per week, an "astounding" figure, said MLS director Diedre Haines.
That number is false. The most recent data available shows a growth rate of less than half that level.
The most recent city population data I can find from the US Census Bureau was updated July 1, 2016. However, the Washington State Office of Financial Management (OFM) has annual population estimates through April 1, 2017. According to the OFM data, Seattle gained a little over 500 residents per week between 2016 and 2017.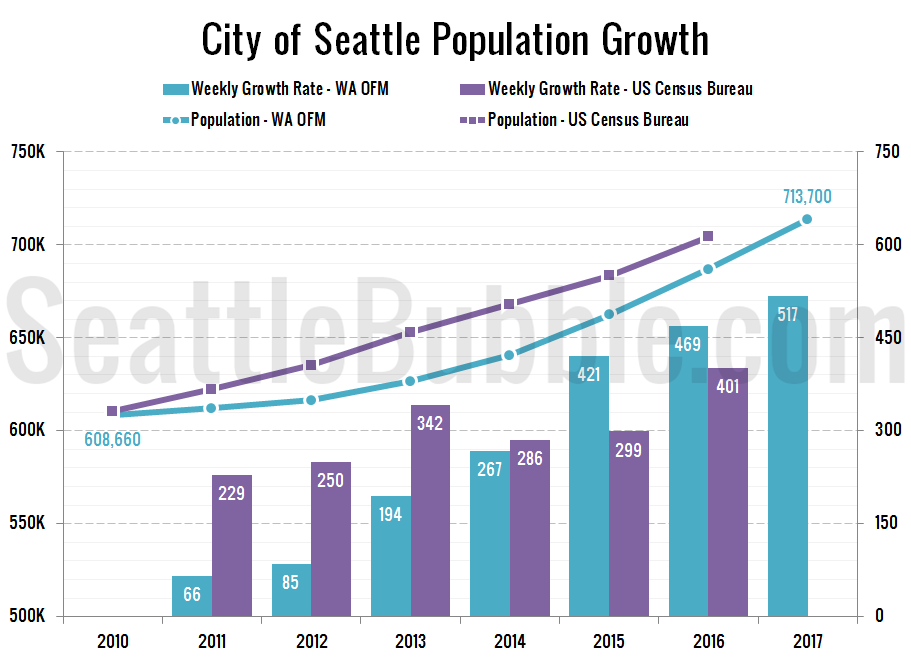 The problem here is that Diedre Haines is citing a number that is true for the entire Seattle metro area (which includes all of King, Snohomish, and Pierce counties), which was originally published by the Puget Sound Business Journal in March.
The Seattle area is the ninth fastest-growing metro in the nation, gaining about 1,100 residents per week according to population estimates issued this morning by the U.S. Census Bureau.
The Puget Sound Business Journal article was clear that they were talking about the entire metro area, but the NWMLS press release just said "Seattle," which leads us to assume the number applies only to the city.
Here's the chart for the whole Seattle metro area: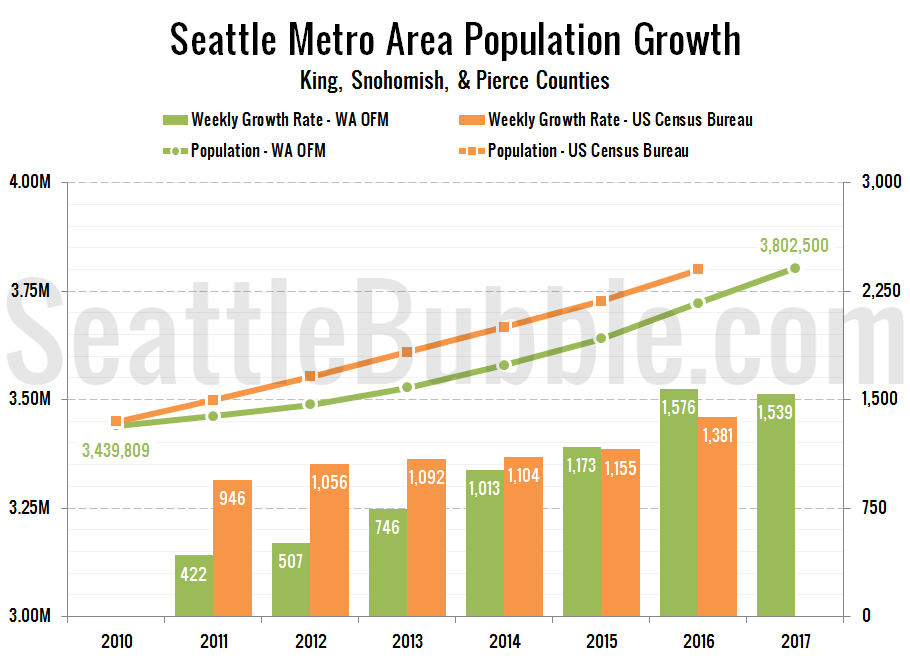 I assume that saying "Seattle" instead of "Seattle area" was just an error and a total failure to fact-check, rather than an intentional misrepresentation of the data. But who knows.
Hat tip to commenter "justme" who pointed this out in the comments to yesterday's post.
Now that we've sorted that out, read on for my take on this month's local news reports.
Seattle Times
Kara Carlson: Million-dollar house is the new normal in one Seattle neighborhood
As Seattle home prices continue to set records, Queen Anne has officially become Seattle's first big neighborhood to have a median home price of $1 million.

Both Seattle and the Eastside once again set price records in June as prices rose throughout King County and other central Puget Sound counties, according to the latest monthly data from the Northwest Multiple Listing Service (NWMLS).
…
Melissa Klinnert, a longtime broker with Steve Kennedy Team on Queen Anne, said the high and rising prices in that part of town make sense given the strong demand and the low inventory.
…
Klinnert said the influx of people moving in with high-paying jobs, especially in the tech industry, is contributing to strong sales and low inventories. According to recent census data, Seattle is gaining about 1,100 residents a week.
Argh. It's frustrating to see the Seattle Times repeat that incorrect (or at least poorly worded) claim from the NWMLS press release. Other than that error, it's a good article.
---
Edit:
The incorrect line in the Seattle Times article has now been corrected to read as follows:
Last year the Seattle metro area, extending to Bellevue and Tacoma, saw a net gain of 1,381 in population per week, according to Census data.
This is still a little inaccurate in my opinion since I wouldn't consider 2015 to 2016 to be "last year" and "extending to Bellevue and Tacoma" leaves out Snohomish County. However, it is definitely much better and less misleading than what was there before. The web version of the NWMLS press release still contains the false statement.
---
KOMO News
Herb Weisbaum: More houses for sale around the sound
A little bit of good news for frustrated house hunters who can't find a place to buy.

Inventory around here is going up. There are significantly more homes to choose from right now, according to Lennox Scott, chairman and CEO of John L. Scott Real Estate.
I guess the NWMLS decided that there is a limit to how long they can go on and on about how great things are for sellers before buyers get fed up. The "more inventory" angle that they pushed this month (and was picked up by KOMO and others) is definitely a more buyer friendly message.
Puget Sound Business Journal
Marc Stiles: Little relief in sight for Seattle's sizzling housing market as prices keep climbing
It used to be unusual for employees of Amazon and other tech companies to hunt for houses in less expensive outlying areas. Not anymore.
The rest of this article is for Puget Sound Business Journal subscribers only, unfortunately.
Tacoma News Tribune
Debbie Cockrell: What people are paying now for area homes and condos
Maybe it's time to encourage your friends to go on vacation, so you'll have less competition when you go looking for a house or condo.

After blowing past the $300,000 mark for median closed sales price in May, Pierce County saw the prices hit $317,000 in June.

We're still the best bargain in the shadow of Seattle.
…
But the cool-down in home sales and prices could be starting, if June's numbers are any indication.

Compared with May, statewide the volume of pending sales fell slightly, according to NWMLS, which also could be tied to the tight inventories in certain areas.

Meanwhile, the total volume of new listings added during June was the highest total for any month since May 2008, the service said in its news release.
Heh, I dig the cheeky intro. Unfortunately I think it's a bit too early to say that "a cool-down in home sales and prices could be starting." We'll need to see more than a single month of inventory growth before we can make that kind of statement.
The Olympian
Rolf Boone: Buying a home in Thurston County continues to be an exercise in frustration
If you're a prospective home-buyer looking for a little relief in a market that favors sellers, you didn't find it in June, according to Northwest Multiple Listing Service data released Thursday.
…
Need a silver lining? June's months of inventory rose to 1.37 months, up from 1.33 months in May, data show.
It's interesting that the Tacoma News Tribune and The Olympian had totally different stories this month, each focused on their respective counties.
Here's a bonus story that came out a day before the NWMLS data:
Q13 Fox
Hana Kim: Home buyers seeking relief from skyrocketing house prices look to Bremerton
Directly west of Seattle across the Puget Sound, developers are buzzing about Bremerton.

"It's becoming more desirable," said Wes Larson, with Sound West Group.

That's why brokers such as Ben Hoefer, with John L. Scott Realty, is spending more time in Bremerton lately, showing homes to both first-time home buyers and investors.

Hoefer showed us a waterfront fixer-upper with 4 bedrooms and 2 baths for $425,000.

"You can't get that in Seattle, let alone on the water. Big developers are coming in and they see the potential benefits," Hoefer said.
Personally I don't think I could live across the water from where I work. Good on those who can, though. Bremerton gets a bad rap sometimes, and it's nice to see the town getting some love.
(Kara Carlson, Seattle Times, 2017-07-06)
(Herb Weisbaum, KOMO News, 2017-07-07)
(Marc Stiles, Puget Sound Business Journal, 2017-07-06)
(Debbie Cockrell, Tacoma News Tribune, 2017-07-06)
(Rolf Boone, The Olympian, 2017-07-06)
(Hana Kim, Q13 FOX, 2017-07-05)