Get unlimited access to the full spreadsheets used to make the charts in this and other posts, and support the ongoing work of this site by becoming a member of Seattle Bubble.
By request, here are a few alternative takes on recent home listing activity. Since one of the biggest issues driving the current crazy market is a lack of enough home listings, we can get an idea of whether or not there is any relief on the horizon for buyers by looking at listing activity.
First up, here's a chart I just created: New listing absorption. This is a simple look at the ratio of pending sales to new listings. If more homes are going pending in a month than there are being listed, this ratio goes above 100 percent, which is obviously not great for buyers.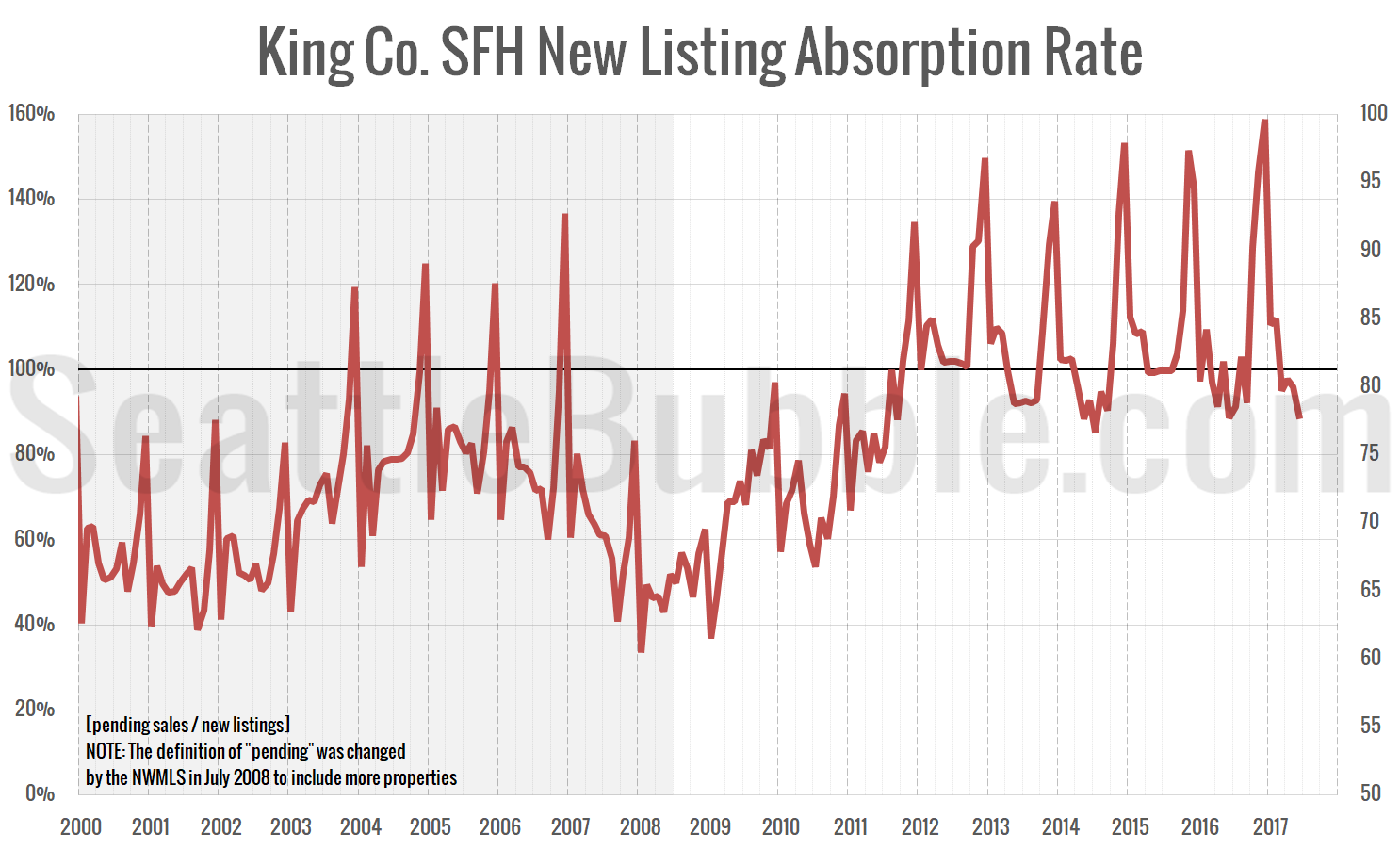 Unfortunately we can't really compare this metric pre-2008 and today, since the NWMLS changed how they define "pending sale," but what's interesting to me about this chart is that just last December we saw new listing absorption an all-time high of 159%, while as of June it has fallen to almost the lowest level since the market bottomed out in 2011. However, this is obviously a very seasonal metric, and the low point for the year usually comes in June or July, so it would not be surprising if this is the lowest level we see this year.
I suspect that one of the first signs we'll see of the market softening is when new listing absorption starts to drop, so I'll be keeping an eye on this.
Next up: a comparison of total on-market inventory growth through June for each year: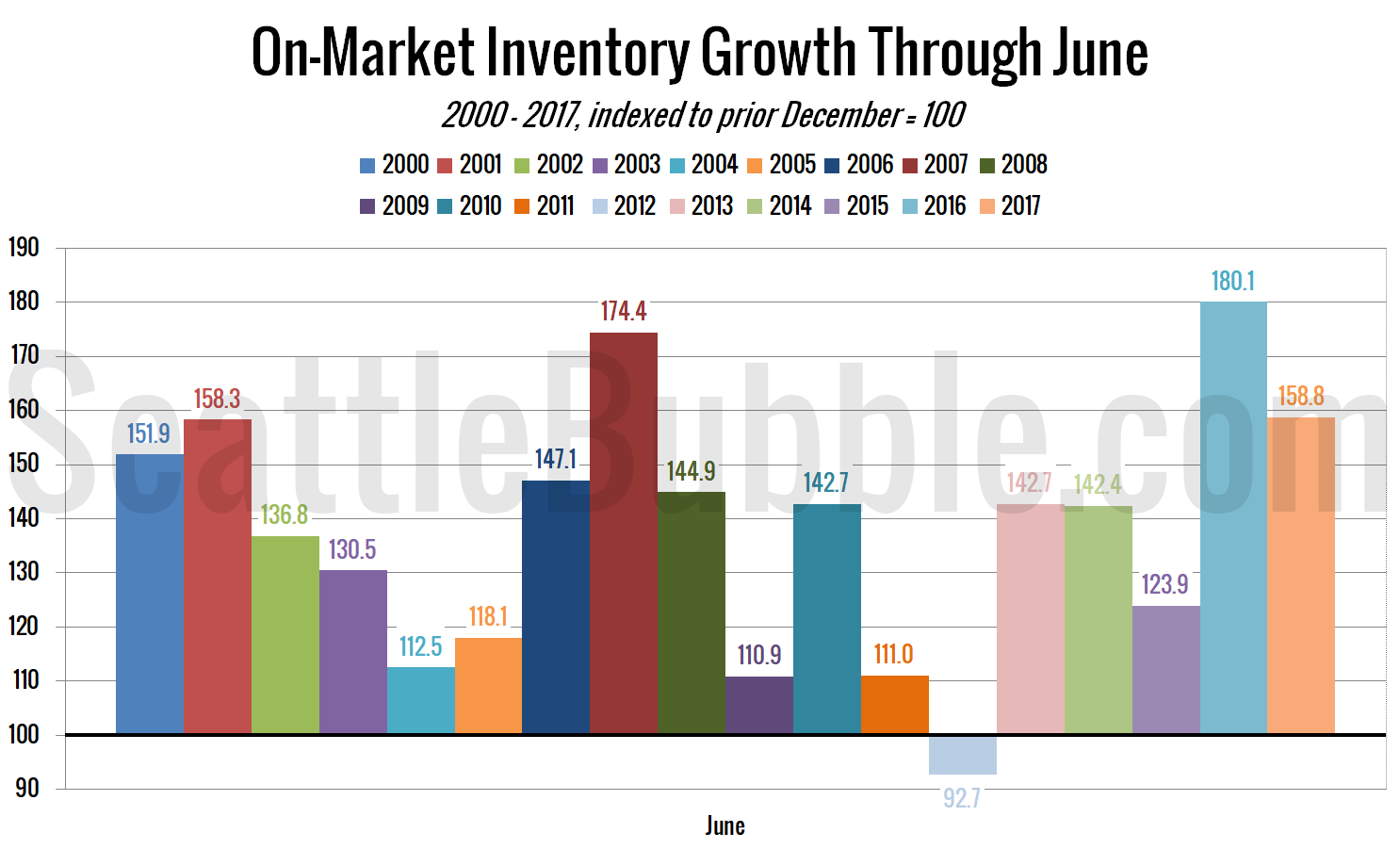 It's interesting that last year was actually the strongest year on record for listing growth, only to be followed up by new all-time lows this year. At least the growth in the last few months is promising.
Next, here's a yearly comparison of the total number of new listings just in the month of June: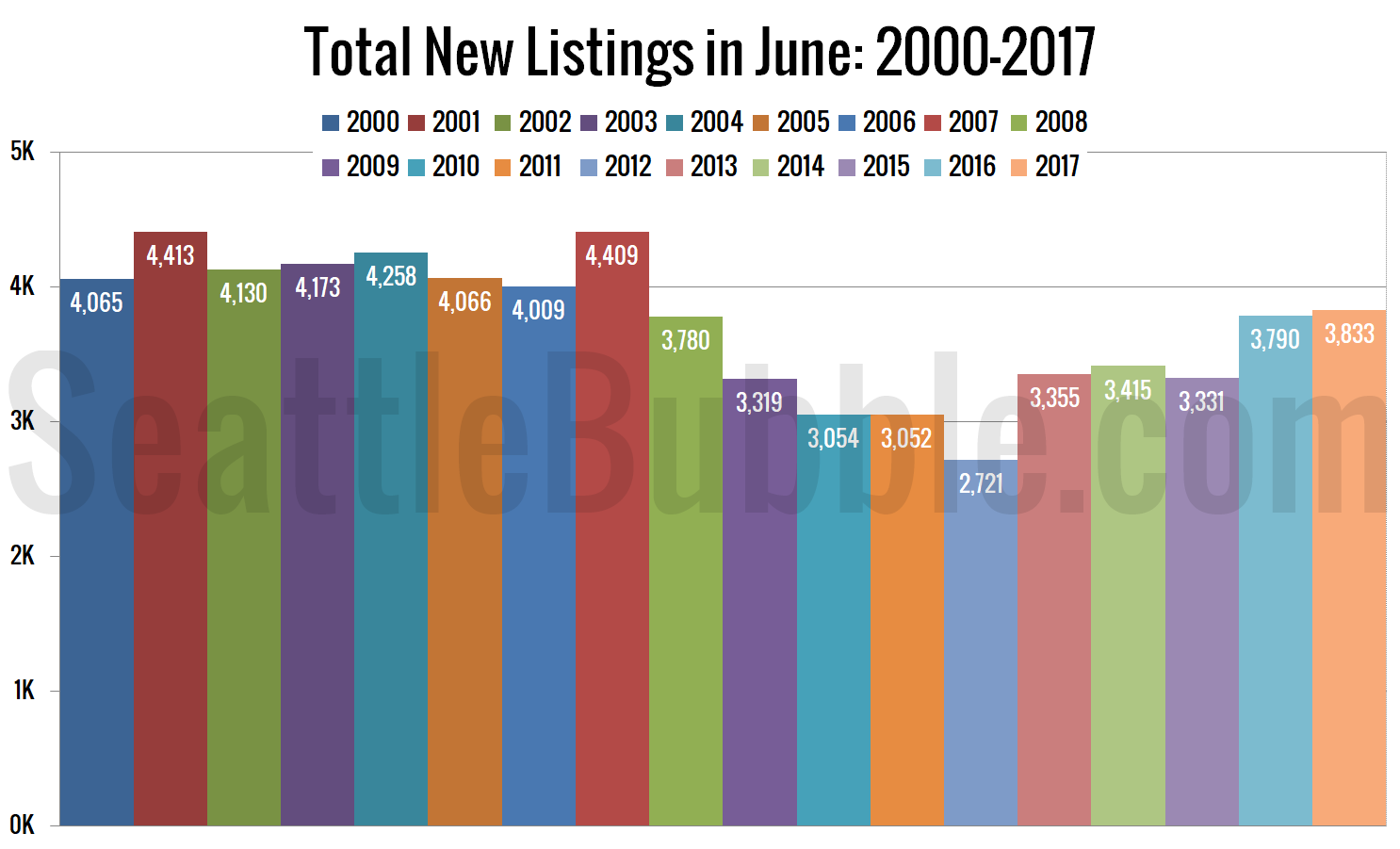 2017 saw the largest number of new listings in a June since 2007, the year home prices peaked in the Seattle area. This is definitely a good sign, but we're still quite a ways from what I would consider to be a "healthy" amount of new listings. We would like to see this number get above 4,000 in June for the market to be less insanely tilted against home buyers.
Finally, here's a raw look at monthly new listings since January 2000:
We've been on a slow and steady upward trend since listings bottomed out in 2012, but we still have a ways to go before we get back to a balanced market.