Like the charts and data that I'm posting? Want to support the ongoing work of this site? Good news, everyone! You can becoming a member of Seattle Bubble and get access to the data as well as other perks!
We haven't taken a look at my "Residential Real Estate Heat Index" for King County single-family homes and condos since the fourth quarter 2017 data, so let's see how it has moved through 2018 so far.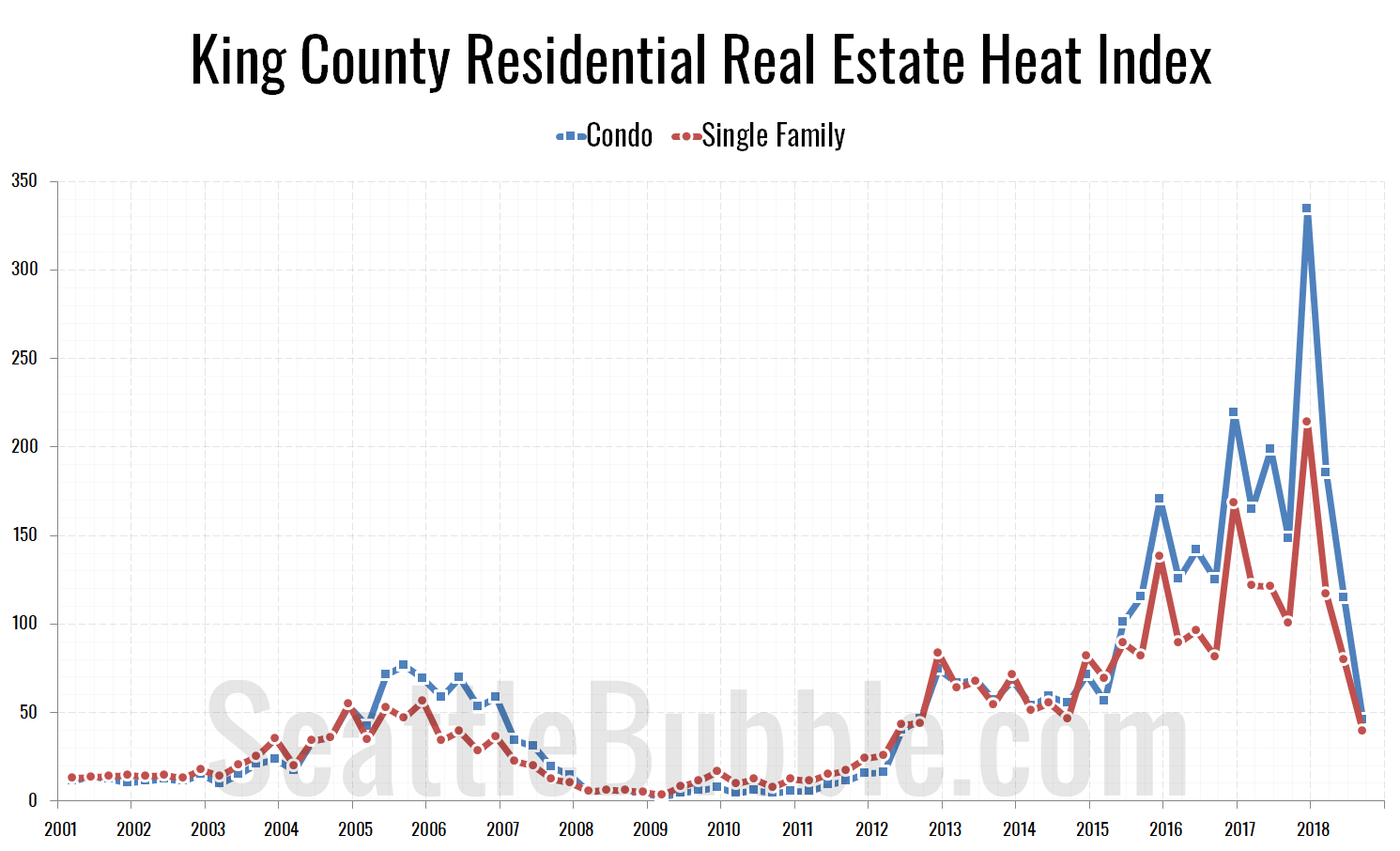 Wow, that's quite the reversal this year from the recent trend. After hitting a massive all-time high in the fourth quarter of 2017, just three quarters later the index has fallen to its lowest point since the first quarter of 2012. Coincidentally, the first quarter of 2012 was when home prices in the Seattle area hit their lowest post-bubble point.
This measure is typically highly seasonal, peaking in the fourth quarter most years due to the low number of listings. However, after dropping down to earth in the first quarter, the heat index usually stays fairly stable through the first three quarters of the year. Not so this year. The first quarter was down slightly year-over-year, then the second quarter hit a three-year low, and the third quarter was the lowest level in over six years.
I still don't think this decline portends another big bursting bubble anything like what we saw 2008 through 2012, since the foundation of the market is much stronger than it was ten years ago. That said, it is definitely becoming very difficult to ignore the dramatic signs of the slowing market here in the Seattle area.
Next year is going to be very interesting.
Methodology:
The "Residential Real Estate Heat Index" is an index that rolls changes in the median price, new listings, total inventory, pending sales and closed sales all into a single number to measure the relative "heat" of the market. The formula is
[100 × (median price ÷ median price last year) × (number of closed sales ÷ end-of-month inventory) × (number of pending sales ÷ number of new listings)]
. Individual monthly index values are averaged to arrive at a value for each quarter. Note that this index only looks at the real estate sales market as reported by publicly-available data shared by the NWMLS. It does not factor in any other economic conditions such as wages, interest rates, rents, etc. You can download the full data set by
becoming a member of Seattle Bubble
.