The Seattle P-I is running an article about some interesting survey results regarding mothers' attitudes toward working. Despite the fact that more mothers are working full-time, fewer think that it's best for the family.
After generations of debate about working mothers, only about a fifth say full-time jobs are ideal, fewer than held those views 10 years ago, the Pew Research Center reported in a survey released Thursday.

Yet most of these women aren't getting what they want. Although 60 percent of working mothers say part-time jobs were ideal, only 24 percent actually hold those positions, Pew reported, citing Bureau of Labor Statistics data.
How does this relate to housing, you ask? Well, why do you think they're working full time when they believe their family would be better off if they didn't?
Nicole Grant is one of those mothers looking for work-family harmony as an apprentice electrician and mother of a toddler. The 29-year-old can't work part-time and says most employers simply haven't adjusted to women in the workplace.

…

Most mornings Grant leaves her Columbia City home by 6 a.m., long before her 1-year-old son Flynn wakes, to get to work. Without her income, she and her husband, a general contractor, couldn't afford to live in Seattle.

"Despite taking a lot of pride in my work, I'm regularly overwhelmed emotionally," Grant added.
Now, the article doesn't specify whether Mr. & Mrs. Grant are renting or paying a mortgage, but I suspect it's the latter. Granted, even when renting, Seattle can be unaffordable for a family on a single below-median income. But don't general contractors make a pretty decent wage? Let's run some numbers…
Using the Center for Housing Policy's online tool, we can compare the income required to afford to buy vs. rent in Seattle, and how the income of various occupations stack up. The tool doesn't have an option for "general contractor," so I selected "Construction Laborer" and "Construction Manager." I think it's safe to assume that as a general contractor, Mr. Grant's income is somewhere between those two. Here's what the situation looks like for a general contractor and an electrician buying a home in the Seattle area: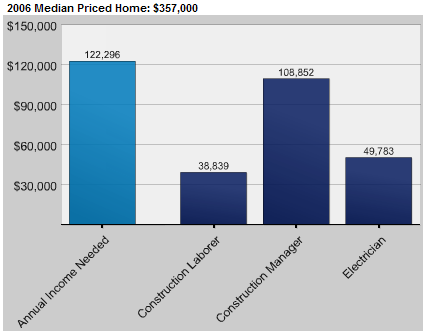 It looks like Nicole Grant was right. According to the CHP, a $72,000 salary from her husband plus a $50,000 salary of her own only barely add up to enough to buy that Columbia City home. But maybe they're renters. Let's see how that looks…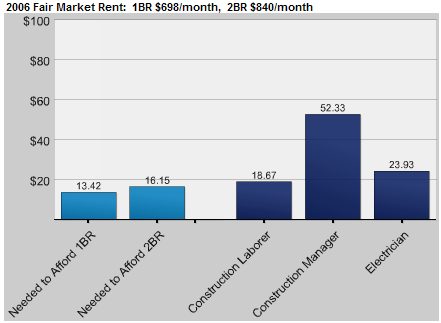 Oh my. It looks as though they would be able to afford to "live in Seattle" on just one income, even if her husband was making a construction laborer's wage of just $18.67/hour ($38,839/year).
Clearly there is a lot of supposition here, and we don't have the complete picture. Maybe they are renting, but couldn't find a 2-bedroom apartment for under $900 per month (although ForRent.com shows plenty). Or maybe they "need" more than two bedrooms. However, it would appear that the need to "own" a house is more important to the Grants than Nicole being able to stay home, and avoid being "regularly overwhelmed emotionally."
I have a feeling that's the case for a large number of full-time working mothers. Home "ownership" has become so important, that people have become willing to sacrifice their financial, emotional, and physical well-being to obtain it. I'm not passing judgement on people's personal choices, but I do have a problem with someone making a general statement like "we can't afford to live in Seattle on just one income" when the truth is in fact "we can't afford to buy a ridiculously overpriced home in Seattle on just one income."
You make choices, and you live with them.
(Paul Nyhan, Seattle P-I, 07.13.2007)