The Center for Economic and Policy Research came out with another great paper this month titled The Cost of Maintaining Ownership in the Current Crisis
Here's an excerpt from the summary (emphasis mine):
The collapse of the bubble in the U.S. housing market is creating chaos in financial markets while throwing the economy into a recession. It is also threatening millions of homeowners and renters with the loss of their homes. In recognition of the problems in the housing market, Congress is considering measures that will alleviate the crisis. However, it is important that Congress recognize the full nature of the problem as it crafts legislation.

This paper compares ownership and rental costs in twenty major metropolitan areas. It shows that in many areas, ownership and rental costs are more or less in balance. This means that it might be practical and desirable to craft policies for these cities that are focused on keeping homeowners in their homes as owners.

However, the paper also shows that in many cities homeownership costs are greatly out of line with rental costs. These are cities, mostly on the two coasts, that have seen an extraordinary run-up in house sale prices over the last decade that have not been matched by any comparable increase in rents. In these markets, homeownership costs could easily be double, and even close to triple, the cost of renting comparable units. Paying these inflated ownership costs will take away money that might otherwise be used to pay for health care, child care or other necessary expenses. Similarly, a government that intervenes at these prices will have less money for other needs.

Furthermore, because prices are now falling rapidly in many of these markets, homeowners are unlikely to accumulate equity. In fact, it is likely that many homeowners will end up selling their homes for less than their outstanding mortgage, even if new mortgages are issued with substantial write-downs from the original mortgage. In these bubble markets, government efforts to support homeownership are likely to do little to help homeowners and could leave taxpayers with a substantial bill in cases where homeowners leave their houses with negative equity.
They compare 20 cities, of which Seattle is one. Here are the relevant data tables from the paper with Seattle highlighted.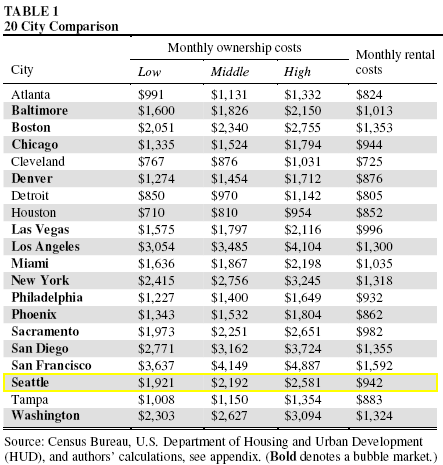 Note that yes, Seattle is in bold, which means that they classify us as a "bubble market," despite what local realtors would like to believe. Also note that even the low end of the monthly ownership costs are more than double the monthly rental costs. This is of course not news, but it's still nice to have it validated by another source.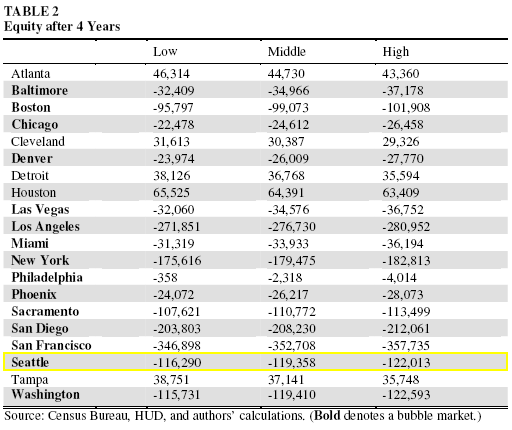 Translation: it's a great time to buy a home in Seattle… if you don't mind a high likelihood of being $100k under water in a few years.
They conclude the following:
In cities that have seen home price appreciation that has raced ahead of rental cost growth, however, it likely makes little sense to use public resources to encourage or subsidize severely troubled homeowners to maintain ownership. Similarly, it likely makes little policy sense to encourage or subsidize households to become homeowners in the near term as the market goes through a downward adjustment in prices.
All in all, an excellent paper. I suggest you download and read it for yourself. Keep in mind that the CEPR isn't some "bitter bubblehead," it's a serious agency filled with economists and ivy-league professors. Not quite as easy to dismissively ignore.
I have added this paper to the Library for future reference.