Here's your November update on Foreclosure activity in King, Snohomish, and Pierce counties. First up, the Notice of Trustee Sale summary:
November 2008
King: 540 NTS, up 57% YOY
Snohomish: 220 NTS, up 28% YOY
Pierce: 465 NTS, up 28% YOY
The graphs below are derived from monthly Notice of Trustee Sale counts gathered at King, Snohomish, and Pierce County records. For a longer-term picture of King County foreclosures back to 1979, refer to this post.
For the full legal definition of what a Notice of Trustee Sale is and how it fits into the foreclosure process, check out RCW 61.24.040. The short version is that it is the notice sent to delinquent borrowers that their home will be repossessed in 90 days.
First let's look at the percentage of households that received a Notice of Trustee Sale (based on household data for each county from the American Community Survey, assuming linear household growth between surveys):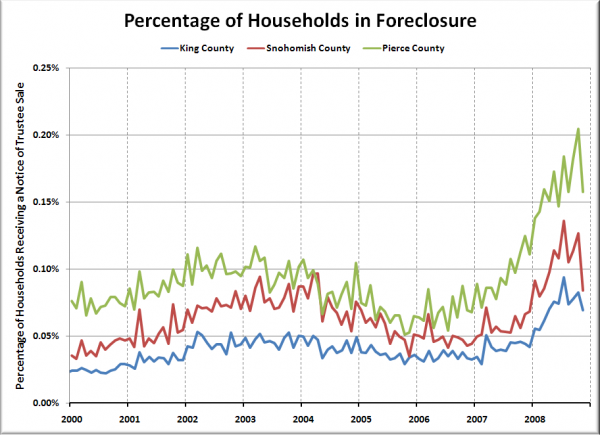 For comparison, the latest press release from RealtyTrac (whose definition of foreclosure includes Notice of Default, Auction, Notice of Trustee Sale, and Real Estate Owned) gives foreclosure rates for every state in the country.
Following are charts of King, Pierce, and Snohomish County foreclosures from January 2000 through November 2008, with uniform y-axis scales to provide easier comparison. Unfortunately I'm on the road today, so I don't have the time for the usual commentary to go along with the charts. Click below to continue…