I thought it would be interesting to post an update on the stock market crash graph that I first posted back in October.
In the chart below I have graphed the crashes of 1929, 1973, 1987, and 2001 alongside the current fall, with the peak points aligned near the left. Each crash is scaled on the y-axis to show the percent of the peak Dow Jones price.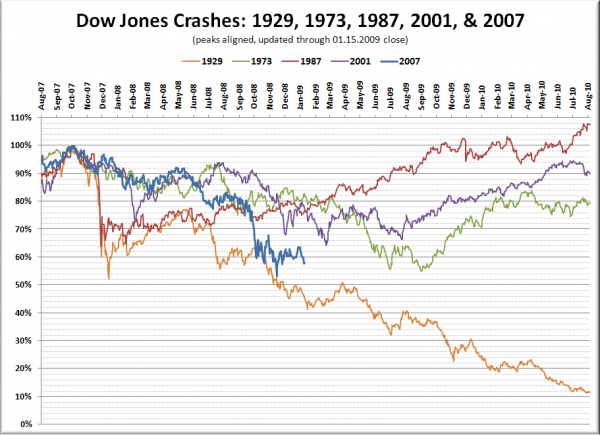 464 days into the crash, the current plunge still ranks second only to 1929. Back in October, we did drop for a brief time to a point lower than the lowest point on the green '70s graph (45.1% off-peak), but we currently appear to be in a bit of a holding pattern at about 40% off peak.
On a related topic, I spotted this article from late last month that amused me: Market predictions proved to be tricky business
At a small, private event at the Metropolitan Grill in January, nine of the region's brightest and most respected financial advisers gathered to sip fine wine, eat prime beef and forecast the financial future.

The date was Jan. 10. The Dow Jones industrial average was 12,853. And Washington Mutual was a pillar of the Seattle business scene.

With a quarter-century of such gatherings, the "Guess the Dow" luncheon at the Met has become an annual fat-cat Seattle tradition.
…
Consensus was that Starbucks Corp., Nordstrom Inc. and Microsoft Corp. stocks all would rise, the Dow would close above 14,000 and Hillary Clinton would be president.

Wrong. Wrong. Wrong. Definitely not. And wrong.
This year's "Guess the Dow" luncheon is today was yesterday. I haven't heard what their predictions are for 2009, but I have a contact that is attending and will ask him this afternoon will try to find out. Let's see if the Seattle Bubble readership can collectively beat the "region's brightest and most respected financial advisers."

Where will the Dow Jones close for 2009?
Below 6,000 (17%, 118 Votes)
6,000 to < 7,000 (18%, 124 Votes)
7,000 to < 8,000 (22%, 156 Votes)
8,000 to < 9,000 (20%, 139 Votes)
9,000 to < 10,000 (16%, 112 Votes)
Above 10,000 (8%, 55 Votes)
Total Voters: 704