Time for our April update on Foreclosure activity in King, Snohomish, and Pierce counties. First up, the Notice of Trustee Sale summary:
April 2009
King: 938 NTS, up 72% YOY
Snohomish: 483 NTS, up 90% YOY
Pierce: 652 NTS, up 48% YOY
Here's a simple look at how April's foreclosures compare to the same month last year in each of the three counties:
Next let's look at the percentage of households that received a Notice of Trustee Sale (based on household data for each county from the American Community Survey, assuming linear household growth between surveys):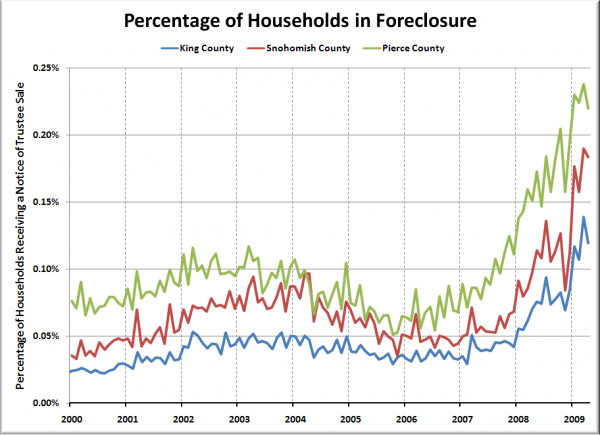 King County came in at 1 NTS per 836 households, Snohomish County had 1 NTS per 543 households, and Pierce had 1 NTS for every 455 households (higher is better).
According to foreclosure tracking company RealtyTrac, Washington's statewide foreclosure rate of one foreclosure for every 817 households was 27th worst among the 50 states and the District of Columbia (down from 18th last month). This was also better than the national average of 374 households per foreclosure. Note that RealtyTrac's definition of "in foreclosure" is much broader than what we are using.
Following are charts of King, Pierce, and Snohomish County foreclosures from January 2000 through April 2009, with uniform y-axis scales to provide easier comparison. Click below to continue…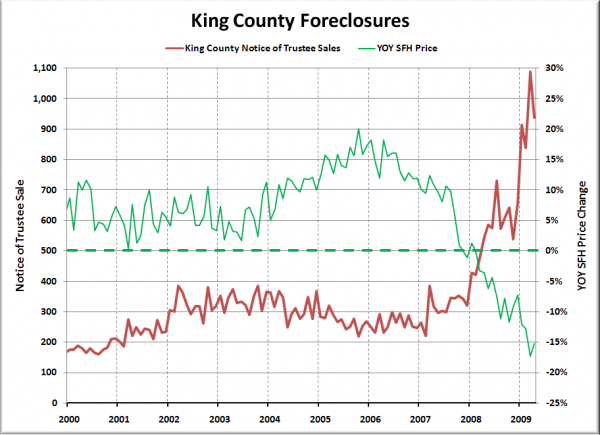 The number of King County homes in foreclosure pulled back slightly from the highs set in March.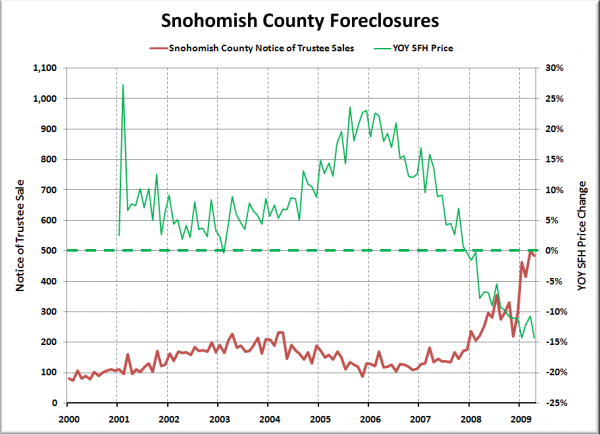 Snohomish County also experience a dip, although theirs was much smaller in magnitude.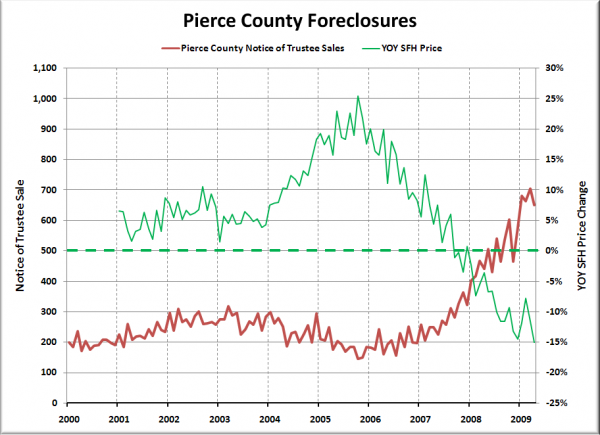 Pierce County's dip was relatively small as well, and continued to see the smallest YOY rise.
Finally, here's a bonus graph from the current issue of Sound Housing Quarterly. When you view foreclosure notices by quarter, the effect of last year's holiday foreclosure moratorium becomes quite clear: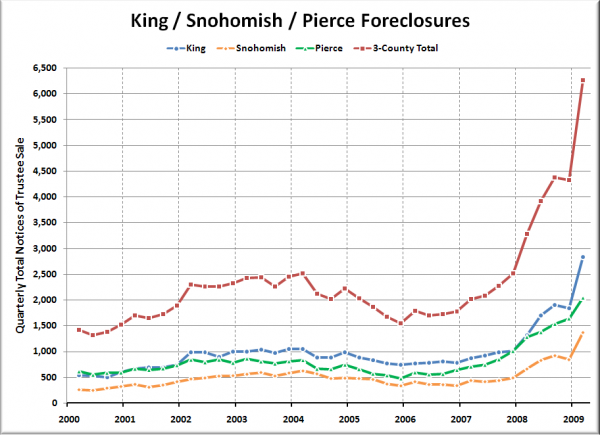 Net effect on the rapidly increasing rate of local foreclosures: zero.
Coverage elsewhere:
Seattle P-I: April foreclosure filings up from '08, down from March
Seattle Times / AP: Foreclosure action jumps in April
Note: The graphs above are derived from monthly Notice of Trustee Sale counts gathered at King, Snohomish, and Pierce County records. For a longer-term picture of King County foreclosures back to 1979, refer to the final chart in this post.
For the full legal definition of what a Notice of Trustee Sale is and how it fits into the foreclosure process, check out RCW 61.24.040. The short version is that it is the notice sent to delinquent borrowers that their home will be repossessed in 90 days.