An example of a $2.5 million property in Seattle: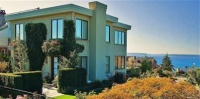 4-bed, 4.5-bath 2-story in Magnolia
4,440 sqft
5,029 sqft lot
2008 property tax bill: $18,286
"sweeping sound and mountain views"
An example of a $2.5 million property in Wisconsin:
2-story stone lodge in Couderay
407 acres
37-acre private lake
2008 property tax bill: $14,948
8-car garage
guard tower
"massive fireplace, a caretaker's residence and other outbuildings"
Oh, and the second one happens to be formerly owned by one Al Capone.
When I do finally decide to jump into the housing market, I think I'd be doing myself a disservice not to seriously consider other parts of the country where your housing dollars seem to go a bit further than they do in Seattle.
Hat tip: Calculated Risk.
P.S. – Yes, I realize the $2.5 million price tag on Capone's hideout is the starting bid for a foreclosure auction which is not really directly comparable to the price of a MLS-listed home. This post is meant to be light-hearted. Note the "Humor" tag.