A few people have asked for another checkup on our bottom-calling series from February, in which we explored six different methods of forecasting the bottom for Seattle-area home prices.
Not much has changed since our most recent checkup in July, when prices as measured by the Case-Shiller Index were 22.5% off the peak (May data), and we had passed two of our six potential bottoms.
As of the latest Case-Shiller data (September), home prices are still hitting new lows, although they have been fairly flat for the summer at 22.5% off the peak. Our next potential bottom is this month with the Dollars per Square Foot Linear Forecast, but we obviously won't know if this month is the bottom until at least a few months from now.
In the mean time, it definitely looks like we can safely say that we did not hit the bottom this summer or fall. Here's King County's median $/sqft, according to Redfin: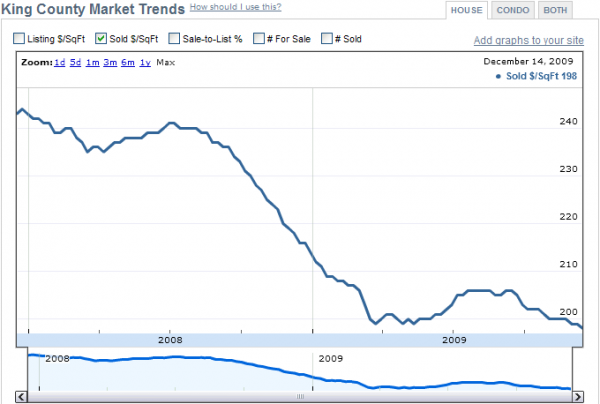 There's definitely a nice little summer boost there, with the median sold $/sqft coming up off the March-May low of $199/sqft up to a mini-peak of $206/sqft in September. However, as of December 14th, King County home prices have already hit a new low, dropping to $198/sqft.
The pattern in Seattle proper looks similar, though prices have not yet dropped to a new low according to Redfin's data.
April low: $271/sqft. August mini-peak: $283/sqft. Latest: $278/sqft.
Snohomish County didn't get much of a summer boost at all: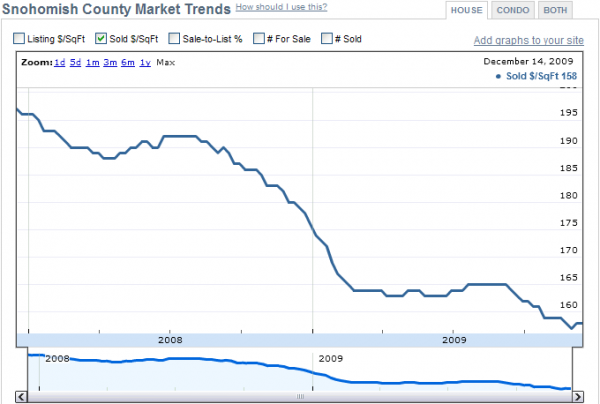 Spring: $163/sqft. Summer: $165/sqft. Latest: $158/sqft.
Pierce County got a boost, and has fallen almost all the way back down.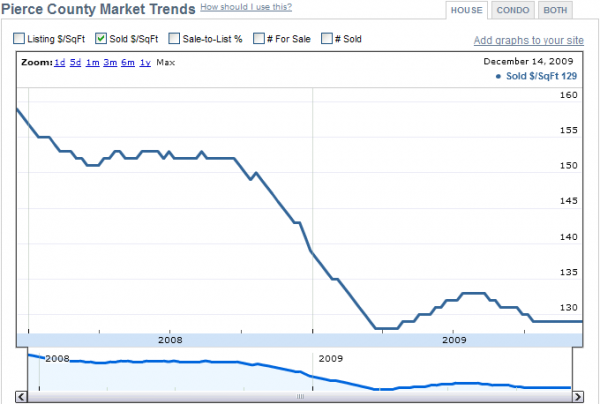 Spring: $128/sqft. Summer: $133/sqft. Latest: $129/sqft.
Here's one more look at the dollars per square foot metric, courtesy of Zillow, who apparently derives their data from a slightly different source than Redfin.
Zillow puts the April low at $205/sqft, a peak in July at $211/sqft, and the latest reading (October) at $206/sqft.