The latest issue of Sound Housing Quarterly has been published (Q4 2009). Sound Housing Quarterly is a subscription-based sister project to Seattle Bubble.
With this latest release we have made a few notable changes. First and probably most interesting to the readers here is a new lower price. Now you can subscribe for a full year for just $60, or purchase a single issue for $20. Second, beginning with this issue we are now also covering Whatcom County. The real estate statistics covered in Sound Housing Quarterly now include 65% of Washington State by population.
Here are a couple of highlights from the fourth quarter issue.
The Real Estate Heat Index (a proprietary index I created that uses supply, demand, and home prices to calculate the general "heat" of the housing market) rose in six of the eight Puget Sound Counties I track in the fourth quarter, declined in Thurston and was flat in Skagit. Here's a look at King, Snohomish, Pierce, and Kitsap: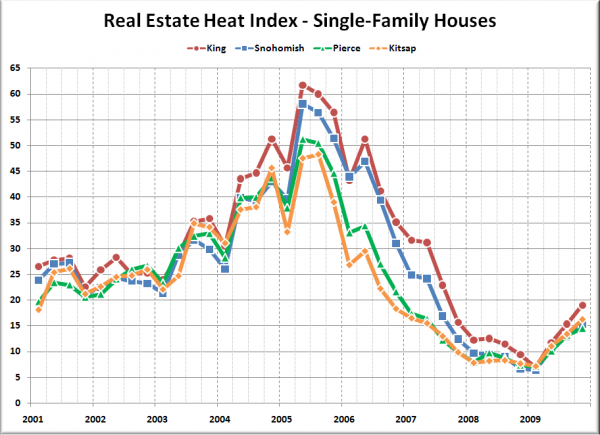 Meanwhile, affordability actually increased in all eight counties, thanks to median home prices continuing to decline from Q3. That said, after updating the affordability index with the OFM's October 2009 income estimates, the recent trend line for affordability was adjusted lower. As a result, the latest reading still came in below pre-bubble levels in all eight counties.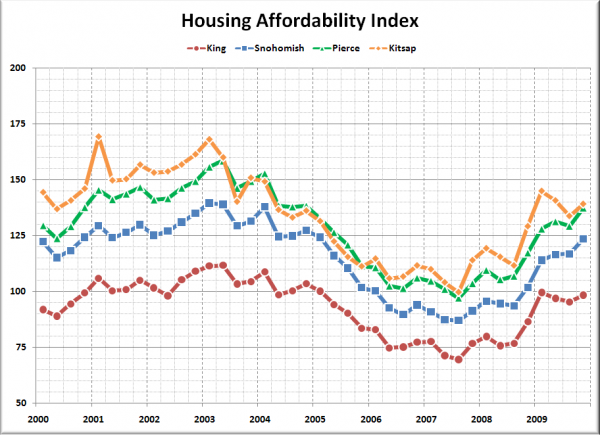 The full version of Sound Housing Quarterly includes detailed data and analysis for King, Snohomish, Pierce, Kitsap, Thurston, Island, Skagit, and Whatcom counties.
Head over to HousingQuarterly.com to subscribe to Sound Housing Quarterly. You can also download a free single-page summary of this quarter's report, or head over to the free archive to check out last year's Q3 and Q4 reports in full at no charge.