Late due to NWMLS data shenanigans, it's time once again for the monthly reporting roundup, where you can read my wry commentary about the news instead of subjecting yourself to boring rehashes of the NWMLS press release (or in addition to, if that's what floats your boat).
First up, let's have a look at the source material for this comedy spectacular, the NWMLS press release: Housing market hits "trifecta"
Housing activity during July held few surprises for members of Northwest Multiple Listing Service, although some brokers wonder why more buyers aren't taking advantage of historic low interest rates. Both pending sales and median prices on closed sales showed slight improvement from the previous month, according to the latest report from NWMLS.

"It's a housing trifecta," declared Meribeth Hutchings, a director for Northwest Multiple Listing Service when asked to comment on activity for the month of July.

The combination of the lowest interest rates on record, plenty of inventory and low prices offer an unprecedented opportunity for buyers, Hutchings explained. The broker/owner of Windermere Real Estate/Lake Stevens Inc. said homes have never been this affordable in her 28 years in the business.
…
Dick Beeson, NWMLS director and broker/owner at Windermere Commencement Associates in Tacoma, suggested the market has adjusted to a "non-stimulus environment." The lack of a tax credit has caused some buyers to postpone their purchase, he said, but added, "Many others are continuing to take advantage of superlative interest rates and bargain prices."

Hutchings said business was "typical" for July, "usually a slow month because of vacations." Nevertheless, she noted, despite the expiration of the tax credit, sales volumes for her office were comparable to a year ago.
Wow, that may be some kind of record for cramming the most nonsense into the smallest amount of text. In the interest of time, I'll just focus on the two most egregious lines of malarkey.
First we've got Ms. Hutchings' claim that "homes have never been this affordable." This claim is so ridiculous it's hilarious. Here's a look at King County's affordability index as far back as NWMLS price data goes: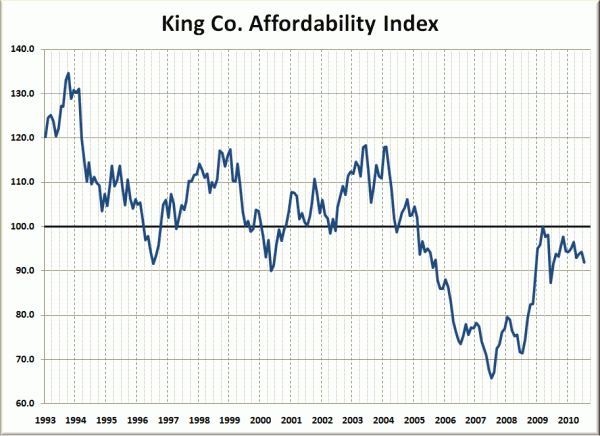 Homes have been more affordable than they are now from 1993 through early 2005. But perhaps when Ms. Hutchings said "28 years" she meant "the 2 or 3 years between 2006 and 2008."
We've also got the delightful one-liner that July was "typical… because of vacations." Also incredibly easy to prove as a lie: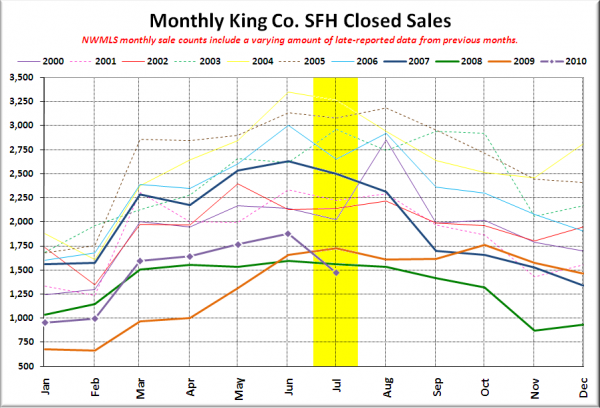 Does this July look like something you would describe as "typical"?
Let's make this month's reporting roundup into a little contest to see who can print the most honest reporting. The real story this is a two-parter:
Closed home sales plummeted (thanks to the tax credit expiration).
The median price bumped up because low end sales dried up (see #1).
If a reporter told their story while hitting on both those facts, they get full credit in our contest. Bonus points if they actually managed to catch the monkey business with sales counts that I have been howling about the last few days.
So, will any of our local papers receive full credit for telling the real story this month? Read on to find out.
Eric Pryne, Seattle Times: King County home sales melt in July, but median price rises
Fewer sales. Higher prices.

That's the abridged version of how the real-estate market fared in King County in July.

With expired federal tax credits no longer an incentive, home sales dropped. Buyers closed on 1,474 houses in the county last month, according to statistics released Thursday by the Northwest Multiple Listing Service.
…
But the median price of the houses that sold last month was $399,950, highest since December 2008. The median price was up more than 4 percent from last July, and was just the second monthly year-over-year increase since January 2008.

Real-estate professionals attributed the increase to a shift in the makeup of properties that sold. With fewer first-time buyers in the market because of the expiration of the tax credits, higher priced properties made up a larger share of sales in July, they said.

In Seattle, for instance, 40 percent of the houses that closed in July sold for $500,000 or more, compared with just 26 percent in the same month last year, Windermere Real Estate spokeswoman Sonja Riveland said in an e-mail.
Impressive. Mr. Pryne starts us off strong, hitting both point #1 and #2, and even managed to get some local real estate professionals on record with #2. 100% on our test, nice going! Unfortunately, Eric doesn't get any bonus points, as he repeats without question the demonstrably false claim that "buyers closed on 1,474 houses in the county last month."
Gerry Spratt, Seattle P-I: Seattle home prices up double digits for first time since 2007
Prices for single-family homes in Seattle rose 10 percent in July compared with the same period a year ago – the first double-digit increase since August 2007, when prices rose 10.1 percent over the previous year.
…
While prices made impressive gains, sales showed some signs of slowing in the aftermath of federal tax credits expiring. Pending sales for single-family homes, the best barometer of recent market activity, were down 26.48 percent over last year. Closed sales dropped 16.33 percent, with 497 transactions completed in Seattle.
Bummer! Mr. Spratt completely falls for the "prices were higher" line, and while he did pick up on the lower sales, for some reason he decided to soften the language by describing an abrupt flip from YOY gains to the biggest drop in over a year as "some signs of slowing." I'm going to have to give him half credit on #1 and no credit on #2, and no bonus points, for a final score of 25%. Ouch!
Mike Benbow, Everett Herald: Snohomish County home sales drop 15% despite low mortgage rates
Home sales in Snohomish County dropped by 15 percent last month compared to a year ago, and pending sales were down 25 percent, the Northwest Multiple Listing Service reported Thursday.

The sales drop was expected because of the poor economy and the lack of tax incentives that had been available to buyers this spring.

Meribeth Hutchings, a Lake Stevens Windermere broker who is on the listing service board, also noted that sales are typically down in July because a lot of people take vacations.
…
Home prices continued to fall in the county in July. The combined median price for homes and condominiums, meaning half the homes sold for more and half sold for less, was $270,000, about 7.5 percent less than a year ago, when the median was $292,000.
Interesting take. Mr. Benbow looks only at the near-useless houses+condos median, and ignores the month-over-month gain brought on by the expiration of the tax credit. Unfortunately, I'm going to have to give him half credit on the median price question for making it even more useless than it already is. Full credit for the sales drop. Score: 25%.
Kathleen Cooper, Tacoma News Tribune: Pierce County has more home sellers, fewer buyers
More homes are on the market in Pierce County and fewer are selling. But median home prices held steady for the second month in a row and were down only 3.73 percent from a year ago, according to data released Thursday.

The Northwest Multiple Listing Service's monthly report showed the median price for single-family homes and condos in July was $219,970, up just $20 from June.

Overall, July's report wasn't good news. The data show year-over-year increases in inventory and a decline in closed sales.
Ms. Cooper got the lower sales, but her comments about median prices completely ignore the effect of pulling out the low end of the market. Half credit for Ms. Cooper, and no bonus points. Final score: 50%.
Rolf Boone, The Olympian: Thurston home sales slide in July
Thurston County home sales fell 12 percent last month compared with July 2009, driven down by the lack of a federal tax-credit program and an uncertain job market, according to Northwest Multiple Listing Service data released Thursday.

County home sales fell to 249 units last month from 284 units in July 2009, and last month's totals also were lower than the 296 units that sold this June, the combined single-family residence and condominium data show. Median prices fell in the same period, down 4 percent to $234,900 last month from $245,000 in July 2009.

[Thurston County Realtors Association President Mark] Kitabayashi, though, sees a silver lining in the county's housing market. More soldiers are expected to return to Joint Base Lewis-McChord in the coming months, which might translate into more home sales, and he also sees home prices and the rate of foreclosures stabilizing. He also isn't concerned about an increase in the number of homes for sale, which rose above 2,000 units last month. That's typical for this time of year, and he expects those numbers to fall in the offseason, he said.
More of this "typical" nonsense. Average inventory in Thurston for July, 2000-2009: 1,482. July 2010 inventory: 2,026 (37% higher). Also, if you need to check on the claim that foreclosures are "stabilizing," just hit the most recent foreclosure post.
As for Mr. Boone's score in our reporting contest, he hit the falling sales point, and ignored the month-to-month median price "stability," focusing instead on the 4% YOY drop. Just like everyone else, he misses out on the bonus points. 50% for Mr. Boone.
Final Scores
Eric Pryne: 100%
Gerry Spratt: 25%
Mike Benbow: 25%
Kathleen Cooper: 50%
Rolf Boone: 50%
Winner: Eric Pryne! Congratulations, Mr. Pryne! Better luck next time to everyone else.
(Eric Pryne, Seattle Times, 08.05.2010)
(Gerry Spratt, Seattle P-I, 08.05.2010)
(Mike Benbow, Everett Herald, 08.06.2010)
(Kathleen Cooper, Tacoma News Tribune, 08.06.2010)
(Rolf Boone, The Olympian, 08.06.2010)