Apparently there are some in the government who feel like they haven't done enough yet to "help" the housing market, because Calculated Risk had a great post yesterday on the subject of a possible return of the undead tax credit.
From Reuters: No Decision on Reviving Homebuyer Credit: Donovan

"It's too early to say whether the tax credit will be revived," Donovan said in an interview on CNN's "State of the Union" program. He said the administration would "do everything we can" to stabilize the shaky U.S. housing market.

…
It would be far better for housing and the economy to announce "There will be no further housing tax credits."
I could not agree more. Enough with the credits, subsidies, and stimulus already. And I say this as someone who is seriously considering buying a home within the next year. I would much rather have a rationally-functioning market than a few grand in my pocket.
To me, the homebuyer tax credit was like an invasive species that was introduced to an ecosystem to try to control a different invasive species that was introduced earlier.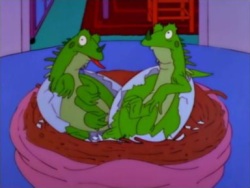 I think I'll name them Fannie & Freddie.
Pardon my pop culture reference, but I can't help thinking of the Simpsons episode "Bart the Mother," in which Bart released a pair of "Bolivian tree lizards," which destroy the town's pigeon population. In order to eradicate the lizards, the people of Springfield plan to release "Chinese Needle Snakes," followed by "snake-eating gorillas."
In the real world, the government wanted to encourage home ownership, so they beefed up Fannie and Freddie, loosened lending regulations, and held interest rates low. Things got overheated, so they began jacking up interest rates. High interest rates cooled things off, but that exposed the underlying weakness in the economy. Of course, when people realized how weak the economy was, the housing market crashed. In order to combat the crashing housing market, they dropped rates to the floor and introduced tax credits. Once the credits disappeared, sales fell hard, sending the housing market back to the gutter.
Yes, I realize that I am oversimplifying and leaving out a lot of steps, but I think that at its core, the invasive species analogy really works well.
It's time to stop screwing with the ecosystem by introducing one invasive species after another.