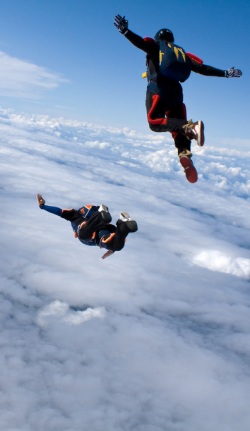 photo by Flickr user divemasterking2000
It's time once again for the monthly reporting roundup, where you can read my wry commentary about the news instead of subjecting yourself to boring rehashes of the NWMLS press release (or in addition to, if that's what floats your boat).
First up, let's have a look at the source material from the NWMLS itself. Here's their press release: "Wise Buyers" Taking Advantage of Chance to Get Stellar Homes
Home sales remained subpar around most of Washington during September, but directors from Northwest Multiple Listing Service say they are encouraged by some positive signs.

"It's a slow recovery, but it's trending in the right direction," said Joe Spencer, president and COO of John L. Scott Real Estate and a member of the NWMLS board of directors.
You may recall Joe Spencer from a recent Friday Flashback, in which we dug up his claim that November 2007 was "the perfect buyer's market." Decide for yourself whether it makes sense to trust his "insights" today.
"There are many very wise buyers taking advantage of what may be a once-in-a-lifetime opportunity," said Mike Skahen, whose real estate career spans nearly 30 years. "We haven't seen a summer like this in home sales since 1982 when interest rates were hovering around 16 percent," he observed.
Could Mike Skahen possibly be any more cliché? "Once-in-a-lifetime"? Really? And what is that comment about summer supposed to even mean? "A summer like this" is about the vaguest description of the market I've ever heard.
"Crazy requirements" are impeding the pace of sales, according to NWMLS director Dick Beeson, broker/owner of Windermere Commencement Associates in Tacoma. "Agents are finding it's much more difficult to navigate the closing process than ever before. If it's not the conditions of an inspection report, it's the appraisal coming in off sale price or lenders reviewing and re-reviewing the buyer's qualifications or buyers rethinking whether or not to buy," he explained.

Looking ahead, Beeson expects the balance of the year to be "somewhat fickle," in part because of upcoming elections and lingering uncertainty around the slow pace of the recovery.
I know, right? It's so crazy that banks and buyers would be so careful when dealing with the purchase of assets costing a quarter million dollars. Also, it's perfectly reasonable to assume that buyers will be delaying their home purchases pending the outcome of a midterm election.
Lots of great material in this month's NWMLS comedy flier. Did the papers pick it up and run with it, or did they dig in a little bit to find the actual news on their own? Read on to find out!
Eric Pryne, Seattle Times: Miserable month for area home sales
Buyers closed on 1,158 houses last month, a 28 percent drop from the same month last year, according to statistics released Tuesday by the Northwest Multiple Listing Service.

It was the worst September in at least five years, and the biggest monthly year-over-year decline since April 2009.
…
That's no surprise, said Glenn Crellin, director of the Washington Center for Real Estate Research at Washington State University.

"The tax-credit program accelerated sales activity in the first half of the year, and it borrowed from sales that otherwise would have happened in the second half," he said.

Mike Gain, CEO and managing broker of Prudential Northwest Realty Associates, agreed. "We all knew we were robbing from the future," he said. "We're just all hoping we've hit bottom."
…
Both Gain and Crellin said they don't foresee any big surge in sales for the rest of year.

Lots of people are showing up at his firm's open houses, Gain said, "but they're just very hesitant because there's no sense of urgency."
I love how now that the tax credit is over, real estate professionals are admitting that they knew all along that the credit wasn't really adding any new sales, it was just shifting them earlier than they would have occurred anyway.
By the way, this depressed level of sales is exactly what I predicted on these pages back in October 2009 before the credit was extended, and its effects made even worse.
Gerry Spratt, Seattle P-I: Seattle housing market grinding to a halt
The median price for a single-family home in Seattle fell 1.3 percent in September compared with August, and activity in the market continued to grind to a halt, suggesting further drops in the near future.

According to the latest numbers from the Northwest Multiple Listing service, the median price for a single-family home withing city limits was $414,550 in September. That's 0.85 percent higher than a year ago, but other indicators were not so rosy.

Pending sales, the best indicator of the most recent activity in the market, were down 26.71 percent from a year ago. Closed sales were down 35.69 percent with 346 completed transactions.
I learned recently that Mr. Spratt's primary job at the SeattlePI.com is writing sports stories. Knowing that, I think he's earned himself a "most improved" award. Except for a later copy-paste of Joe Spencer's quote in the NWMLS press release, Mr. Spratt's report is considerably improved over recent months.
Mike Benbow, Everett Herald: September home sales, pending sales drop in Snohomish County
Snohomish County's housing market saw another dreary month in September when the number of closed home sales and pending sales dropped.

Pending home sales declined to 895 from 906 in August, according to a Northwest Multiple Listing Service report released Tuesday. Pending home sales were down 26.8 percent from the previous September.
…
Buyers closed on 615 homes in the county in September, down from 755 closings a year ago and 642 closings in August.
Not a lot of meat in this one. Just a few basic stats and copy-paste quotes from Beeson and Spencer.
Kathleen Cooper, Tacoma News Tribune: Pierce County's pending home sales down 24 percent from a year ago
September pending home sales in Pierce County were down 24 percent from the same time last year, and median sale prices barely changed – both trends that have been consistent through the summer.

Data released Tuesday from the Northwest Multiple Listing Service, which collects information from 21 counties in Western and Central Washington, shows no radical changes in the month-to-month residential real estate market.
Same story. Mostly copy-paste quotes straight from the NWMLS press release. Sad.
No sign yet of The Olympian's story. I'll update this post if they end up publishing something.
[Update]
Here's the story from The Olympian.
Rolf Boone, The Olympian: South Sound home sales remain slow
One bright spot in the September data was that the year-over-year decline in sales wasn't as steep as in August, a month in which sales tumbled 26 percent. In August, 246 homes sold in the county, one fewer than in September.

Greene Realty Group real estate agent Blake Knoblauch attributed the slower sales pace to factors including tighter lending standards, the slower economy and a wait-and-see attitude among buyers.

"Buyers are looking for a great deal, and there's no sense of urgency," he said, adding that buyers know home prices likely will continue to fall and that mortgage interest rates will remain low.
Those darn buyers. Why don't they just jump in and throw caution to the wind? That worked out pretty well for everyone who bought over the last four or five years, right?
[End of Update]
Pretty much the only two reporters that did any actual reporting this month are Eric Pryne and Gerry Spratt. Good on them.
(Eric Pryne, Seattle Times, 10.05.2010)
(Gerry Spratt, Seattle P-I, 10.05.2010)
(Mike Benbow, Everett Herald, 10.05.2010)
(Kathleen Cooper, Tacoma News Tribune, 10.06.2010)
(Rolf Boone, The Olympian, 10.07.2010)