Full disclosure: The Tim is employed by Redfin.
Inspired by an awesome OKCupid blog post about how camera models and other photo properties affect profile pics that made its rounds at the office in August, I was recently able to convince Redfin that it would be a good use of my on-the-clock time to do some similar photo analysis of listing photos.
Unfortunately the NWMLS strips all the EXIF data from the image files at some stage in their processing, so camera model and other interesting data was not available here, but I was able to find a few markets that left the data in.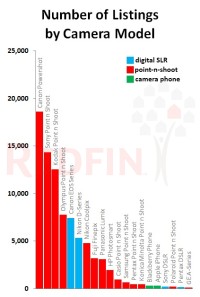 The most interesting finding from my research is detailed on the Redfin blog. The jist of it is that listings that have photos shot with DSLRs sell for much closer to their original list price, gaining sellers thousands of dollars compared to point-and-shoot photos.
Obviously correlation is not causation. We're not claiming that shooting your listing photos with a DSLR is going to magically net you thousands of dollars. However, there is most likely a strong correlation between DSLR photos and professional photos, and there is also most likely a strong correlation between having professional listing photos and being a good listing agent in general.
In other words: If you see your listing agent pull out a point-and-shoot camera to photograph your home themself, that's a good sign that you've got a lazy listing agent who is not going to do the best possible job of selling your home.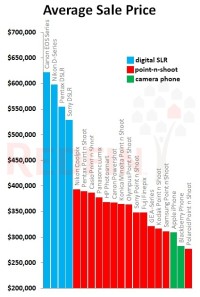 Despite this fact, as you can see in the chart above, point-and-shoots (shown in red) are by far the most popular cameras used for listing photos by agents. As it turns out, DSLRs are used for listing photos almost exclusively by agents selling high-end homes.
The chart at right shows the average sale price of homes listed with photos taken by each camera model. Note the dramatic difference between the four DSLR models and the point-n-shoots.
One other bit of analysis that I found to be fairly interesting was looking at the time of day the photos were shot. In the chart below I've plotted the percent of listings in my sample that sold grouped by what minute of the day the listing photo was taken. The thick black line is the overall average of all listings in the sample, just under 49% sold.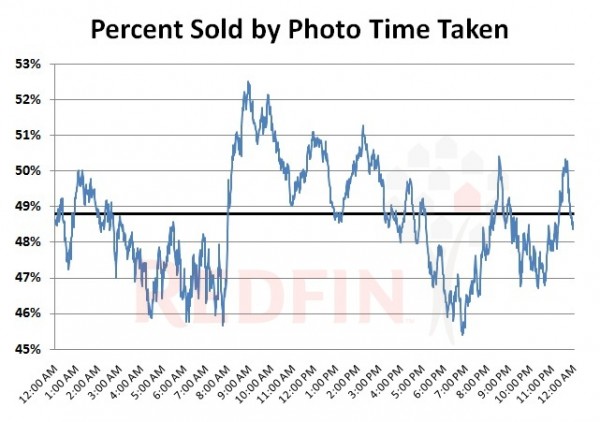 Interestingly, it looks like 9:00 to 10:00 AM is the best time to take your listing photos if you want to slightly improve your chances of selling. I don't have any particularly intelligent theories as to why this might be, but there does appear to be a non-random correlation here, where the later in the daylight hours your photos are taken, the lower your chances of selling. Granted we're only talking about a spread of about seven percentage points, but if I were selling my house, I'd take every advantage I could get.
The Bottom Line: If your listing agent dropped by your house after you got home from work, pulled out a point-n-shoot camera, and shot your home's listing photos himself… Fire him and go find someone who is actually going to market your house.
You can pay an agent that will really work for their three percent, or you can end up having your home mocked in our Real Actual Listing Photos series or on Lovely Listing. It's your choice.