Recall the price-guessing contest posted to these pages on July 20th: Guess the Price Round 2: Capitol Hill Remodel Flip
Today's "Guess the Price" guest star is 1520 24th Ave E in Seattle. With a current asking price of $649,000, this home has been on the market for 18 days, and is neither bank-owned nor a short sale. It sits close to the Washington Park Arboretum in the northeast corner of Capitol Hill, where the median sale price of single-family homes in June was $748,000.
…
This house was purchased by an apparent invester for $370,000 in April, was totally repaired, remodeled, and re-listed on July 2nd at $678,000. After just nine days on the market, the price was dropped $29,000 to the current asking price of $649,000.
We had 52 guesses in the contest before it closed, with prices ranging from $479,000 to $655,000. The average price guessed was $588,505, and the median guess was $595,000. Here's the plot of all the guesses, with the final close price & date marked in green: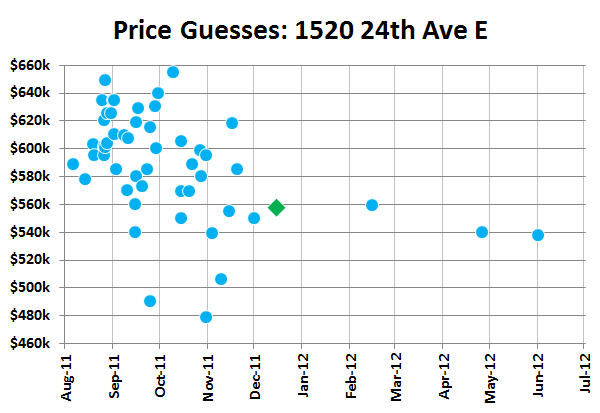 According to the NWMLS, the home sold last Thursday, with a closing price of $558,000, which was just $1,000 below the price guessed by commenter Jacob Beaty. Congratulations! I'll be contacting Jacob privately to arrange receipt of his prize.
In the first round the average of all the guesses came in 2.2% lower than the final sale price. This time around the collective intelligence of Seattle Bubble overshot slightly, with the average of all the guesses coming in 5.5% above the final sales price. So far you guys are doing considerably better than Zillow. Nice!