It's been over two months since we kicked off Round 3 of our Guess the Price contest, so let's have a little checkup.
In the chart below I have plotted each of the thirty-two guesses by readers in this contest as a blue circle. The orange squares show where the home's asking price has been so far, and the green diamond shows the current asking price as of this post.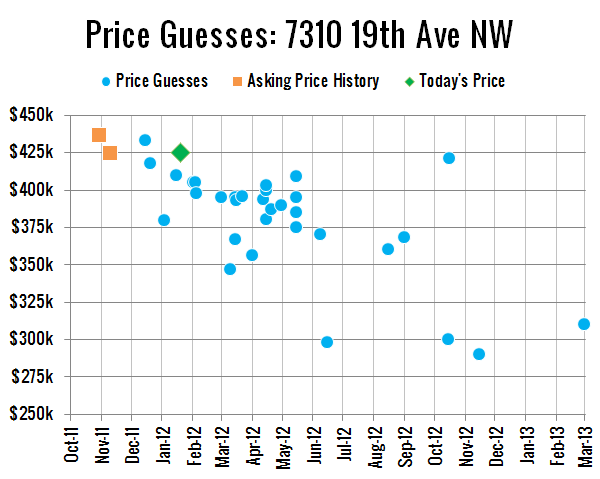 Only one of the guesses in this contest was higher than the current asking price. Of course, since the home has been sitting for seventy-one days since the last price drop, I'm starting to get the feeling that there isn't going to be a buyer at this price.
Also of note: I've been getting email alerts every time the listing agent schedules an open house. So far I have counted thirteen open houses in the twelve weeks since this listing came on the market. Nearly every single weekend they're welcoming in the public, sometimes on both Saturday and Sunday. There was even an open house on New Year's Day (but not Christmas weekend).
Is the seller hoping that the "spring buying season" will whisk in a buyer who somehow hasn't seen the home yet? Whatever the case, this time around the home is having quite a different experience than it did last time on the market, when it went pending three days after being listed and sold for $42,250 over the asking price.