I received the following email from a reader:
I am relocating out of the country and trying to understand if it is better for me to sell the house now or rent it for a few years and then sell.

I bought the house 7 years ago and I think I can sell it for about the price that I bought it for. I have about 10% equity in the house.

If I were to rent, the rent I get will be about $350 per month short of mortgage, insurance, property taxes. Plus there may be property management fees and other expenses.

I had made up my mind to sell, but today someone pointed me at Case-Shiller forecast that the seattle area housing market will be at 2007 levels by 2014. That will be about 40% increase from today's value and is certainly tempting.

What would the experts recommend? Do you have any rent vs sell spreadsheet calculators? Would appreciate any pointers!
I don't have any rent vs. sell calculators yet. That's a great idea though, and I'll see what I can come up with.
As for your specific situation, I would recommend that you sell now. Here's why:
Prices may be close to the bottom, but they'll probably bump along the bottom for years.
Inventory is terrible right now and sales are increasing, so if you clean your home up and price it right, it will most likely sell quickly.
If you're losing $350 every month (more in between tenants), that's money down the drain.
Long-distance landlording is a pain.
If you'd like to maximize your take-home on the sale, look into an alternative brokerage like Redfin, WaLaw, Findwell, or 500 Realty (disclosure: Tim works for Redfin, WaLaw is a current Seattle Bubble advertiser, and Findwell and 500 Realty are both former advertisers).
I don't know where you saw a forecast that local prices "will be at 2007 levels by 2014." That's laughable. Almost as good as Forbes' 2006 prediction that the median home price in the Seattle area would hit $600,000 by 2016.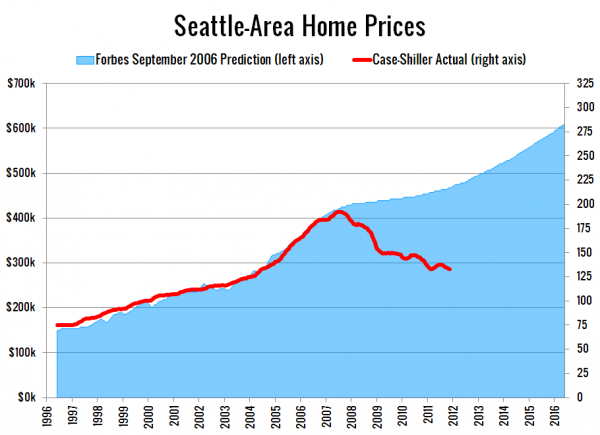 Seriously, if you're moving out of the country, it's time to cut your losses. Holding out hope that prices will improve in a few years is a fool's errand and will just cost you even more money in the long run.