It's time once again for the monthly reporting roundup, where you can read my wry commentary about the news instead of subjecting yourself to boring rehashes of the NWMLS press release (or in addition to, if that's what floats your boat).
For some reason, the NWMLS press release still hasn't been published to its usual space on their public site, so we don't have the source material to reference this month. Instead, enjoy this chart of King County single-family home prices since 1993, both in raw form and adjusted for inflation using Seattle's CPI less shelter: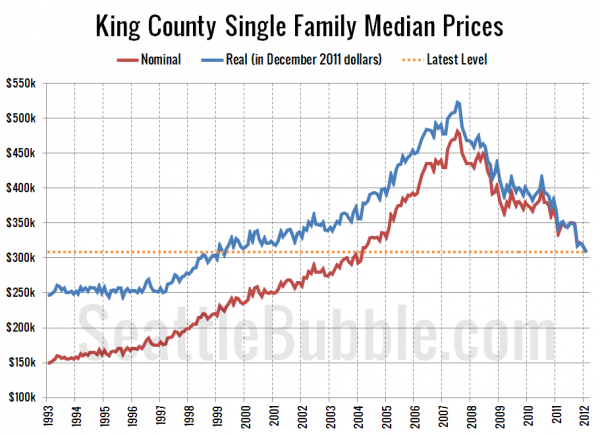 Inflation-adjusted home prices in King County are back to about where they were in early 1999. Nice.
[Update]
A reader emailed me a copy of the NWMLS press release that was sent to them by their friendly neighborhood real estate agent. Here's an excerpt:
Washington homebuyers realizing "market may have reached bottom of cycle"

With spring on the horizon and consumer confidence on the rise, members of Northwest Multiple Listing Service are reporting positive gains in activity. Pending sales for February increased more than 27 percent from a year ago, more sellers are listing their homes, and brokers are reporting an uptick in multiple offers.

"Buyers are beginning to realize that we may have seen the bottom of this real estate market," remarked Frank Wilson, branch managing broker at John L. Scott Real Estate in Poulsbo and a member of the Northwest MLS board of directors. "Waiting to buy may only result in paying a higher interest rate, having fewer houses to choose from, or finding that sellers do not need to give up as much as they have in the past," he added.
…
Commenting on the market around Kitsap County, where prices dipped nearly 11 percent, Wilson said he expects prices to "stabilize and even reverse as we move further into 2012." With 4.3 months of supply in that county, he believes the market is tilting toward sellers. "We continue to see more multiple offer situations on homes that come on the market correctly priced," he stated.
Most of the rest of the quotes were printed verbatim in the news articles quoted below. I would like to point out that while I actually do think we're basically at the bottom for prices, scare tactics like the Frank Wilson quote at the end of the second paragraph above are still lame and deserving of mockery.
[End of Update]
Read on for my take on this month's local news reports.
Eric Pryne, Seattle Times: Shrinking inventory breaks fall in King County home prices
Fewer homes are listed for sale in King County now than at any time since the housing crisis began, and observers say the lack of inventory is starting to influence prices, at least in some neighborhoods.

Don't get excited — overall, prices are still down.

Countywide, the median single-family sale price hit another postboom low in February — $308,125, down 2 percent from January, 8 percent from February 2011 and nearly 36 percent from the market's peak in July 2007.

Glenn Crellin, assistant director for research at the University of Washington's Runstad Center for Real Estate Studies, said he wouldn't be surprised if the median dips below $300,000.
…
The total number of houses and condos on the market in King County last month was down 32 percent countywide and 38 percent in Seattle from February 2011, according to the listing service.

There haven't been this few homes listed for sale in any February since 2006.
Again, Eric nails the story.
Aubrey Cohen, Seattle P-I: House prices rose in Seattle in February
What can one read into Seattle's increase, seeing as prices were down by 10.1 percent year-over-year in January?

"I think it really is a market that's trying to figure out exactly where it belongs, what normal looks like," Crellin said, noting that there's wide variation in price changes by area in and around Seattle. "It's very much a neighborhood-specific kind of thing."

Job growth and historic low interest rates are actually creating a seller's market through the mid-price ranges and contributing to surging sales near job centers, J. Lennox Scott, CEO and chairman of John L. Scott Real Estate, said in a listing service news release. "It's a special moment in time in real estate history. We have a backlog of qualified buyers looking for homes to purchase."
Sales are up, but I think it's still quite a stretch to say they are "surging" anywhere. And I wonder if Lennox would mind quantifying exactly how "special" this time is "in real estate history." Is it as special or more special than, say, November 2007, when he declared that "we're in one of the best markets in the nation here in the Northwest," and that prices wouldn't fall? Hmm.
Michelle Dunlop, Everett Herald: Local home sales rise in February
Home sales in Snohomish County continue to outpace last year, though the supply is beginning to dry up, according to a report released Monday.

"The only thing tempering this from being a hot, thriving market are the short sales and foreclosed properties which represent about one-third of the transactions," said Frank Wilson of Northwest MLS in a statement.

Nearly half of the home sales in the county last year were foreclosures or short sales, according to Washington Property Solutions of Bellevue.
Those dang short sales and foreclosed properties. If only they would just go away we could get back to that hot-hot-hot market of 2005!
Kathleen Cooper, Tacoma News Tribune: Home sales up last month in Pierce and Thurston counties
Successful sales provided a glimmer of hope for the Pierce and Thurston county housing markets in February.

More homes sold in Pierce and Thurston counties last month than the same time a year ago, though sale prices continued their drop.
…
But the median sale price of single-family homes and condos fell 16 percent in Pierce to $169,450. That's about 40 percent off the peak of $285,000 in August 2007.
Not much meat here in this month's article.
Kathleen Cooper, The Olympian: County home sales up, but price declines
More homes sold in the two counties last month than the same time a year ago, though sale prices continued their drop.

Closed sales rose 2 percent in Thurston and 30 percent in Pierce, according to data released Monday by the Northwest Multiple Listings Service, which represents 21 counties in Western and Central Washington.

…Thurston's median sale-price drop wasn't quite as bad, down almost 3 percent to $211,500.
Not much here, either.
I actually had a nice chat on the phone last month with Rolf Boone, who usually writes the real estate stories for The Olympian. I learned that the reason we mostly see just these short blurb articles online is that the full articles that he writes for some reason are only published in print, and not online. That's a bummer, because it sounds like he really cares about his work and is trying to really feel out the story, but the fruits of his labor are hidden from me in the digital space.
(Eric Pryne, Seattle Times, 03.05.2012)
(Aubrey Cohen, Seattle P-I, 03.05.2012)
(Michelle Dunlop, Everett Herald, 03.05.2012)
(Kathleen Cooper, Tacoma News Tribune, 03.06.2012)
(Kathleen Cooper, The Olympian, 03.06.2012)