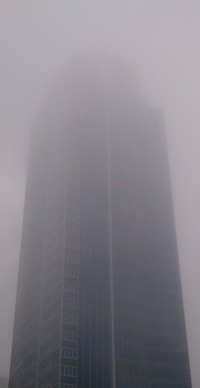 The crazy-luxury condo building at 1521 2nd Avenue—where the starting price is $1 million—is described on their website as follows:
It is the West Coast's most successful condominium high-rise community with established market values.
In light of the "established market values" comment, I find it interesting to note (hat tip to WestSideBilly) that Unit 3802, the second-largest unit on the 38th floor (the tower's top level), sold on Friday for $3.6 million.
That would be an "established market value" 27% below where it sold just three years ago in May 2009, for just shy of a cool $5.0 million.
The previous buyer only financed $2.5 million at purchase, followed by another $500k loan a few months later, so that entire $1.4 million loss is on them.
$1,362,820 loss on the sale
$386,778 in interest payments
$180,000 agent fees (assuming 2.5% commission)
$92,831 in property taxes
$60,660 in HOA dues
Total Cost for 3 years: $2,083,089
$57,864 a month has got to be the most expensive rental in town, hands down.
[Update: Oops, I originally forgot to include the interest payments on the $3 million in loans. We'll assume that they were short term ARMs with rates 1.1 points below the 30-year average. I have now added the total interest payments to the above accounting.]