I received the following email from a reader who has been shopping for homes this spring in North Seattle:
This is just a note from the open house circuit. Houses in North Seattle are on the market a little longer than a few weeks ago. They are taking 7-15 days to show 'pending.'

A few weeks ago houses would go on the market on Wednesday or Thursday and by Monday they would be pending. At first I thought it was my imagination, but it seems to be true.

As I visit open houses agents tell me they are, "reviewing all offers on Monday." A shiver goes down my spine. One agent even posted it in the listing-will review all offer on Monday by 6pm. Monday goes by…nothing. Tuesday, nothing!!!!

This is great news for people like me that cannot make a split second $500,000 decision. There are a few okay houses on the market that I could even consider making a lower of offer on.

This is a crazy scary time.
According to the latest NWMLS numbers (May), the total number of listings on the market in King County did increase slightly last month for the first time this year, so that would seem to indicate a slight softening of the market.
Unfortunately, so far the data I have available to me has not yet shown much of a slowdown in the rate at which homes are going pending. As part of their new "Real-Time Price Tracker," Redfin just released a new set of data for 19 markets around the country, including a historical series of the percentage of new listings each month that are under contract (i.e. pending) in two weeks or less. Here's how Seattle looks compared to the national percentage as well as San Francisco, one of the hottest markets: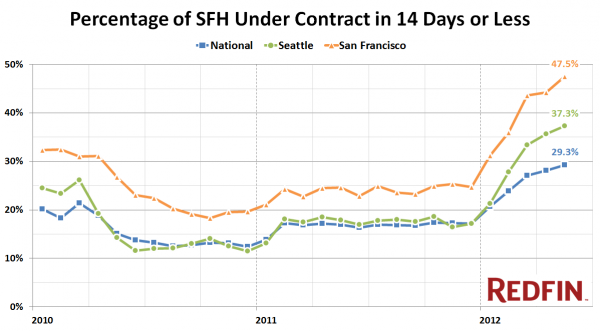 No slowdown as of the end of May, anyway. It's interesting to me that up until February of this year, we were trending pretty closely to the national average, but for the last few months Seattle has heated up considerably faster than most other markets.
I hope you're right and we're beginning to trend back toward a more rational, calm market.
Full disclosure: The Tim is employed by Redfin.