The Office of Financial Management recently emailed me their latest annual migration data, which shows the first increase in new residents moving into the state since 2006: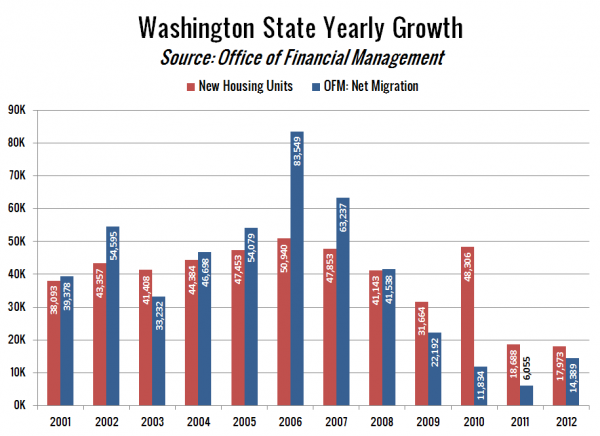 After a paltry 6,055 people moved to Washington between April 2010 and April 2011, the pace has picked up this year, reversing a five-year trend and mostly catching up with the rate at which new housing inventory (for rent or purchase) is coming on the market.
It's worth noting that although it is back on an upswing, annual net migration is still a tiny fraction of the 120,000 people a year that local real estate educator Richard Hagar has been consistently claiming since 2007.
Here's a plot of just King, Snohomish, and Pierce counties, going all the way back to 1961 (the oldest data provided by OFM):
King and Snohomish actually both lost people in 2011, but have since inched back into positive territory, gaining 2,214 and 2,019 residents in 2012, respectively. Pierce was in the red in 2009 and 2010, but bumped back up a bit earlier than King or Snohomish, and added 684 new residents in 2012.