Full disclosure: The Tim is employed by Redfin.
Last week Redfin released September housing market data, so let's take a look at the rate at which homes are going under contract in two weeks or less in the Seattle area, compared to San Francisco and the national rate: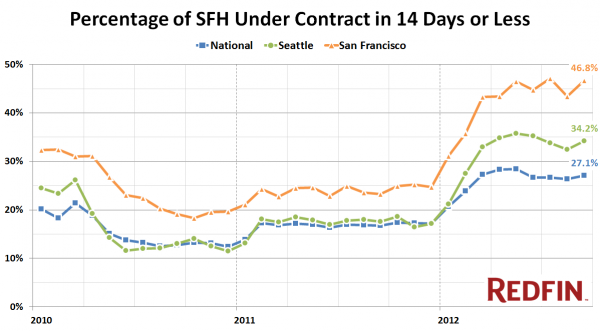 No big change in the relationship between Seattle, San Francisco, and the national rate. Although the percentage of homes selling within two weeks peaked in the Seattle area in May and began to head down, it bumped back up again in September, and has held fairly steady through the summer.
The last few years have seen a fairly flat summer followed by a big boost in the new year. Hopefully we don't see the same thing this coming year. With over a third of homes currently going under contract within two weeks, the market was already extremely frustrating for buyers this year. If the number goes up even further next spring is not going to be a fun time at all to try to buy a home.