A reader emailed me with a question about home prices compared to gold:
Any easy way for you to compare Case-Shiller home prices to gold? I have a hunch prices have dropped much more dramatically than we realize, as our USD goes in the tank.

Maybe Goldman's 22% drop prediction was closer if the nasty inflation wasn't considered?
Since Case-Shiller is an index and doesn't give us home prices in actual dollars, we can't really compare Case-Shiller "home prices" to gold, but we can compare the median price. I went back to my spreadsheet of historic King County median prices and added a column for the price of an ounce of gold, and this was the result: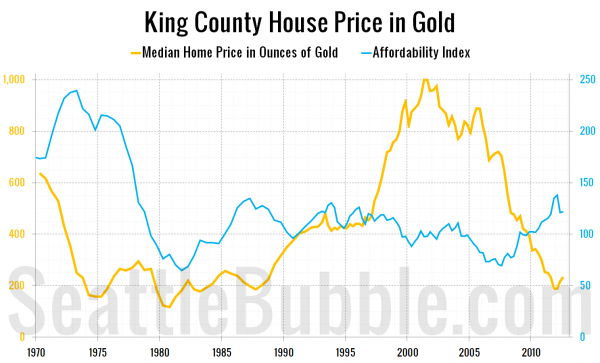 Indeed, if all of your assets were in gold instead of US dollars, home prices fell a whopping 45% between June 2010 and February 2012—double Goldman Sachs' predicted drop.
Pricing homes in gold also dramatically shifts the home price peak. Seattle home prices peaked at just barely shy of 1,000 ounces of gold in Q2 2001, and fell to a low of 188.2 ounces of gold in Q1 2012—an 81% drop.
For comparison, here's a chart with homes priced in gold alongside inflation-adjusted home prices: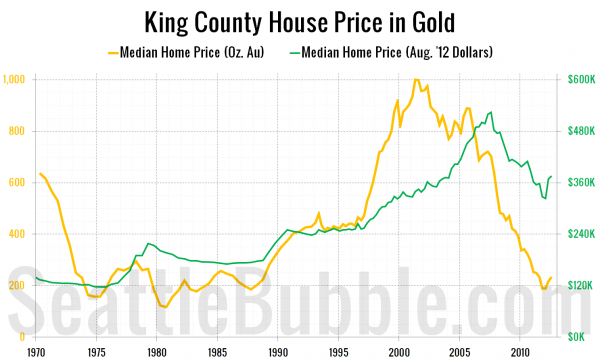 Inflation-adjusted home prices (in USD) peaked in the third quarter of 2007 and fell 38% from the peak to the bottom (so far) in the first quarter of this year.