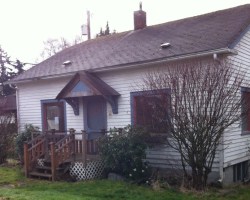 I like to keep tabs on what's going on in my neighborhood, and when a little house a block away was listed for rent on Craigslist (screenshot) this week, I remembered seeing it as a foreclosure on the market for sale last year. I got a little curious to know some more about this home's history, so I dug around a bit in the public records…
Who in their right minds would ever agree to lend $466,500 on a 2 bedroom, 1 bathroom, 1,280 square foot home on a tiny 1,742 square foot lot in Everett? As it turns out, a company called "Financial Freedom Senior Funding Corporation" is who (what a delightfully Orwellian name). And guess what, they just so happened to be a subsidiary of Lehman Brothers.
I've seen a lot of insane stuff from the housing bubble in the years I've been running this site, but I'm fairly certain that a $466,500 loan on a home that was really only worth about $75,000 takes the cake, at least here in the Seattle area.