Just barely over a month ago we launched our latest price-guessing contest: Guess the Price Round 5: 101 Years Old in Phinney Ridge. After round 4 dragged on for seven months, I tried to pick a home that was likely to sell a little quicker. Of course, I didn't expect it to go pending the same day I posted the contest. I thought they would at least leave it on the market through the weekend, to expose it to as many potential buyers as possible.
Today's "Guess the Price" guest star is 304 NW 74th Street in Seattle's Phinney Ridge neighborhood.

This round's home hit the market yesterday with an asking price of $439,950. This is not the first time it has been for sale recently—it was originally listed on October 2, went pending on October 9, but was delisted on October 12. It was relisted on October 29, had a price drop on November 12, went pending again on November 17, but was delisted again on November 28.
Just 11 people managed to get in guesses in the less than 5 hours between when the contest posted and when the home went pending. Guesses ranged from $418,000 to $495,000. The average price guessed was $452,177, and the median guess was $450,000. Here's the plot of all the guesses, with the final close price & date marked in green: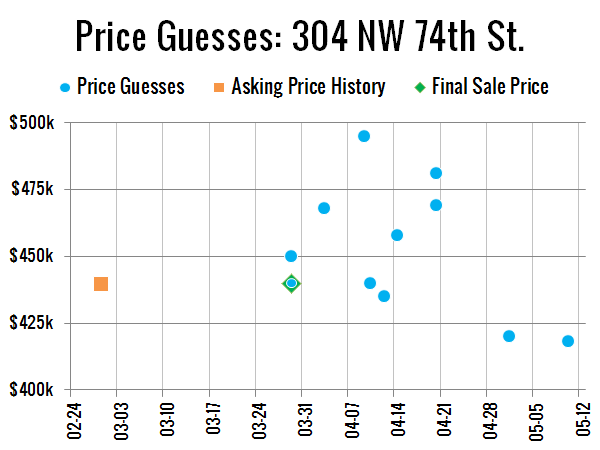 According to the NWMLS, the home sold on March 29 (just four weeks after listing), with a closing price of $440,000—which was exactly what was guessed by commenter Beau. Congratulations! I've contacted Beau and we're making arrangements for his prize.
The final sale price came in dead on the original asking price, and pretty much right at what it last sold for in March 2006.
Here's the difference between the average guess and the final sale price our contests so far:
-2.2%
+5.5%
-10.5%
+10.0%
+2.8%
Stay tuned in the next few weeks, when we'll kick off another round of Guess the Price.