It's already time for another new round of "Guess the Price." Here's how the game works. I'll describe a home that's currently on the market, giving you as many pros and cons as I can, and you guess what the final sale price will be when/if it sells.
Be sure to enter your real email address into the form when you leave your guess in the comments, because the winner gets a $25 gift card to the restaurant chain of their choosing. Don't worry, I'm the only one that can see the emails that are entered. The winner is the person whose guess is closest to the final sale price, above or below. If there is a tie, whoever guessed closer to the correct closing date will be declared the winner.
Contest closes to entries at midnight the morning of April 22nd, or when the home goes pending, whichever comes first. Note that last time the home went pending just a few hours after the contest opened, so get your guesses in early!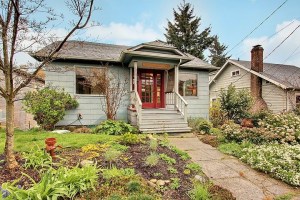 Today's "Guess the Price" guest star is 4214 Midvale Ave N in Seattle's Fremont neighborhood.
This round's home hit the market yesterday with an asking price of $415,000. This is not the first time it has been for sale in the last few years—it was originally listed in September 2011, had a couple of price drops, and was delisted in December 2011. The market today is quite a bit different than it was in late 2011, so I suspect they'll have better luck this time. There is an open house scheduled for this coming Sunday for those of you who would like to go check it out in person.
The home is neither bank-owned nor a short sale, and it's not a flip. In fact, the last sale was long enough ago that it doesn't even show up in King County's online records (which go back through sometime in the early 1980s). It sits in the northeast corner of Seattle's Fremont neighborhood, where the median price of single-family homes sold in March was $492,000. Here's an excerpt from the listing agent's description:
Sweet location and charm galore. Bring your paintbrushes and roll up your sleeves-this home is ready to shine.
Built in 1923, this 1-story home (with basement) sports 3 bedrooms, one full bathroom, and one three-quarter bathroom. The main floor has one bedroom, the other two are in the basement. The three-quarter bathroom is also in the basement. According to the King County Department of Assessments, 860 of the home's square feet are above ground, with an additional 760 in the finished basement.
The exterior of the home appears to be in decent condition, though there appears to be some wear on the front porch steps. The yard is small, but well-kept. Off the rear of the home there is a good sized deck, but it's not covered and the wood does look somewhat weathered. There's also a small storage shed in the back yard. The listing claims there is "off-street parking," but there is no garage, and no driveway is apparent in any of the photos or Google's satellite view.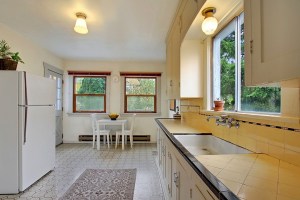 Inside, the paint job looks somewhat new. The wood trim that surrounds most of the windows and doors also appears to be painted. The hardwood floors appear to be in good condition, but the linoleum in the kitchen is a somewhat dated pattern. Heating appears to be provided by both a central forced-air system and supplemental baseboard heating evident in many of the rooms.
The kitchen is a simple, narrow, single-counter layout, with tiled countertops. Cabinet space appears to be somewhat limited, and there does not seem to be a dishwasher. The dining space is at one end of the kitchen, and is currently staged with a small two-person table. It looks like fitting a table much larger than that would be difficult.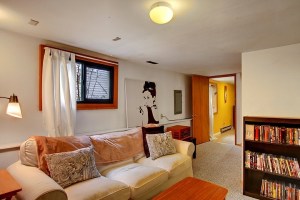 The main floor sports a wood stove. The basement appears to have slightly short, but adequate ceilings. Windows throughout the basement let in a decent amount of light.
Overall, this home looks like it has been decently maintained throughout the years, although there are not many modern updates (e.g. appliances, kitchen cabinets, heating, etc.). The asking price is slightly lower than what other similar nearby homes have been selling for, so they may be looking for a quick sale. There are just 5 houses for sale in all of Fremont right now), so chances are they'll get their wish.
Summary of 4214 Midvale Ave N
Pros

desireable location
reasonably well-kept
nicely manicured lot
garden shed
large deck
not on a busy street

Cons

no garage or driveway
kitchen and dining room are small
dated kitchen, no dishwasher
limited counter space
short ceilings in basement
baseboard heating throughout
So, what say you? How much will this home sell for, and when will it sell?