Six weeks ago we launched our latest price-guessing contest: Guess the Price Round 6: "Ready to Shine" in Fremont. Forty-two readers made guesses this round before the home went pending on April 16th.
Today's "Guess the Price" guest star is 4214 Midvale Ave N in Seattle's Fremont neighborhood.

This round's home hit the market yesterday with an asking price of $415,000. This is not the first time it has been for sale in the last few years—it was originally listed in September 2011, had a couple of price drops, and was delisted in December 2011. The market today is quite a bit different than it was in late 2011, so I suspect they'll have better luck this time.
Your guesses ranged from $405,000 to $486,000. The average price guessed was $439,283, and the median guess was $435,000. Here's the plot of all the guesses, with the final close price & date marked in green: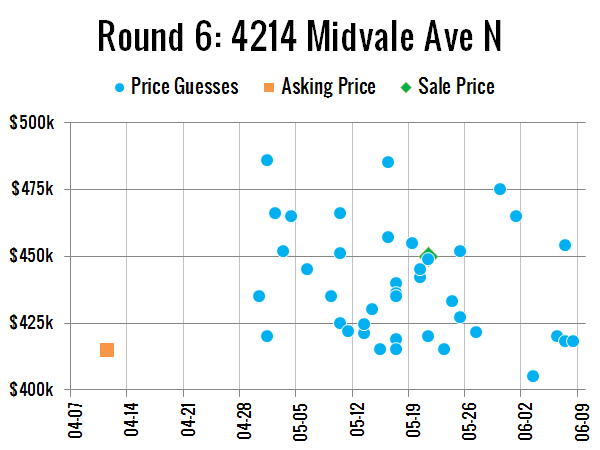 According to the NWMLS, the home sold on May 21 (just under six weeks after listing), with a closing price of $450,000. Oddly enough, nobody guessed exactly $450,000. However, two people were just $1,000 off—whynot guessed $451,000 and KC guessed $449,000—which makes this the first round to go to the tie-breaker of guessing closing date. Whynot guessed a closing date of 5/10, while KC hit the nail on the head, guessing the closing date exactly right at 5/21. Congratulations to KC!
Here's the difference between the average guess and the final sale price our contests so far:
-2.2%
+5.5%
-10.5%
+10.0%
+2.8%
-2.4%
Not bad. Seattle Bubble guessers have been collectively within 5% of the sale price in half of our contests so far. That's quite a bit better than Zillow's stated accuracy for the Seattle area, where their "Zestimates" are within 5% of the sale price just 33% of the time, and not even within 20% of the sale price 17% of the time.
Stay tuned in the next few weeks, when we'll kick off another round of Guess the Price.