As regular readers here may know, after the world's longest home search, I finally bought a house in May 2011. Specifically, we closed on May 20, 2011 and paid $224,950.
Last week I happened to pull up my home on Zillow, and was greeted with an interesting surprise. According to Zillow, I purchased my home on May 17, 2011 for $364,000.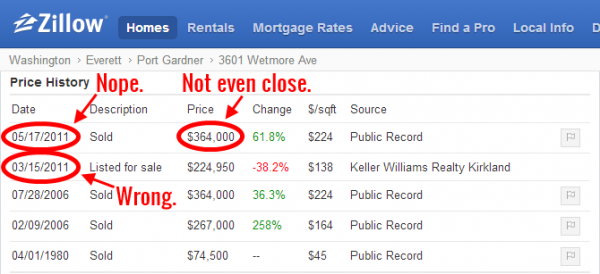 The especially strange part about this is that it was new information that had been added to Zillow somewhat recently. I only check my home's page on Zillow a few times a year but this erroneous information definitely did not exist as recently as a few months ago. Up until this bogus data was added, Zillow's price history for my home looked similar to my home on Trulia, where the 2011 listing and sale are entirely missing.

Of course, if you pull up my home on Redfin, you get information that is both complete and accurate: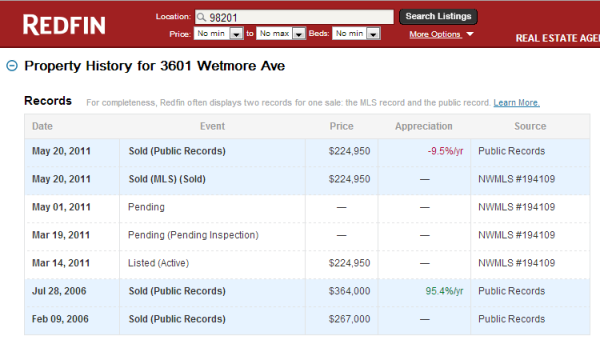 If you spend much time comparing Zillow and Trulia to the underlying county records and MLS data you will run into these kinds of blatant errors with regularity. It is worth noting that incorrect sales data like this was not even covered in the real estate listings data quality study that Redfin commissioned last year, which showed that Zillow and Trulia are also missing approximately 20% of the active listings and that 36% of what they show as homes for sale are no longer actually on the market.
To their credit, for one-off issues like my home's incorrect data above, Zillow does have a "Flag transaction" button, and support staff there were quick to respond last week when I reported the incorrect data. By the end of the day they reported that they had resolved the issue, and about a day later the site reverted to the version that is merely missing my 2011 purchase. So that's a win, sort of. There are certainly some people at Zillow and Trulia that care about data quality, but their current approach to improving the quality of their data is like trying to improve your Hummer's gas mileage by making sure there is enough air pressure in the tires—you might get a few more miles per gallon, but you're still driving a vehicle that is ridiculously inefficient by design.
These types of systemic data quality issues have been known to Zillow and Trulia for years, and yet they have made only modest infrastructure improvements to address them. This makes sense when you realize that buyers searching for a home on Zillow or Trulia are not really their customers, they're the product that is being sold. Zillow and Trulia's customers are real estate agents who buy advertising, for the explicit purpose of turning buyers on those sites into "leads."
But don't take my word for it. I'll let Zillow CEO Spencer Rascoff tell you in his own words how bad data is a good thing for Zillow's lead-hungry real estate agent customers:
I honestly have no idea why any serious home buyer would use Zillow or Trulia to search for homes for sale. I suppose if you live in a rural area that is not serviced by Redfin or any other MLS-powered site, using Zillow or Trulia is better than having nothing at all, but only slightly.
If only Zillow would put as many resources into data quality as they put into sappy TV commercials.
Full disclosure: The Tim is no longer employed by Redfin, and holds no positions in Zillow, Trulia, or Redfin at the time of this post.
[Update]
Wow that's rich. After this post went live my home's page on Zillow magically updated with the correct 2011 sale date and price. Obviously I have some readers with data edit access over at Zillow HQ.