Let's take a closer look at how listings increased (or didn't) in January.
Here's a view of how inventory has grown so far this year: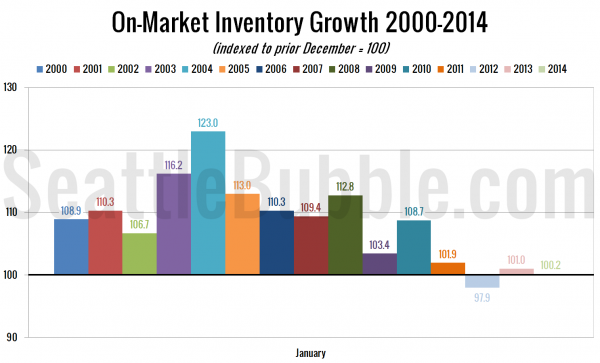 After improving over the last few months, on-market inventory growth lost some traction in January, falling to the second-lowest level on record when compared to December.
Next, here's how many new listings hit the market, comparing 2014 to every year I've got data for.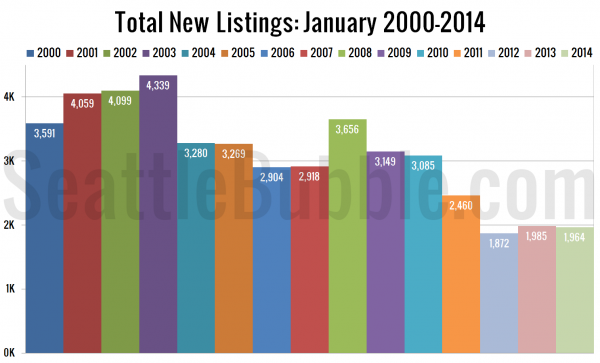 Slightly fewer new listings than January of last year, still way below the "normal" level of 3,000-4,000, with only about 2,000 new listings last month.
The next chart shows the difference between the number of new listings each month and the number of pending sales. Prior to late 2011 this number was almost always positive, except in December, when very few new listings hit the market. From October 2011 through March 2013 this measure was negative, indicating very tight inventory.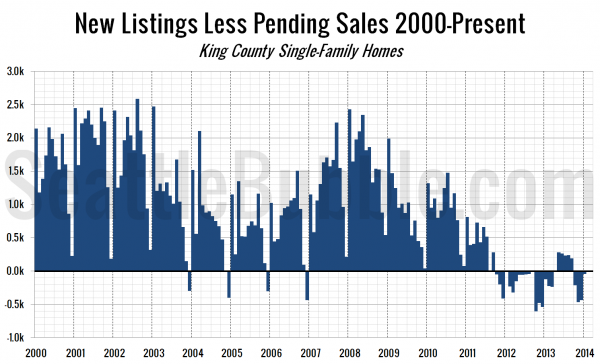 Didn't quite move back into the black in January, but this year's -46 level is definitely better than last year's -537 level. This measure didn't turn positive last year until April. Hopefully for buyers this year we'll see it in the black by February.
Finally, let's take a look at the "stale listings" measure, which uses the total listings, new listings, and pending sales counts to estimate how many listings are "carried over" from one month to the next.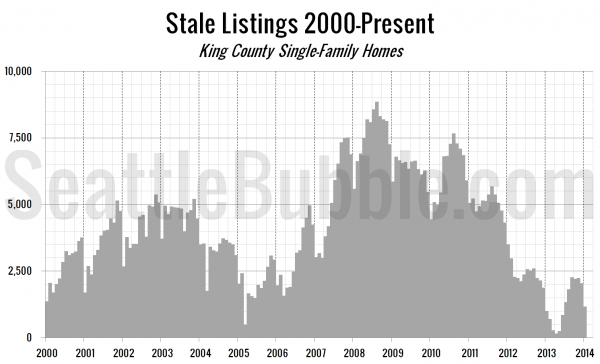 Stale listings dipped quite a bit this year between December and January. Most years they start increasing starting in February, although last year they fell last year until April.
If January is setting the tone for listings in 2014, expect this year to be another disappointing one for buyers hoping for good selection.