It's been a while since I've posted a good link roundup, and since I've seen a number of related stories pop up in the last couple of weeks, I thought it was a good time for one.
While the housing market was definitely on fire last year, with respect to bidding wars and home price gains, there are a lot of signs that things will slow back down dramatically this year. If you're a buyer looking for a home, near-record-low inventory will no doubt still make things feel intense, but it definitely looks like 2014 will be quite a bit different for housing than 2013.
Calculated Risk: MBA: Mortgage Purchase Index lowest since 1995
From the MBA: Mortgage Applications Decrease in Latest MBA Weekly Survey

Mortgage applications decreased 8.5 percent from one week earlier, according to data from the Mortgage Bankers Association's (MBA) Weekly Mortgage Applications Survey for the week ending February 21, 2014. …

The Refinance Index decreased 11 percent from the previous week. The seasonally adjusted Purchase Index decreased 4 percent from one week earlier to the lowest level since 1995. …

"Purchase applications were little changed on an unadjusted basis last week, but this is the time of a year we would expect a significant pickup in purchase activity, and we are not yet seeing it," said Mike Fratantoni, MBA's Chief Economist.

…
The purchase index is probably understating purchase activity because small lenders tend to focus on purchases, and those small lenders are underrepresented in the purchase index – but this is still very weak.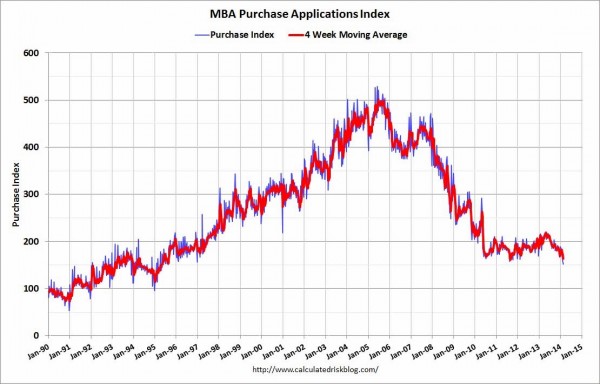 Calculated Risk: Housing Weakness: Temporary or Enduring?
The recent data for housing has been weak, with new home sales and housing starts mostly moving sideways over the last year (with plenty of ups and downs, and I expect downward revisions to Q4 new home sales). Existing home sales have declined 14% from a peak of 5.38 million in July 2013 on a seasonally adjusted annual rate basis (SAAR), to just 4.62 million SAAR in January.
…
The bottom line is the housing weakness should be temporary. There should be more inventory this year, price increases should slow, and sales volumes increase.
Wall Street Journal: Mess in the West: Home Sales Index Hits 7-Year Low
An index that measures contracts to purchase previously owned homes was mostly unchanged in January from December, according to a report Friday. But the index showed another drop in the West, where it has fallen for eight consecutive months.

The index fell in the West to its third lowest level since the NAR began its tab in 2001, surpassing only two months from the summer of 2007, when housing markets were beginning their free fall.
Wall Street Journal: Don't Get Excited by Jump in New Home Sales
New home sales jumped to the highest level since July 2008 in January, which is really good news if it holds. But the Census new-home sales data is a choppy indicator with a small sample size, and when you take a longer look at the series it's pretty clear that the nation's two-year-old real estate turnaround is still largely a recovery in prices.

The building of new homes — the housing sector's biggest contribution to annual economic growth — continues to lag badly. This disconnect goes a long way toward explaining why U.S. growth is still pretty weak some four years after the recession. It's also why economists' hopes that 2014 will finally be a breakout year for the economy depend on home building regaining its footing in the spring.

"The key piece for the U.S. economic outlook in 2014 is a turning point in the construction cycle," says Ryan Sweet, an economist at Moody's Analytics.