Imitation may be the sincerest form of flattery, but straight up ripping off someone else's hard work is… something else. The latter describes what Asset Realty Group, a sleazy Kirkland-based brokerage, is clearly guilty of.
Let's take a tour of a shameless rip off, shall we?
Home Page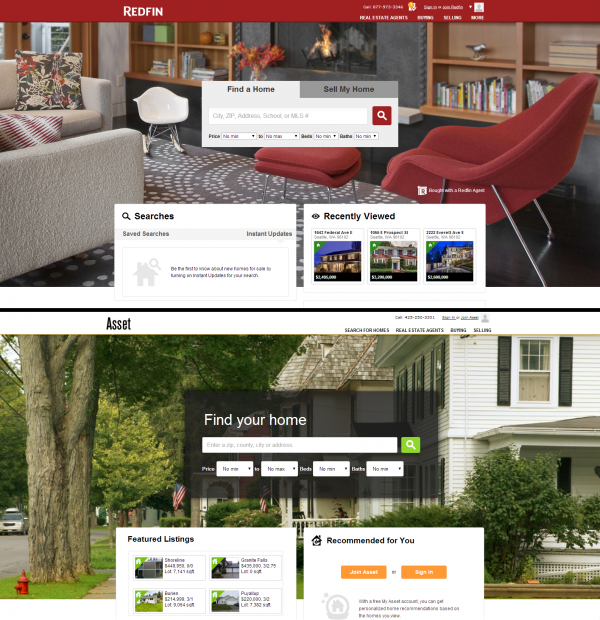 The home pages are very similar, but not so identical as to arouse too much suspicion. After all, Redfin, Zillow, and Trulia all have very similarly laid out home pages. Dig a little deeper though, and the all-out copying becomes evident.
Listing Page
Identical layout, same horizontal table of contents with a moving arrow that marks your place in the page, literally identical default avatars (far upper-right). They even duplicated the agent's left-hand-on-the-hip pose! Speaking of the agents…
Agent Page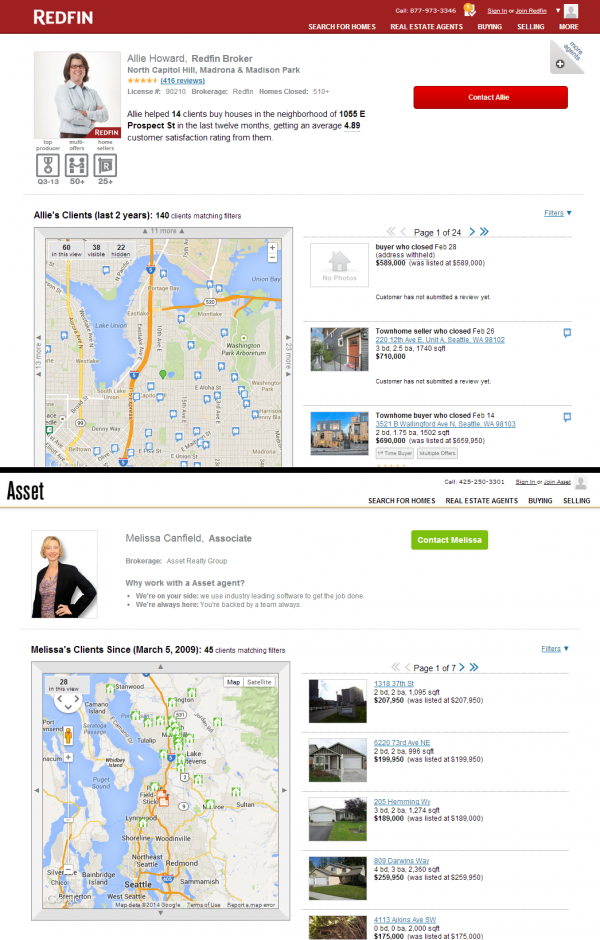 Here's where it gets really ridiculous. Not only is the Asset Realty Group agent page a total rip off of Redfin's agent page, but when you view the page source, you'll find 54 instances of "Redfin" still in the code. They literally copied and pasted large amounts of Redfin code and didn't even bother to do a find and replace.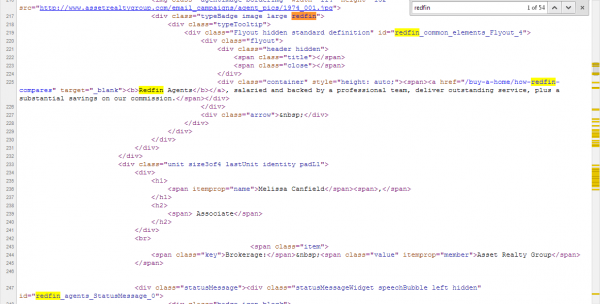 According to the Internet Archive, this shameless clone version of their site appeared some time between October and early February. So far there appears to have been no repercussions.
At the very least, there should be a very large fine in store for them from the NWMLS. If instead, the NWMLS chooses to sit on their hands and do nothing, here's the message is the NWMLS sending to it's members: Write about another brokerage's listings, get a $50,000 fine and a threat of your listing feed being cut off. Completely clone another brokerage's website, literally copying and pasting their code as well as at least some of their image assets… hey no problem, go for it!
Apparently sleazy tactics are nothing new for Asset Realty Group, wholesale website copying is just their latest scam. Here's a sampling of Asset Realty Group reviews on Yelp:
After we took our house off the market, i started receiving numerous phone calls from this service, despite me asking them not to call again. Their representative was rude and pushy. Phone spam.
Every time my house goes off the market I get a call from this company. Sometimes they leave messages. Today they did not. I've asked them in the past not to call me, my number is listed in the 'Do Not Call Registry' yet they continue to call.
I too listed a property in Washington on the MLS and after removing it have been hounded by calls from this company.
I have no doubt that Asset Realty Group is a dues-paying member, but the NWMLS is not doing themselves or the rest of their membership any good by allowing brokerages that engage in sleazy, unethical, bottom-feeding tactics like these to remain part of their organization.
Full disclosure: The Tim is currently a Redfin shareholder. This content is not endorsed by Redfin.