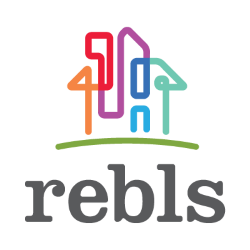 King County homeowners and homebuyers have another new option as Rebls—a matchmaking service for off-market homes—officially launches today.
I connected with the Rebls team a few months ago and have had a few conversations with its founders Bryan Copley and Jeff White. What they're doing is an interesting and unique approach to buying and selling. On the surface it sounds a lot like Zillow's "Make Me Move" (a.k.a. "Subject Me To Endless Pitches From Real Estate Salespeople"), but Rebls is going much further, and putting much more control in the homeowner's hands.
Rebls aims to improve the home buying and selling process for everyone by making more homes available and empowering consumers to take control in a way that isn't possible in the current real estate market.
They've been testing their site and building out core features for a few months, and as of today they are launching in "open beta" for all King County homeowners and home searchers. Create an account for free and try out the site for yourself.
In the midst of planning their big launch, the team at Rebls took the time to respond to some questions I sent their way. The full interview is below.
---
What is Rebls doing that's new, different, and interesting?
Rebls is revolutionizing the way homes are bought and sold. In the current market, it's too stressful and expensive to find out if you can sell your home. We're changing that by enabling any homeowner to create a simple home profile that allows them to instantly see who wants to buy a home like theirs. No staging, no listing, and no commitments.
On the other side of the coin, there simply aren't enough homes on the market for buyers to have a high likelihood of landing their dream home. We solve that by giving buyers access to PreMarket homes they won't find anywhere else—more homes will be available, and in a more accessible format than ever before.
How did Rebls come about? What was the inspiration?
Bryan's aha moment came when one of his earliest mentors took him outside, pointed up and down the street, and asked him a simple question: which of these homes are for sale? Bryan did what most people would do. He pointed to each house that had a "for sale" sign in its front lawn. His mentor corrected him with the simple truth that sparked Rebls—every home is for sale.
In 2013, Bryan met Jeff who had recently purchased a home and left the experience feeling that the real estate process was broken. Jeff's takeaway acted as the perfect complement to Bryan's vision; it should be easier, it should be simpler. Jeff left Amazon, where he worked as a Senior UX Designer for Kindle and as the Interaction Design Manager for the Fire Phone, to become Rebls' Co-Founder & Creative Director.
Why are you launching here in the Seattle area to start?
We're launching in King County first so we can dedicate all our energy into creating an amazing real estate experience for people looking to buy or sell in the Seattle area. When the time is right, we'll expand Rebls into more areas.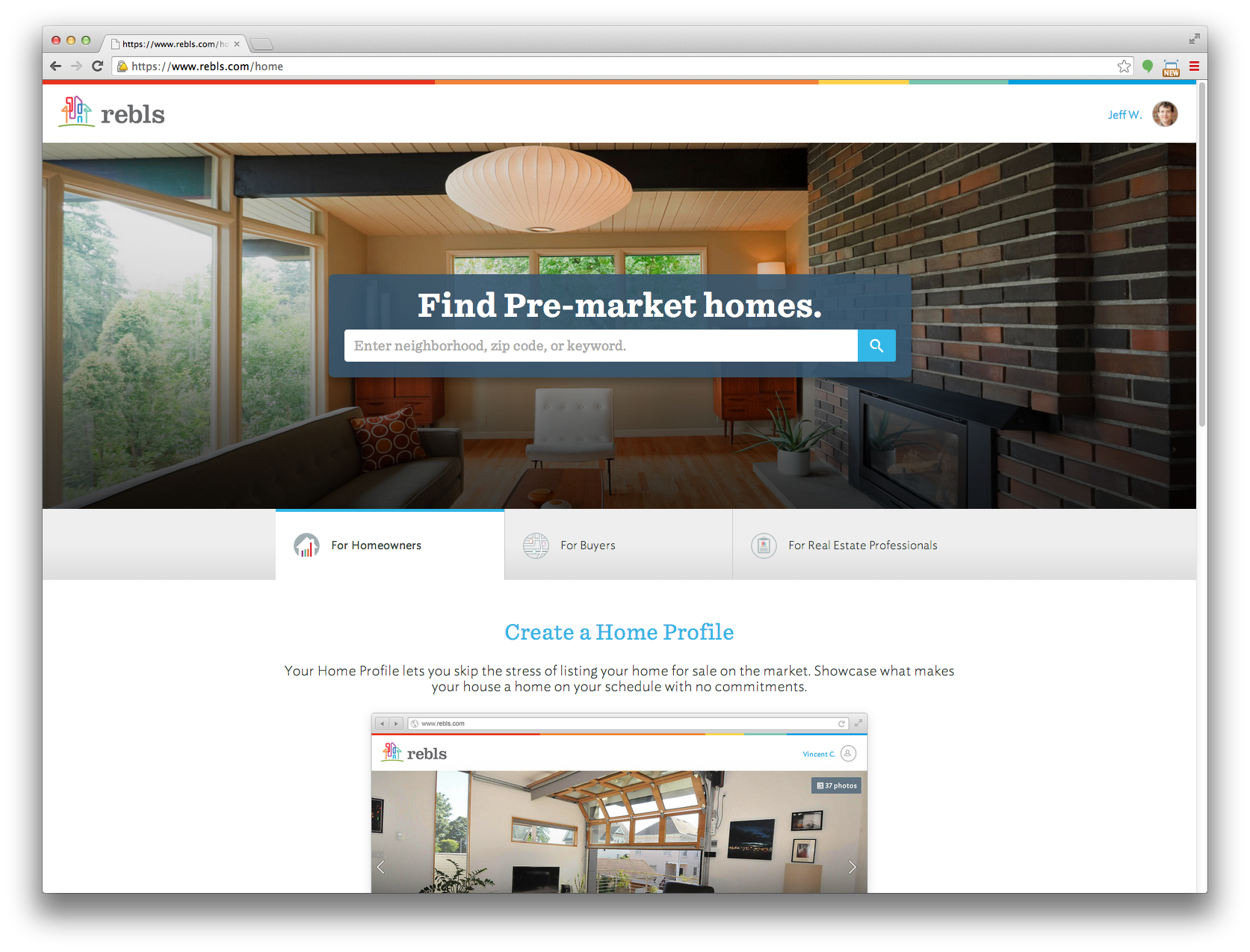 Why should a homeowner create an account on Rebls?
A homeowner should create an account on Rebls to learn valuable information about demand for their home without having to list it for sale on the market. Rebls makes it easy to see who's shopping for your home and find your own buyer if you're interested in selling.
Rebls is valuable for all homeowners, even if they're not interested in selling at the moment. For most people, buying and selling a home is one of the largest financial and emotional decisions they'll ever make. Rebls allows users to keep a pulse on buyer demand for their home with minimal effort. Rebls is about more than just enabling homeowners to sell through a simpler process and to a broader audience. We empower users to make the most critical decision of all: when/if to sell.
What benefits would a homeowner get from having an account?
One of the benefits we haven't named yet is Buyer Matches. Rebls matches buyers and homeowners through a percentage based system—think Match.com, but for homes. As a homeowner, you can see that a buyer on Rebls is a 95% match for your home, and are given the tools to reach out to that person directly.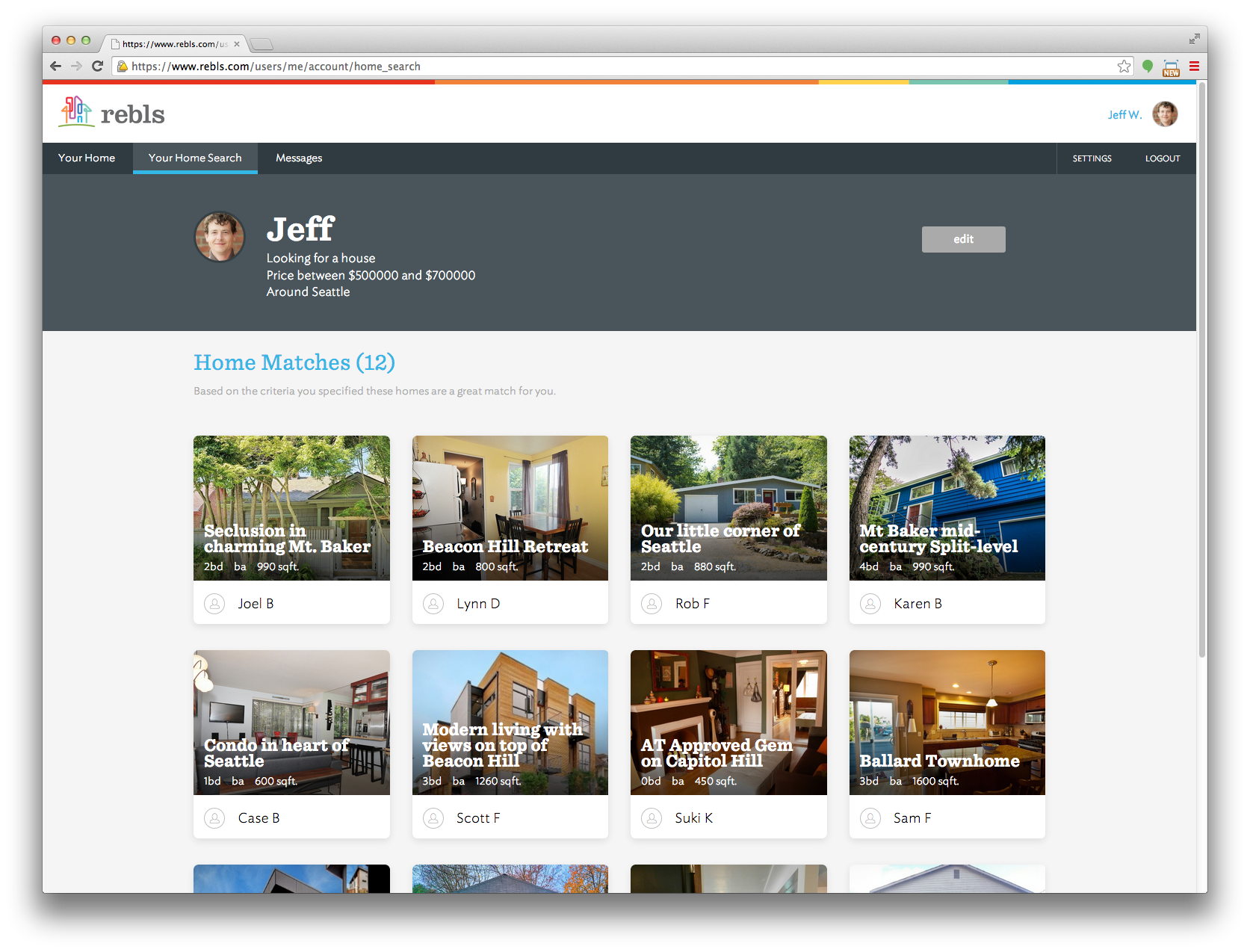 What is Rebls' relationship with agents?
Real estate agents are a valuable resource for buyers and homeowners, serving four core functions: matchmaker, educator, negotiator, and transaction coordinator. Of these responsibilities, matchmaking is the most time and energy intensive. Rebls streamlines this process by allowing homeowners and buyers to connect directly. This saves the agent a significant amount of time, which makes it easier for them to offer a reduced commission.
Rebls is establishing a network of partner agents from brokerages across King County who have agreed to offer reduced commissions for homeowners and buyers who find each other on Rebls.
Spencer underestimates the power of the consumer to influence pricing in any industry, and the willingness of the consumer to adopt technologies that will save them money, much less tens of thousands of dollars. He also doesn't address time savings as an item of consideration in whether an agent would accept a lower fee. If an agent could do 1/2 their usual work for 2/3 their usual fee, why wouldn't they?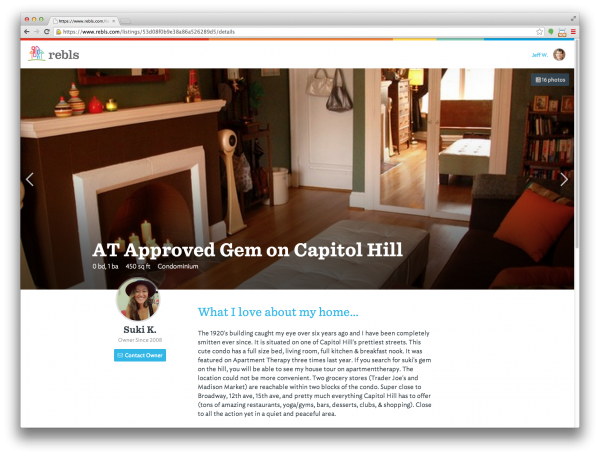 Sum up the big idea you're trying to realize with Rebls.
It all stems back to Bryan's vision: every home is for sale. Buying or selling a home is the single most impactful decision many people will make in their lives. Rebls aims to improve that process for everyone by making more homes available and empowering consumers to take control in a way that isn't possible in the current real estate market. All while staying true to Jeff's driving goal; it should be simpler, it should be easier.
[November 2014 Update]
Rebls has been making rapid improvements and additions since this story was posted a month ago. In addition to expanding to Snohomish and Pierce Counties, they have also added a feature that lets homeowners type in their address and see how many people are searching for a home like theirs.
They have also enabled buyers to search PreMarket homes without creating a profile, saying that it "fits well with our overall company ethos of transparency and access."
Finally, they also launched the first iteration of agent profiles with "early adopter agents who really embrace the Rebls mission." Agents on Rebls all offer reduced commissions to homeowners and buyers who find them through Rebls (commission range is indicated up front in an agent's profile).