Get access to the full spreadsheets used to make the charts in this and other posts, as well as a variety of additional insider benefits by becoming a member of Seattle Bubble.
November market stats were published by the NWMLS on Friday. Before we get into our monthly stats, here's a quick look at their press release.
Home buyers, sellers who stay active during holidays are being rewarded during "intense" market
Inventory remains "critically low," but there are fewer house-hunters in the hunt during this holiday season so motivated sellers and buyers are seeing success, according to brokers with Northwest Multiple Listing Service. Its just-released statistics for November show year-over-year gains in pending sales, closed sales, and prices, but a steep decline in inventory.

"The housing market continues to be red-hot on a seasonal basis, but this winter will be even more intense given the dangerously low inventory," remarked J. Lennox Scott, chairman and CEO of John L. Scott Real Estate.
…
[Broker Ken] Anderson said buyers have remained active all year. "Every month this year our market has improved for sellers. It is really a uniquely good time," he observed.

Scott agreed, noting "there is more pressure on new listings than we had last winter." A higher percentage of homes is selling within the first 30 days, according to his analysis. "This is setting the stage for a frenzy market in the spring of 2016. Even if interest rates go up slightly, buyer demand and low inventory will push prices up," he believes.
When does J. Lennox Scott not believe that home prices will be pushed up? (Answer: pretty much never.)
Here's your King County SFH summary, with the arrows to show whether the year-over-year direction of each indicator is favorable or unfavorable news for buyers and sellers (green = favorable, red = unfavorable):
| November 2015 | Number | MOM | YOY | Buyers | Sellers |
| --- | --- | --- | --- | --- | --- |
| Active Listings | 2,302 | -24.9% | -37.1% | | |
| Closed Sales | 1,741 | -24.3% | -6.9% | | |
| SAAS (?) | 0.96 | -8.7% | -3.4% | | |
| Pending Sales | 2,122 | -20.7% | -0.3% | | |
| Months of Supply | 1.32 | -0.7% | -32.4% | | |
| Median Price* | $499,950 | +4.2% | +13.6% | | |
This is the first time in quite a while we've seen any green arrows for buyers in the table above. However, it's hard to get even a little bit excited, given the all-time low inventory level. At this point there are so few homes for sale that it's going to be difficult for sales to come in very strong.
Here's your closed sales yearly comparison chart: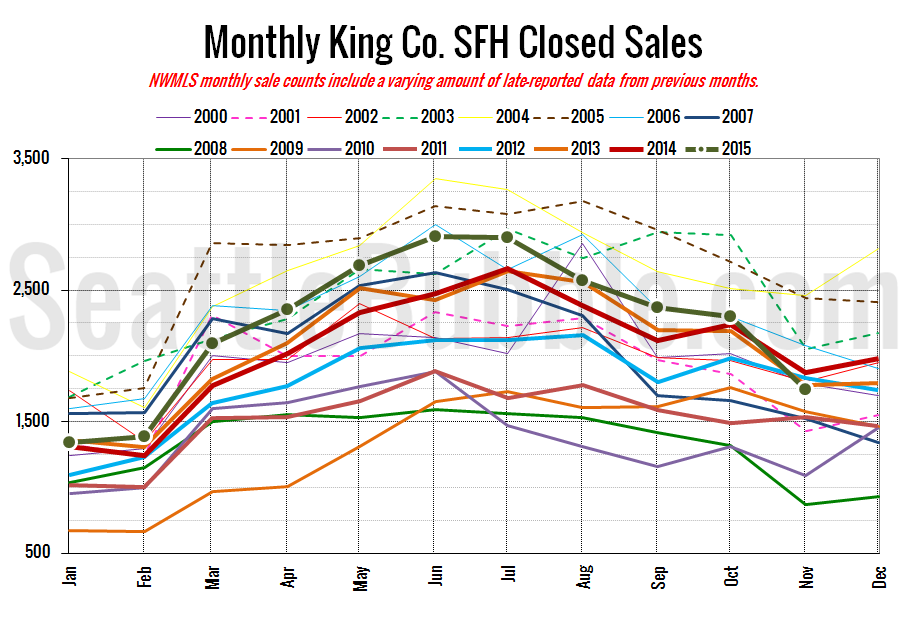 Closed sales fell 24 percent from October to November. Last year they fell 16 percent over the same period. Meanwhile year-over-year closed sales were in the red for the first time since September 2014.
Here's the graph of inventory with each year overlaid on the same chart.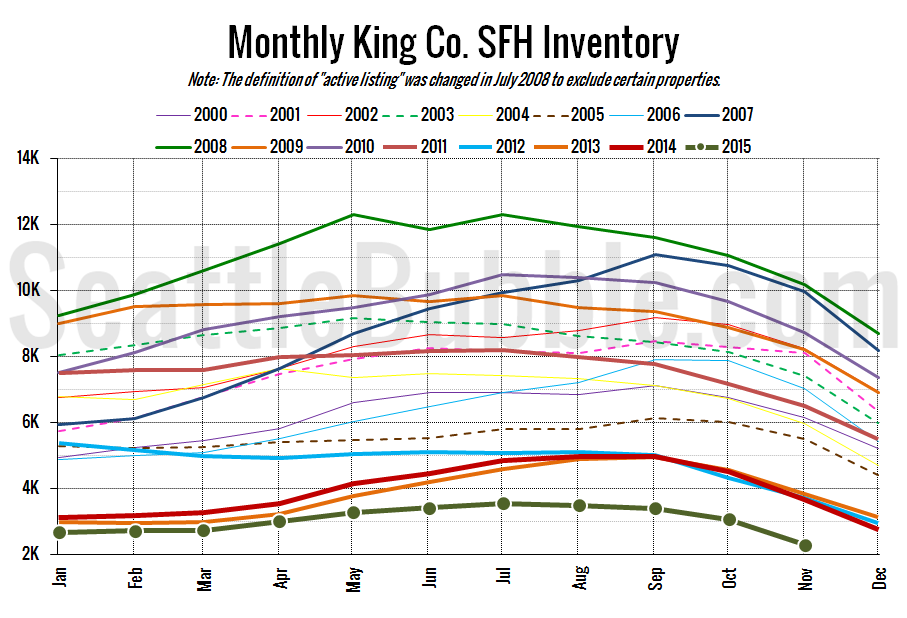 Inventory fell dramatically from October to November, and the year-over-year number continued to drop as well. Last month I said I expected to see a new all-time low for inventory in January. Here we are in November and we've already hit it. It looks almost certain that I'll need to adjust the scale on that chart next month.
Here's the supply/demand YOY graph. "Demand" in this chart is represented by closed sales, which have had a consistent definition throughout the decade (unlike pending sales from NWMLS).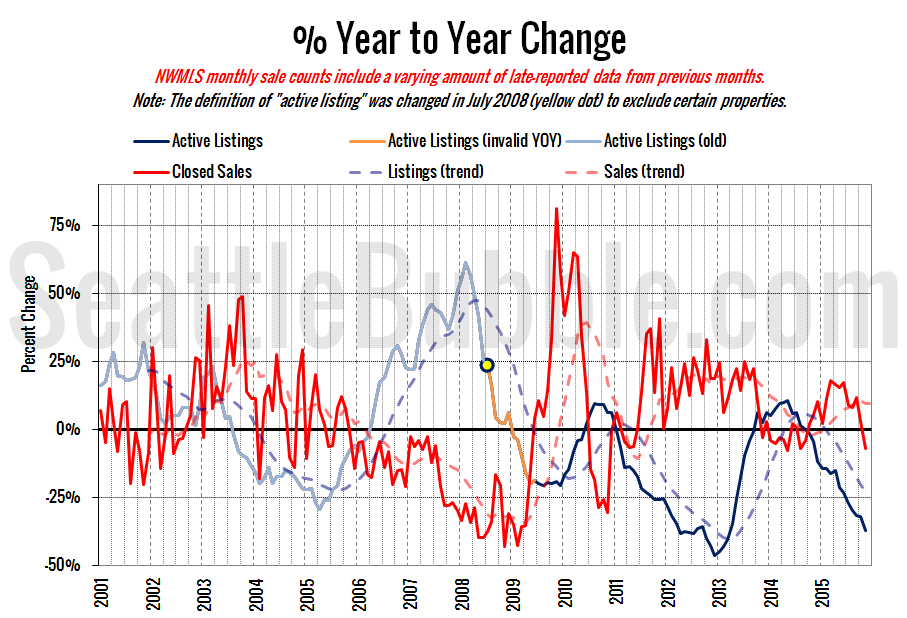 For the first time in over a year, the red demand line moved to the buyer's side of the chart. However, that blue supply line is showing no signs of moving toward back toward balance.
Here's the median home price YOY change graph: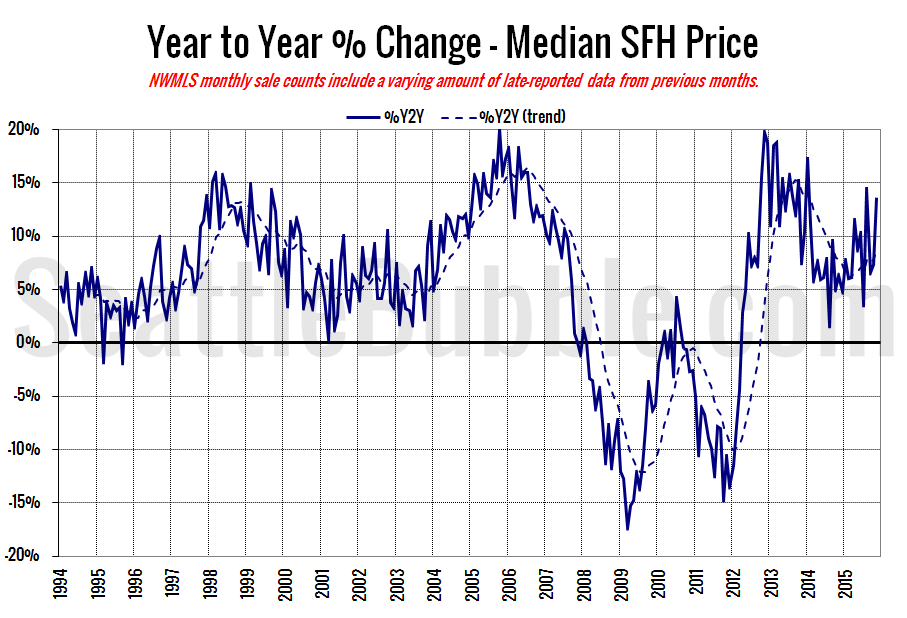 Year-over-year price growth nearly doubled from +7.3 percent in October to +13.6 percent in November.
And lastly, here is the chart comparing King County SFH prices each month for every year back to 1994 (not adjusted for inflation).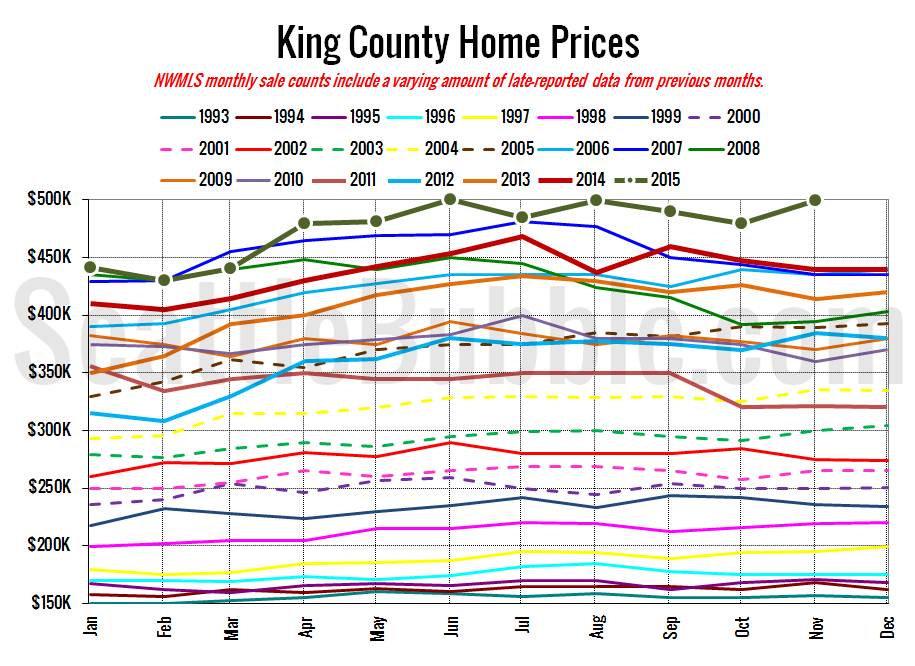 The median home price is still bouncing around in the same $480,000 to $500,000 range it has been in since April.
October 2015: $499,950
July 2007: $481,000 (pre-2015 high)
Here's this month's article from the Seattle Times: King County home prices climb amid worst shortage of inventory in a decade
Check back tomorrow for the full reporting roundup.