Get access to the full spreadsheets used to make the charts in this and other posts, as well as a variety of additional insider benefits by becoming a member of Seattle Bubble.
October market stats were published by the NWMLS this morning. They haven't posted their press release yet, so I don't have the usual excerpt from that. Let's take a look at the numbers.
Here's your King County SFH summary, with the arrows to show whether the year-over-year direction of each indicator is favorable or unfavorable news for buyers and sellers (green = favorable, red = unfavorable):
| October 2016 | Number | MOM | YOY | Buyers | Sellers |
| --- | --- | --- | --- | --- | --- |
| Active Listings | 3,025 | -18.2% | -1.3% | | |
| Closed Sales | 2,514 | -0.1% | +9.3% | | |
| SAAS (?) | 0.90 | -25.8% | -14.3% | | |
| Pending Sales | 2,829 | -3.1% | +5.8% | | |
| Months of Supply | 1.20 | -18.1% | -9.6% | | |
| Median Price* | $550,000 | +2.2% | +14.6% | | |
September was a mixed bag, with some numbers moving in buyers' favor, but October was pretty much all bad news for buyers. The only news that wasn't pretty terrible for home buyers was that pending sales were down slightly in a month that often sees a slight increase in other years.
Here's your closed sales yearly comparison chart: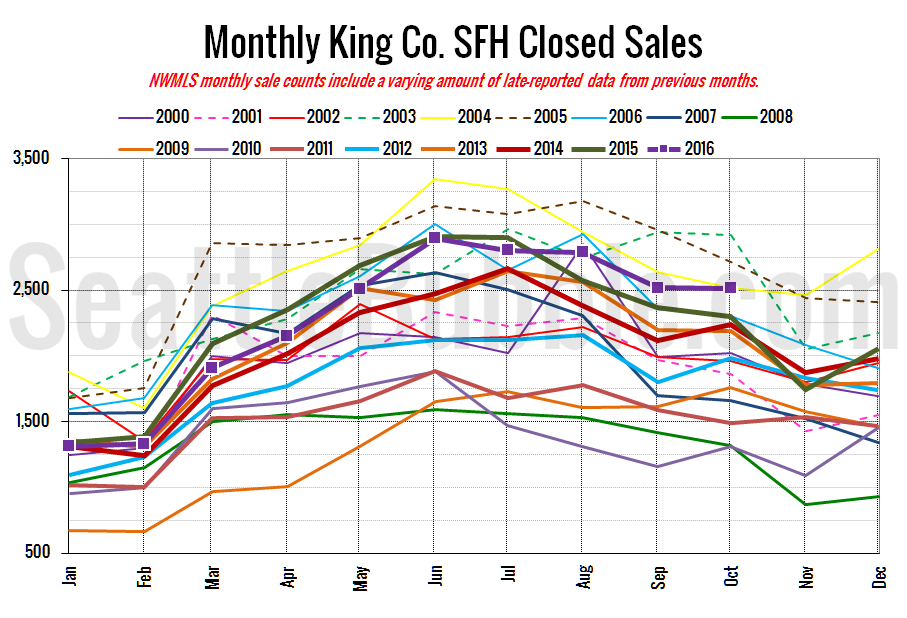 Closed sales were basically flat from September to October, and were up nine percent from a year earlier. Demand is still fairly strong.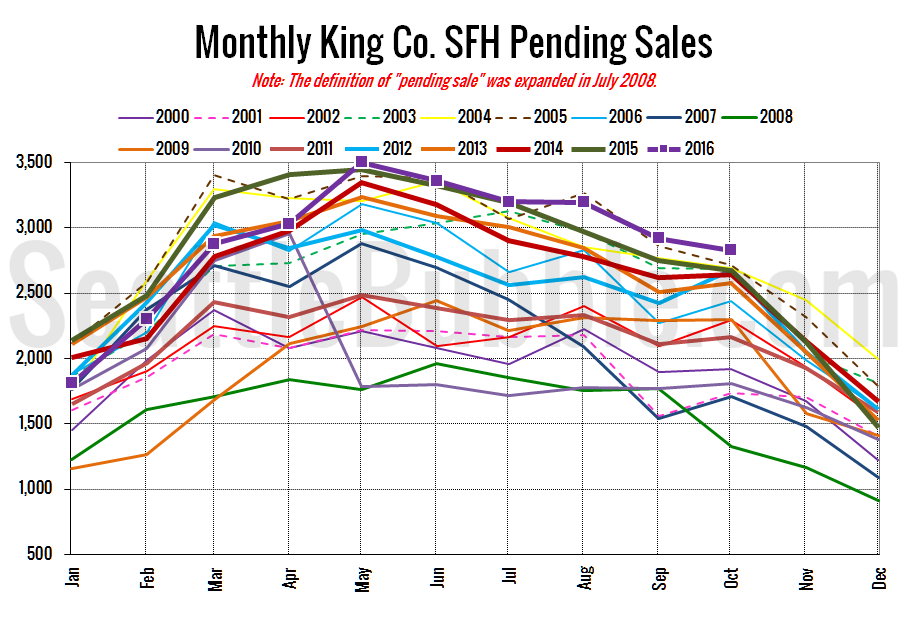 Pending sales fell three percent in October. In eleven out of the last sixteen years, pending sales have gone up between September and October, so a slight dip is at least not terrible news for buyers. However, we saw about the same drop last year, so it's probably nothing to get too excited about. Pending sales were still up six percent year-over-year.
Here's the graph of inventory with each year overlaid on the same chart.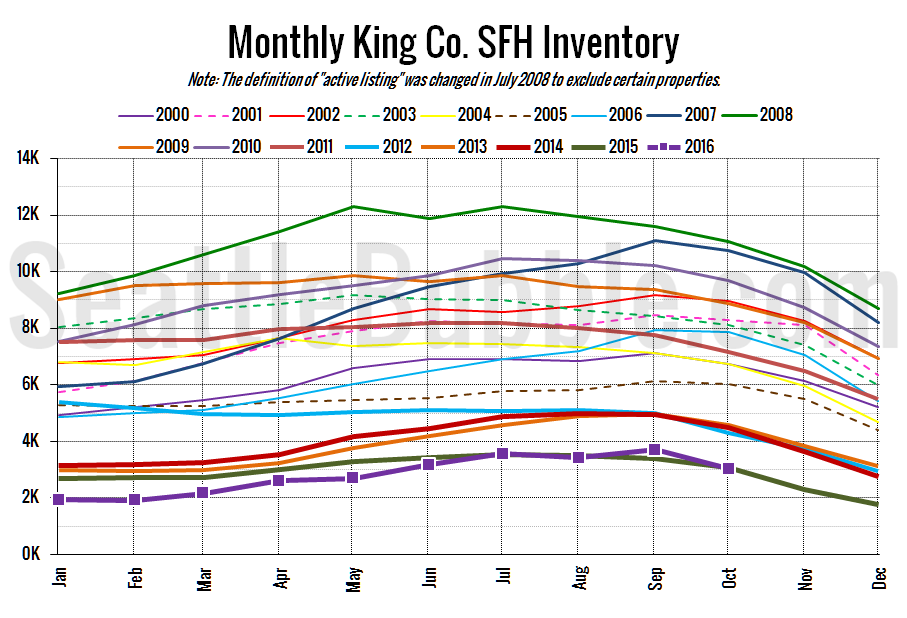 Listings are back in the red from a year earlier, falling one percent from October 2015 and eighteen percent from just a month ago. Last year listings fell ten percent between September and October.
Here's the supply/demand YOY graph. "Demand" in this chart is represented by closed sales, which have had a consistent definition throughout the decade (unlike pending sales from NWMLS).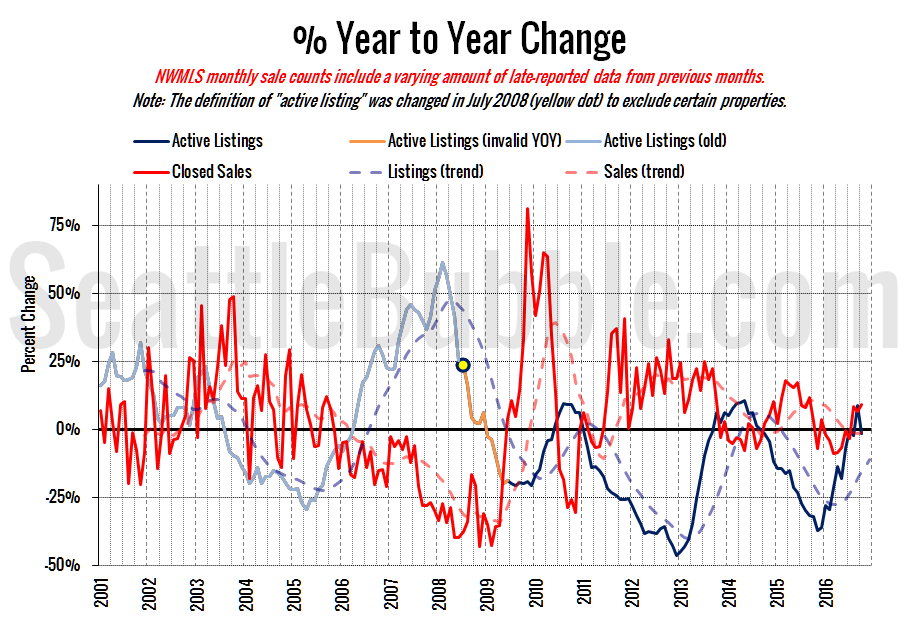 Both lines have moved back into sellers' territory.
Here's the median home price YOY change graph: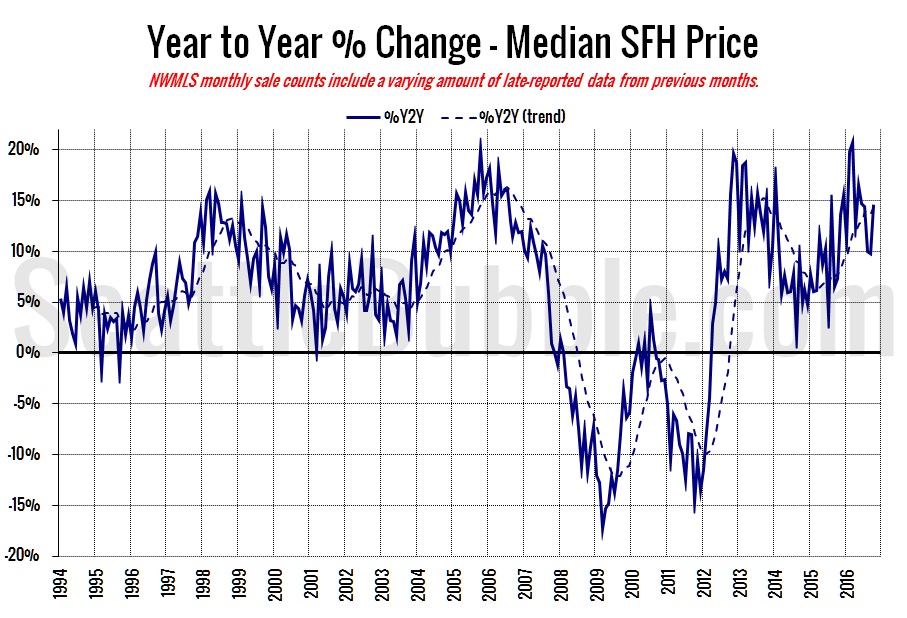 Year-over-year home price gains shot back up from ten percent the past two months to nearly fifteen percent in October.
And lastly, here is the chart comparing King County SFH prices each month for every year back to 1994 (not adjusted for inflation).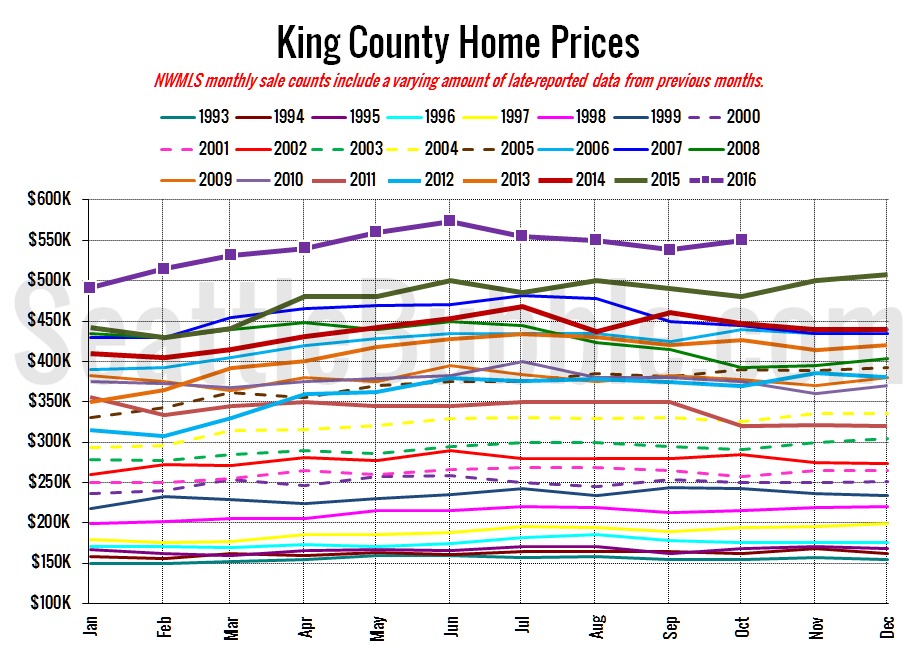 October 2016: $550,000
July 2007: $481,000 (previous cycle high)
The Seattle Times hasn't posted their article yet. I'll most likely post some kind of reporting roundup on Monday with the NWMLS press release and any local stories that post over the weekend about the October data.