Get access to the full spreadsheets used to make the charts in this and other posts, as well as a variety of additional insider benefits by becoming a member of Seattle Bubble.
January market stats have been published by the NWMLS. Here's a quick excerpt from their press release:
Home Buyers Still Competing for Sparse Inventory in Western Washington, Driving Up Prices – Especially for Sought-After Condominiums


"The Seattle area real estate market hasn't skipped a beat with pent-up demand from buyers is stronger than ever," remarked broker John Deely in reacting to the latest statistics from Northwest Multiple Listing Service. The report on January activity shows a slight year-over-year gain in pending sales, a double-digit increase in prices, and continued shortages of inventory.
…
"The decline in sales last month can't be blamed on the holidays, weather or football. It's simply due to the ongoing shortage of housing that continues to plague markets throughout Western Washington," said OB Jacobi, the president of Windermere Real Estate.
Bummer for home salespeople that they can't use the "football" excuse they usually throw out in January. Not that there's really anything in these latest numbers for them to be concerned about.
Now let's dive into the numbers for January.
Here's your King County SFH summary, with the arrows to show whether the year-over-year direction of each indicator is favorable or unfavorable news for buyers and sellers (green = favorable, red = unfavorable):
| January 2018 | Number | MOM | YOY | Buyers | Sellers |
| --- | --- | --- | --- | --- | --- |
| Active Listings | 1,243 | +6.4% | -20.8% | | |
| Closed Sales | 1,259 | -39.9% | -20.4% | | |
| SAAS (?) | 1.01 | +17.4% | +26.1% | | |
| Pending Sales | 1,747 | +19.7% | -9.9% | | |
| Months of Supply | 0.99 | +77.0% | -0.5% | | |
| Median Price* | $628,388 | -1.0% | +19.7% | | |
Inventory is at its lowest January level ever, and new listings were only barely above last year's record-low level. Despite having nearly the same number of new listings as last year, closed sales and pending sales are both down considerably. Meanwhile, prices are up nearly twenty percent year-over-year.
Here's your closed sales yearly comparison chart:
Closed sales fell forty percent between December and January. Last year over the same period closed sales were down twenty-seven percent. Year-over-year closed sales were down twenty percent. That's a pretty big decline. It will be interesting to see if sales pick up in the next few months or keep dropping.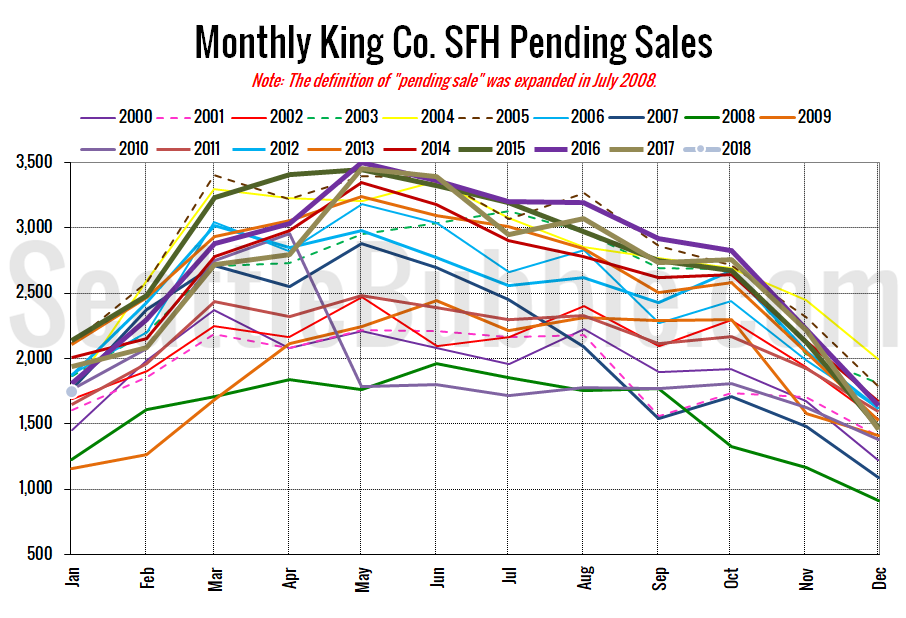 Pending sales were up twenty percent from December to January, and were down ten percent year-over-year.
Here's the graph of inventory with each year overlaid on the same chart.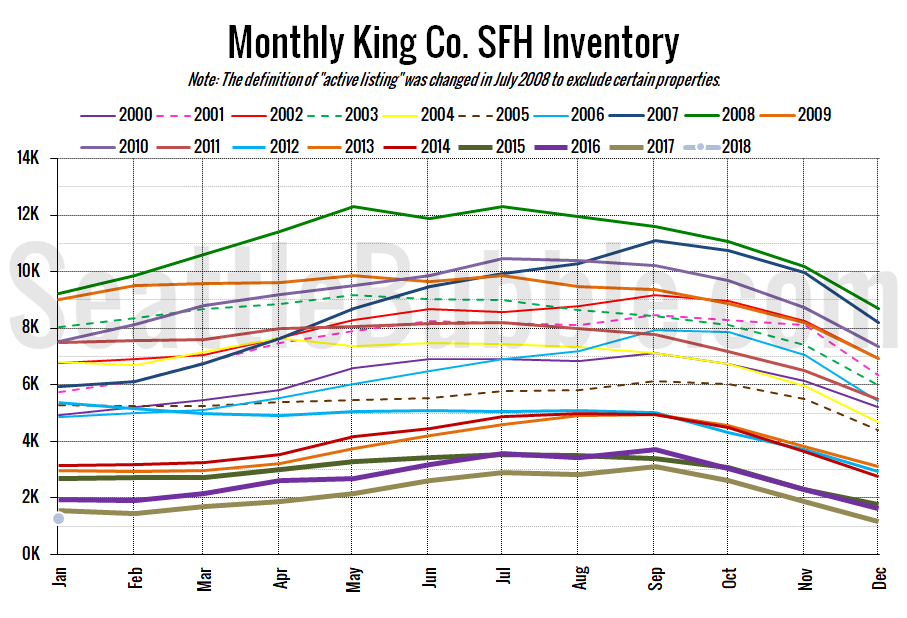 Inventory rose six percent from December to January, and was down twenty-one percent from last year. Total on-market listings are the lowest level for any January on record.
Here's the chart of new listings: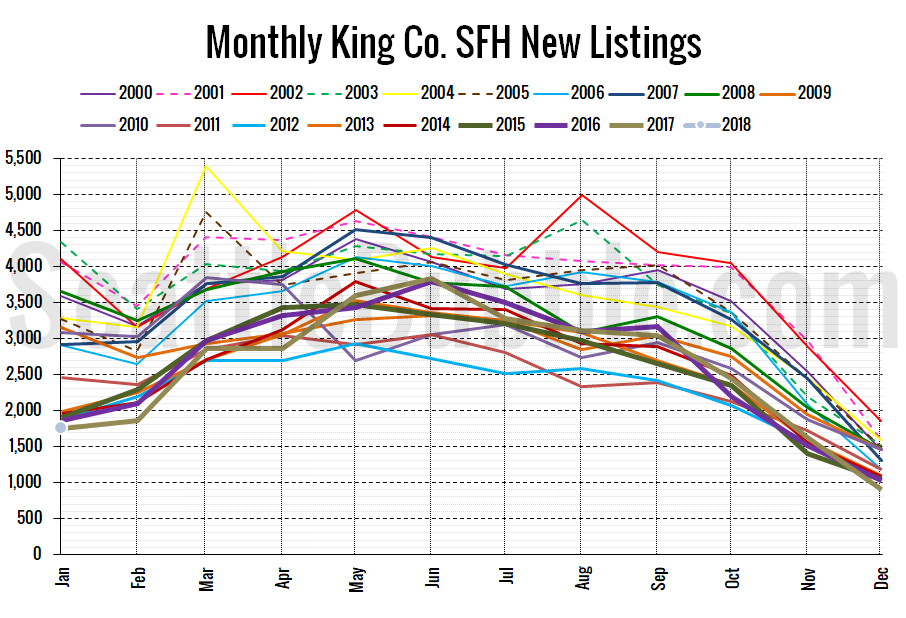 New listings were up just 0.3 percent from a year ago—a whopping six more homes hit the market this January compared to January 2017.
Here's the supply/demand YOY graph. "Demand" in this chart is represented by closed sales, which have had a consistent definition throughout the decade (unlike pending sales from NWMLS).
The drop in closed sales is actually pretty sudden and severe in this chart. The last time the year-over-year change in closed sales was anywhere near this low was late 2010.
Here's the median home price YOY change graph: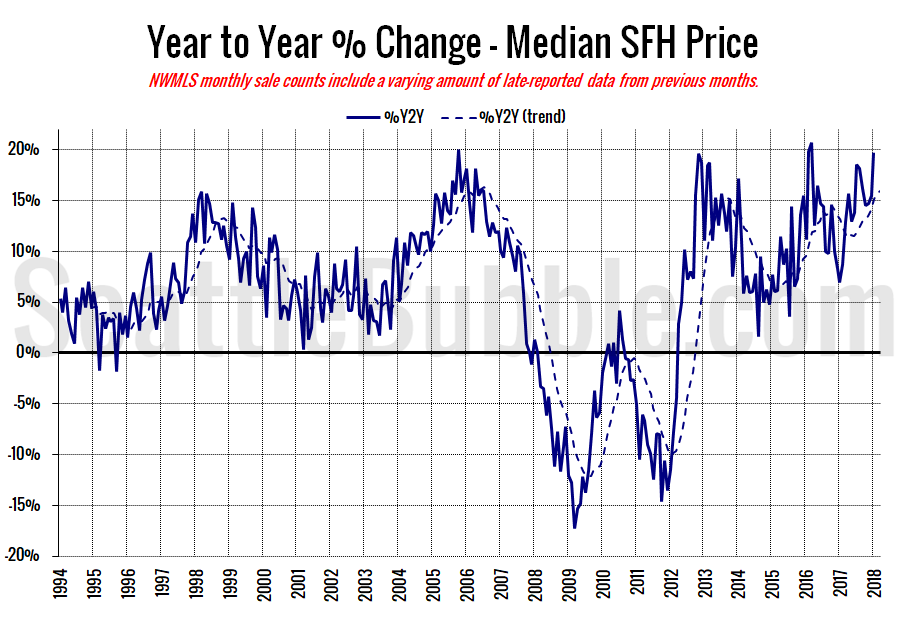 Year-over-year price changes shot up to their highest level since March 2016, nearly hitting twenty percent again.
And lastly, here is the chart comparing King County SFH prices each month for every year back to 1994 (not adjusted for inflation).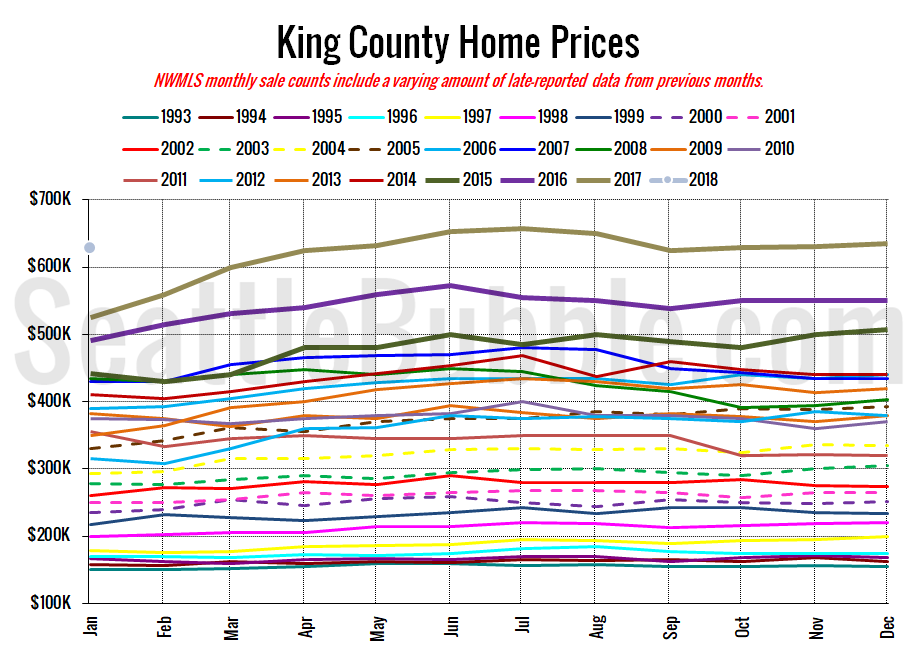 Down slightly from December and currently about $30k below the all-time high hit last July.
January 2018: $628,388
July 2007: $481,000 (previous cycle high)
Here's the article from the Seattle Times: King County housing market kicks off 2018 even hotter than before, as Seattle breaks price record