Let's have a look at the latest data from the Case-Shiller Home Price Index. According to July data that was released this morning, Seattle-area home prices were:
Up 0.6 percent June to July
Up 11.2 percent YOY.
Up 5.9 percent from the July 2007 peak
Over the same period last year prices were up 0.4 percent month-over-month and year-over-year prices were up 7.2 percent.
The Seattle area's Case-Shiller home price index hit yet another new all-time high in July, and turned in stronger numbers than a year ago across the board. Again. This matches with the July data we've already seen from public records and NWMLS.
Here's a Tableau Public interactive graph of the year-over-year change for all twenty Case-Shiller-tracked cities. Check and un-check the boxes on the right to modify which cities are showing:
Seattle's rank for month-over-month changes was at #1 in March and April, dropped to #4 in May, moved up to #2 in June, and fell all the way to #12 in July.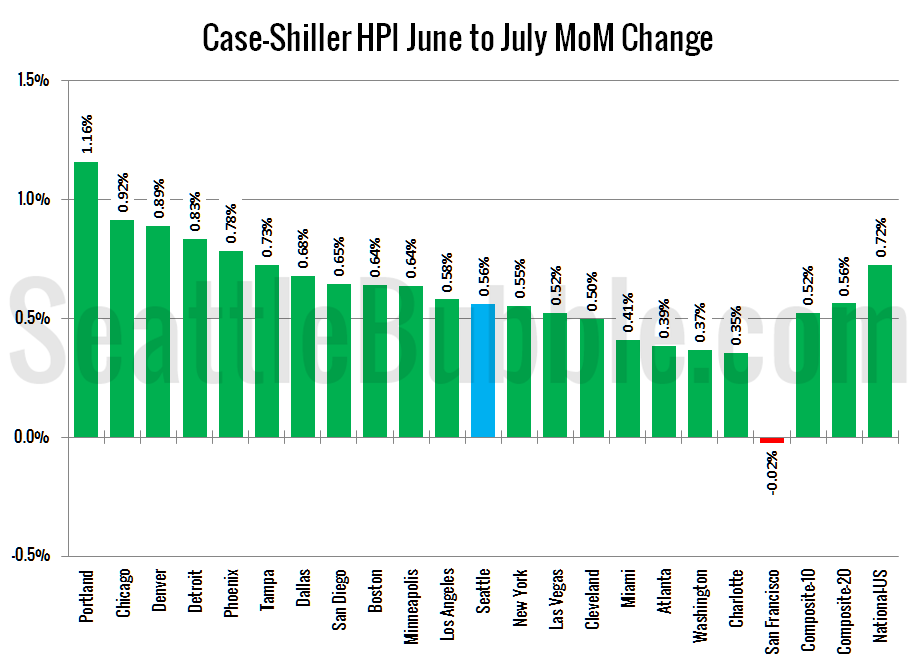 Hit the jump for the rest of our monthly Case-Shiller charts, including the interactive chart of raw index data for all 20 metro areas.