Let's have a look at the latest data from the Case-Shiller Home Price Index. According to April data, Seattle-area home prices were:
Up 1.4% April to May
Up 7.4% YOY.
Down 6.1% from the July 2007 peak
Last year at this time prices rose 1.4% month-over-month and year-over-year prices were up 9.3%.
The Seattle area's month-over-month home price changes shrank slightly from April to May, but the year-over-year change held steady.
Here's a Tableau Public interactive graph of the year-over-year change for all twenty Case-Shiller-tracked cities. Check and un-check the boxes on the right to modify which cities are showing:
Seattle's position for month-over-month changes fell from #1 in April to #6 in May. No other metro area saw home prices increase more over the month than they did in Seattle.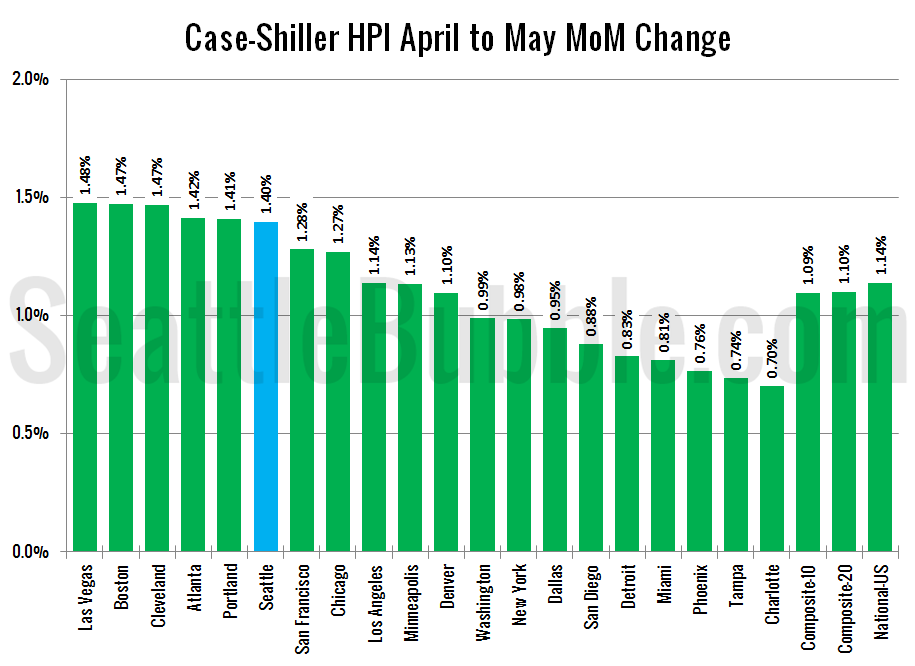 Hit the jump for the rest of our monthly Case-Shiller charts, including the interactive chart of raw index data for all 20 cities.