I did a phone interview a few weeks ago with Austin Jenkins, an NPR correspondent down in Olympia, about where the local housing market and economy are heading. Here is the resulting story: The New Normal: What Will The NW Housing Market Look Like?
The Northwest economy is on the verge of recovery and with it — transformation.

Economists expect the recession to end in the next year, but not without some long-term changes.

This week we're looking at lasting alterations to the region's economic landscape. Nowhere is that more apparent than in the real estate market.

That used to be the one investment middle income families in the Northwest could rely on. So what does the future hold for real estate?

Olympia Correspondent Austin Jenkins looks for answers in the first part of our series "The New Normal."
…
Will we ever see home prices inflate at a double-digit pace year-over-year?

Real estate blogger Tim Ellis, for one, hopes the answer is no.

Tim Ellis: "To me it's sad that so much of our local economy was based on people selling other people houses for twenty percent more than they sold last year."

Ellis is the man behind the popular blog SeattleBubble.com . He hopes this recession serves as a course correction for the Northwest economy. He yearns for back-to-basics economic engines like Boeing airplanes and Microsoft software.

Tim Ellis: "As opposed to people whipping themselves into a frenzy over how they're going to get rich on their house."

Ellis need not worry about a return of the frenzy says Tom Potiowsky, economist for the state of Oregon.

Tom Potiowsky: "It just naturally is going to be a much slower growing market."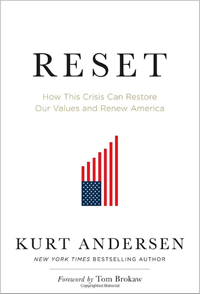 I like the forward-looking angle he took in this piece, but I don't necessarily agree with Austin's conclusion that "buying a home will still be a good investment." Buy a home because you want a place to live to call your own, not as some sort of vehicle to build wealth. The only way a house is an investment is when you purchase a cash-flow-positive rental. But I digress.
I think Austin definitely touched on some interesting topics in his piece. In the time since I spoke with Austin, I picked up a little book called Reset: How This Crisis Can Restore Our Values and Renew America, which touches on some of the same topics, and as an added bonus turns the stars and stripes into a bar chart on the cover.
Despite it being only 70-some pages long, I haven't made the time to sit down and finish reading Reset yet, but so far I'm appreciating the outlook presented within. It feels similar to the topic we touched on back in February when we discussed the "great reset."
Looking toward the future with an optimistic perspective on how we can make our way back to a productive society that is not addicted to debt is a subject I hope to visit more frequently in the coming months.