Time for our September update on Foreclosure activity in King, Snohomish, and Pierce counties. First up, the Notice of Trustee Sale summary:
September 2009
King: 796 NTS, up 31% YOY
Snohomish: 421 NTS, up 42% YOY
Pierce: 479 NTS, down 11% YOY
Not surprisingly, as the newly-mandated 30-day pipeline begins to fill up, foreclosures seem to be resuming their upward trend across the Sound.
It's interesting to note that as of the end of the day yesterday, Trustee Deeds (the actual repossession of a house at auction by a bank) in King County were on track to hit five or six hundred in October, well over a hundred higher than the previous high, set in July (and ten times the levels we were seeing in 2007). But we're getting ahead of ourselves. For now let's focus on this month.
Here's a simple look at how September's foreclosures compare to the same month last year in each of the three counties:
Next let's look at the percentage of households that received a Notice of Trustee Sale (based on household data for each county from the American Community Survey, assuming linear household growth between surveys):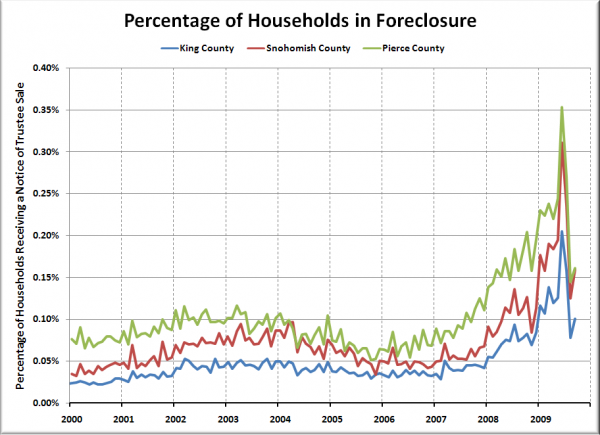 King County came in at 1 NTS per 990 households, Snohomish County had 1 NTS per 626 households, and Pierce had 1 NTS for every 622 households (higher is better).
According to foreclosure tracking company RealtyTrac, Washington's statewide foreclosure rate of one foreclosure for every 264 households was 23rd worst among the 50 states and the District of Columbia (up from 30th last month as the short-term effects of SB 5810 begin to wear off). Note that RealtyTrac's definition of "in foreclosure" is much broader than what we are using.
Following are the usual charts of King, Pierce, and Snohomish County foreclosures from January 2000 through September 2009. Click below to continue…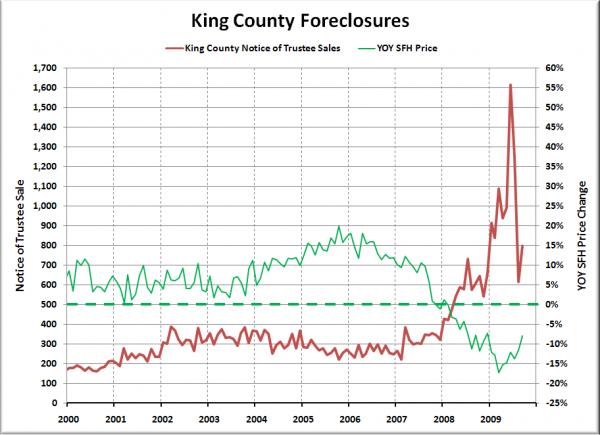 Back up again in September, hitting a level higher than was seen any time prior to 2009.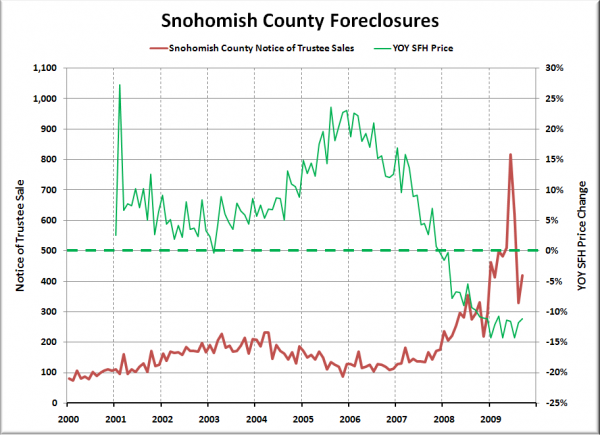 Same story up north in Snohomish County. Lowest month in 2009, but higher than any month on record in any previous year.
Foreclosures ticked up the smallest amount in Pierce, which has been sitting below 2008 levels for two months in a row.
Note: The graphs above are derived from monthly Notice of Trustee Sale counts gathered at King, Snohomish, and Pierce County records. For a longer-term picture of King County foreclosures back to 1979, refer to the final chart in this post. For the full legal definition of what a Notice of Trustee Sale is and how it fits into the foreclosure process, check out RCW 61.24.040. The short version is that it is the notice sent to delinquent borrowers that their home will be repossessed in 90 days.