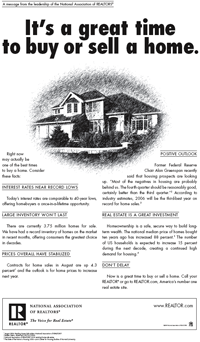 Flashback to September 2006, when the 20-city Case-Shiller index was nearly 30% higher than its latest reading. The National Association of REALTORS® launched a "Public Awareness Campaign" titled It's a Great Time to Buy or Sell a Home. The primary flier for this campaign is pictured at right.
Here are the highlights from the flier:
Right now may actually be one of the best times to buy a home. Consider these facts:

Interest Rates Near Record Lows
Large Inventory Won't Last
Prices Overall Have Stabilized
Positive Outlook
Real Estate is a Great Investment
Don't Delay
Gosh, those talking points sound familiar, don't they? The campaign also included another delightful PDF, ironically titled "buy_now_fact_sheet.pdf." Here is the best part of that one:
WITH THE MARKET CORRECTION NEARING AN END, HOME PRICES ARE EXPECTED TO RISE AGAIN.

Research indicates that home prices will not go any lower. While certain local markets may see limited price declines, the national picture remains bright. Pending home sales were up 4.3% in August, an early indication that buyers are returning to the market.
The national median home price will rise 1.6% in 2006 and prices are expected to rise again in the first quarter of 2007. As prices begin to rise again buyers who do not act now could be making a costly mistake.
If we throw around fancy-sounding words like research enough, maybe people will believe our total BS? I mean seriously guys, Suzanne reasearched this.
In light of the current REALTOR-aided media panic blitz over today's rising rates, I thought this portion was also pretty amusing:
The time for prospective buyers to enter the market is right now; and here's why:

MORTGAGE INTEREST RATES ARE CLOSE TO 40-YEAR LOWS.
The average 30-year fixed rate mortgage rate remains near 40-year lows. Currently at 6.4%, this is more than an entire percentage point below 2000 levels.
You can still download the materials for this campaign directly from the NAR themselves. I was thinking that this was an amusing oversight on their part, but then I realized that their message never changes, so why wouldn't they still want people to download the "Buy Now Fact Sheet"?
The purpose of our
Friday Flashback series
is to remind people why it's never a good idea to base your home purchase decisions on the word of someone with a vested financial interest in selling as many homes as possible for as much as possible, no matter what. If you've got a good example of local home salespeople or other industry shills on record making fools of themselves in the years before the bubble burst,
shoot me an email
.