Time for the monthly reporting roundup, where you can read my wry commentary about the news instead of subjecting yourself to boring rehashes of the NWMLS press release (or in addition to, if that's what floats your boat).
Before we take a look at this month's spin from the NWMLS, let's have a quick refresher of what some local agents were saying just one month ago:
"While the tax credit has gone away, the buyers haven't." – OB Jacobi, NWMLS board member
"The home buyer tax credit did what it was designed to do; it helped with stabilizing the housing market which in turn helped stimulate economic recovery." – J. Lennox Scott, chairman & CEO, John L. Scott Real Estate
"It's exciting to see the stability of the real estate market continue to improve." – Bobbie Chipman, NWMLS director & Coldwell Banker broker
Here's what "buyers not going away," and "stability" looks like: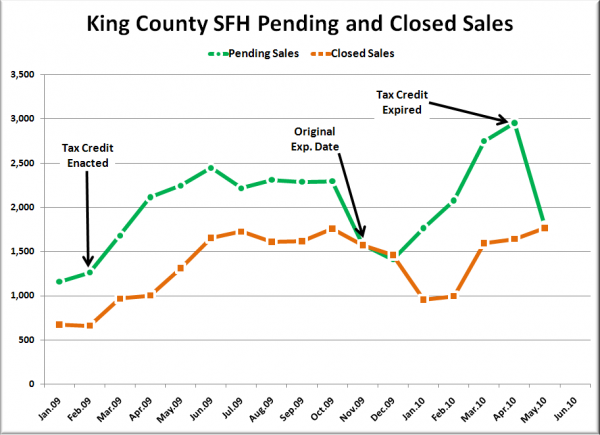 And here's what the NWMLS has to say for itself this month (not live yet, should be here soon): Home sales adjusting after surge before tax credits expired
Home sales during May tapered off around Washington state following a surge of activity in April as buyers hustled to meet deadlines for tax credits.
The chart above looks like what you would describe as "tapering off," right?
"Leading up to its expiration, the tax credit caused a surge of home sales, but a surge can only be sustained for so long," said Lennox Scott, chairman and CEO of John L. Scott Real Estate. "What we're seeing now is a natural adjustment," he explained, adding, "As consumer confidence continues to improve in the coming months, we expect to see the buyer pool replenish itself which should be followed by an increase in home sales."
Keep in mind what Lennox said just three months ago about the tax credit:
The tax credit worked… We had a surge and then an unsurge of sales. We brought buyers forward by a couple months.
Even Mr. Scott admitted that the only purpose of the tax credit was to borrow demand from the future. Woo-hoo, it worked.
So what do the local papers have to say about this month's release? Read on to find out.
Eric Pryne, Seattle Times: Home sales balloon in May thanks to federal tax credits
King County home sales, still riding the wave from recently expired federal tax credits, hit a post-bubble high in May.

But statistics released Friday by the Northwest Multiple Listing Service also suggest that wave has crested.

Buyers closed on 1,766 houses in the county last month, the largest number since August 2007, when the real-estate boom was just starting to go bust. Many May sales consummated contracts signed before April 30, the deadline for buyers to qualify for tax credits of up to $8,000.

But, with the credits no longer a factor, the number of new contracts signed in May plummeted. Pending sales — mutually accepted offers that haven't yet closed — were 39 percent below April's total, and 20 percent below the number recorded last May.

It was the first year-over-year decline since March 2009, and a signal that closed sales also could drop once the tax-credit-inspired deals work their way through the pipeline this month.

"The credit's gone," said Dahni Malgarini-Logar, associate broker at the Remax real-estate office in Renton. "We're back to reality."
Reality indeed. Mr. Pryne is being quite generous saying that the statistics "suggest" that a "wave has crested." Of course, given how disconnected pending sales and closed sales have been recently, it's better to err on the safe side when trying to read the tea leaves of the pending sales data.
Gerry Spratt, Seattle P-I: Pending home sales in Seattle tumble as tax credits end
Pending home sales of single-family homes in Seattle were down 38.45 percent in May compared with April, according to the latest numbers from the Northwest Multiple Listing Service.

The drop in pending sales, which are considered the best barometer for recent activity in the housing market, was expected as federal homebuyer tax credits expired April 30 and the economic recovery failed to pick up much steam.
Couldn't you tell from last month's NWMLS quotes how much they were expecting pending sales to fall? I mean, that's obviously what they meant whey they said things were "stabilizing," right?
"Since this was the first month in over a year without government encouragement to purchase homes, the decline in volume was not surprising, and aside from the median price decline in Snohomish County, the price changes were modest, suggesting price stabilization," said Glenn Crellin, director of the Washington Center for Real Estate Research at Washington State University.
Two problems here, Mr. Crellin.
First, there is still plenty of government encouragement to purchase homes. The government is basically providing the entire market for mortgages through Fannie, Freddie, and FHA. They're still providing mortgage interest deductions. They're still giving home sales a nice capital gains tax exemption. You cannot possibly describe the present environment as one "without government encouragement to purchase homes."
Second, when you talk about median prices, you're looking at closed sales data, which did not really decline in volume (see the above chart). We can't really gauge price data on the reduced volume until the closed data drops off the cliff in a few months.
Mike Benbow, Everett Herald: Home sales in Snohomish County may drop off
Home sales in Snohomish County were good in May, but they're expected to hit a serious slump this month now that the federal income tax break has gone away.

Agents sold 852 homes in the county last month, a nearly 28 percent increase from numbers a year ago. But pending sales dropped by nearly 32 percent, meaning a lot fewer deals will close in June, according to data released Friday by the Northwest Multiple Listing Service.
Yeah, home sales "may" drop off. It's a possibility. Also, for what it's worth, I don't expect to see the sharp drop until July. Over the last couple years the trend of closed sales has roughly followed the direction and magnitude of changes in pending sales on a two-month delay.
"Staff," Tacoma News Tribune: Area home sales slow in May
Lookie-loos are out touring again, after residential home sales stagnated in May, according to some local and state real estate agents.

"We had a very slow May, but now it's picked up again," said Tom Hume, a Realtor at Windermere Professional Partners in Tacoma. "I think it was a lull, the market was taking a breath."

Rainy May weather kept people inside, rather than out looking at homes in what is traditionally one of the busiest times of the year, Hume said.

"Believe it or not, that affects if buyers get out there and look. If it's raining, they want to stay home," Hume said. "But it has picked up quite a bit."
Awesome. I was hoping someone would try to blame the rain. The weather is the perpetual scapegoat whenever sales seem a little slow. It's always the weather. Because people will put off the major life change of buying a house if the sun doesn't come out for a couple of days. It's a totally believable theory.
Rolf Boone, The Olympian: Pending home sales fall 30% in Thurston
Expired federal tax incentive programs for first-time and existing homeowners contributed to a sharp downturn last month in the number of pending sales, according to Northwest Multiple Listing Service data released Friday.

South Sound real estate professionals acknowledged Friday that pending sales here were affected by the end of the tax-credit programs; still, some argue that falling prices have had a larger effect on the market than the tax-incentive programs.

"The bigger driver is affordability," said Ken Anderson, broker and owner of Coldwell Banker Evergreen Olympic Realty.
I agree that less expensive homes will drive more sales, but most of the boost we've seen over the past year has been thanks to the tax credit, as evidenced by the steep drop in pending sales once the tax credit disappeared.
(Eric Pryne, Seattle Times, 06.04.2010)
(Gerry Spratt, Seattle P-I, 06.04.2010)
(Mike Benbow, Everett Herald, 06.05.2010)
("Staff," Tacoma News Tribune, 06.05.2010)
(Rolf Boone, The Olympian, 06.05.2010)