It's been nearly four months since we ran our month-long census of Seattle Bubble readers, and it's high time that I shared the results.
During the month the survey was open, 1,147 people responded. While there were ten questions on the survey form, I won't bore everyone with a complete, detailed breakdown of every single result, cross-tabulated with every other result. Instead, here are a few highlights.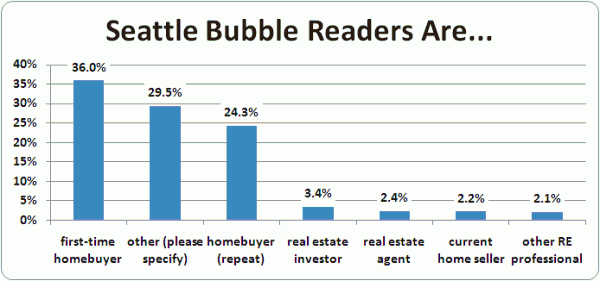 On this question I apparently did a poor job of wording the choices, since most of the people who marked "other" wrote in that they were renters. I was trying to capture all the renters with the other options, but I guess I should have been more explicit. Overall though, the results here are what you would probably expect: most Seattle Bubble readers (a little over 60%) are in the market to buy a home.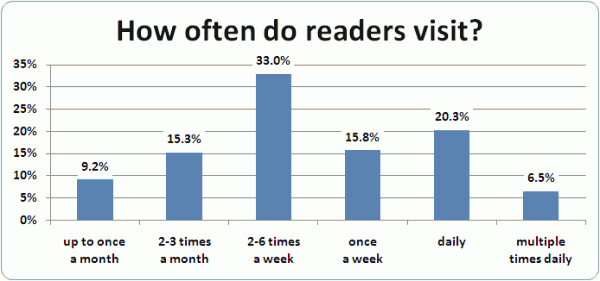 This one surprised me a little. Anyone who spends a little time visiting the comments can see that we obviously have a few serious fans who spend a lot of time here every day, but I wasn't expecting over a quarter of you to visit at least daily. Nice! At least it makes me feel good about making a special effort to produce something new here seven days a week.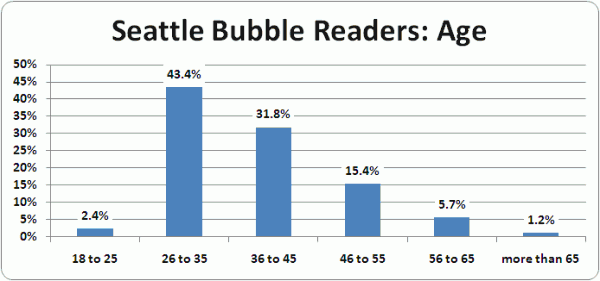 Nothing too surprising here. Three quarters of you are between 26 and 45—prime homebuying age.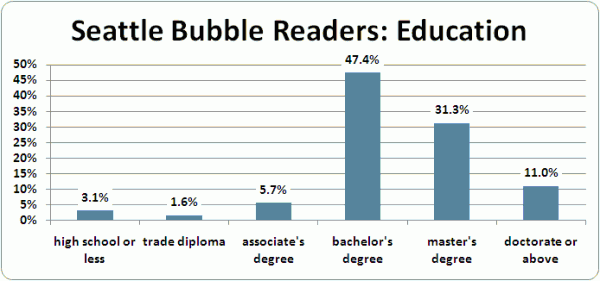 As it turns out, Seattle Bubble readers tend to be a pretty well-educated bunch. Nearly nine out of ten of you have at least a Bachelor's degree. No wonder you're so good at keeping me honest!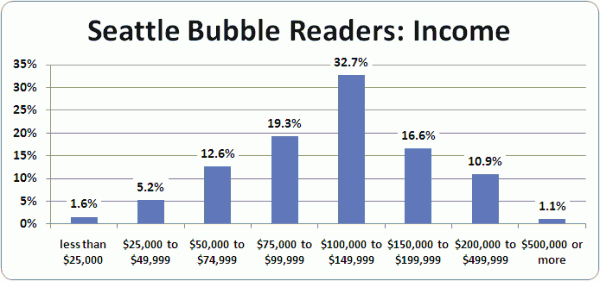 Not only are most of our readers well-educated, but you're making pretty good money, too. Over 60% of you are making six figures or better.
The last page of the survey was an open-ended question: "If you could teach realtors one thing about homebuyers in today's market, what do you believe they still need to learn?" Over 500 of you responded. Here are some especially thought-provoking comments.
How to listen. The agent we worked with before decided to stop looking didn't listen to what we said we wanted in a house. Instead she kept taking us to houses "she though we'd like".
Affordable home prices are GOOD for the market.
Encourage buyers to limit spending to roughly 70-75% of what the bank is willing to loan you. And, under NO CIRCUMSTANCES, should a realtor ever encourage spending more than buyer is comfortable with (especially on the false assumption that the "value of you home always goes up" or "you'll have instant equity" or "a home the best investment you can make", etc…)
Buyers have access to a lot more info than they used to. That includes individual property records, and a long list of stats for each area (zip code, city, county , state).
We have access to so much information now that realtors need to make a strong case, preferably a quantitative one, for exactly what they bring to the table. They need to sell not just a service but the value of that service, and this needs to be done on a per-buyer basis because every buyer and every transaction will require different service levels.
Stop saying that, "Now is the best time to buy a home" or "Real estate is a great/best investment you can make." Those lines of rhetoric have not differed over the past 15 years that I've dealt with Realtors. They simply aren't blanket truths. I'd like to see even one Realtor who can do more than a cursory analysis based on the buyer's actual inputs (e.g., equity in an existing property, costs to sell, closing costs on the new place, interest expense over time, property taxes over time, expected appreciation, etc.).
I would like realtors to be honest with me about market status. The majority that I've talked to assume that buyers are idiots, and try to convince me that this is the time to buy, rates will never be lower and prices are as low as they're ever gonna get—so buy now, it's a panic! It would be refreshing to have a realtor be honest with me.
If more people knew how easy FSBO + lawyer was, you'd be out of business. Love how Redfin has attempted to change the industry and Zillow offers easy access to more info and comparisons.
Thanks for all your responses!