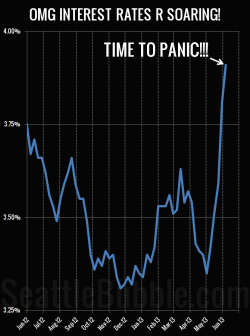 Looks like it's that time again… Recent headlines have described an increase in mortgage interest rates from 3.35% to 4.0% with hyperbole like "Mortgage Rates Soar," and "Soaring U.S. Mortgage Rates."
If this sounds familiar it's because we heard the same nonsense when rates moved from 5.0% to 5.3% in 2010. These types of articles often include a graphic like the one at right, with the x and y axes manipulated to make the latest gyrations in interest rates look like a very big deal that will most likely destroy the housing market.
I've pointed this out numerous times in the past, but it is worth repeating: Rates are still crazy low.
Rates could increase four percentage points and still be historically low. Here's the appropriate historical context to keep in mind when you read these hysterical stories about rates "soaring" or "hitting a one-year high."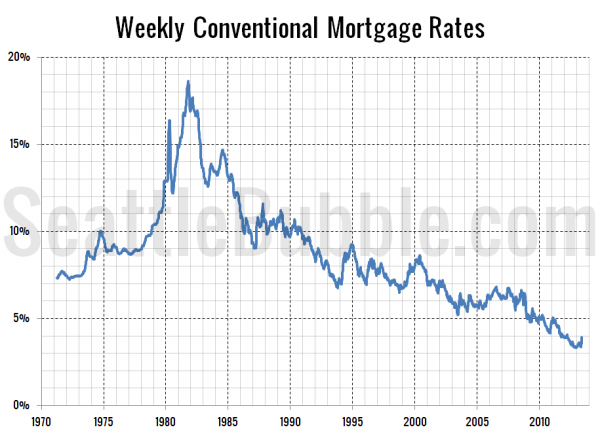 The latest increase barely registers as a blip when the chart is appropriately scaled.
As long as interest rates are still below 6%, I doubt we'll have anything resembling a "normal" housing market. I for one take increasing interest rates to be a good sign. It's an indication that the market is able to sustain itself without artificial manipulation via ridiculously low rates.