Disclosure: Tim worked at Redfin from 2010 through 2013, and owns a modest amount of Redfin stock.
Disclaimer: Nothing in this post should be construed as investment advice.
News broke late this afternoon that after 13 years as a "startup," Redfin has finally filed their S-1 with the SEC, signalling their intent to make an initial public offering (IPO) later this year.
Check out the excellent coverage over at GeekWire:
Seattle-based online real estate company Redfin filed for an initial public offering on Friday with U.S. regulators and will seek to raise up to $100 million.

It's unclear when exactly Redfin would go public or how many shares it will offer. The company plans to trade on the NASDAQ under "RDFN." Redfin declined to provide additional details when contacted by GeekWire.

Redfin would be the first Pacific Northwest company to go public in 2017.

The 13-year-old self-described "technology-powered real estate brokerage," which has been a recent candidate to test the public markets, is active in more than 80 markets across the U.S. It has helped customers buy or sell more than 75,000 homes worth more than $40 billion combined.
They also discuss some interesting bits of information from the filing, including the fact that Redfin has been testing something called "Redfin Now" since January:
In Redfin's IPO filing that posted Friday, the company revealed a new service it is testing called Redfin Now that lets the online real estate brokerage buy homes directly from customers.

Redfin, which is looking to raise up to $100 million in its public offering, said customers of Redfin Now will "typically get less money for their home than they would listing their home with a real estate agent, but get that money faster with less risk and fuss."
If that sounds familiar, that's because it's basically the same thing that the startup OpenDoor has been doing for a few years. Zillow also launched their own version of a similar service called "Zillow Instant Offers" in May, although personally I believe Zillow's service is just another thinly-veiled way of harvesting leads for agents. But we can discuss that later.
Speaking of Zillow, Redfin's IPO filing gives us the first opportunity we've had to directly compare some financial and usage data between Redfin and Zillow.
Before we get to the charts, keep in mind that Redfin and Zillow have vastly different business models. Redfin is a real estate brokerage that actually helps people buy and sell homes, while Zillow is a middle-man self-proclaimed "media company" that sells ads to agents and has no interest in disrupting real estate. The two companies are different enough that I don't think it makes a lot of sense to compare them, but everyone is going to anyway, so I may as well get the ball rolling.
First up, here's a chart comparing the top-line revenue and total net loss each company has seen over the last three complete years 2014 through 2016: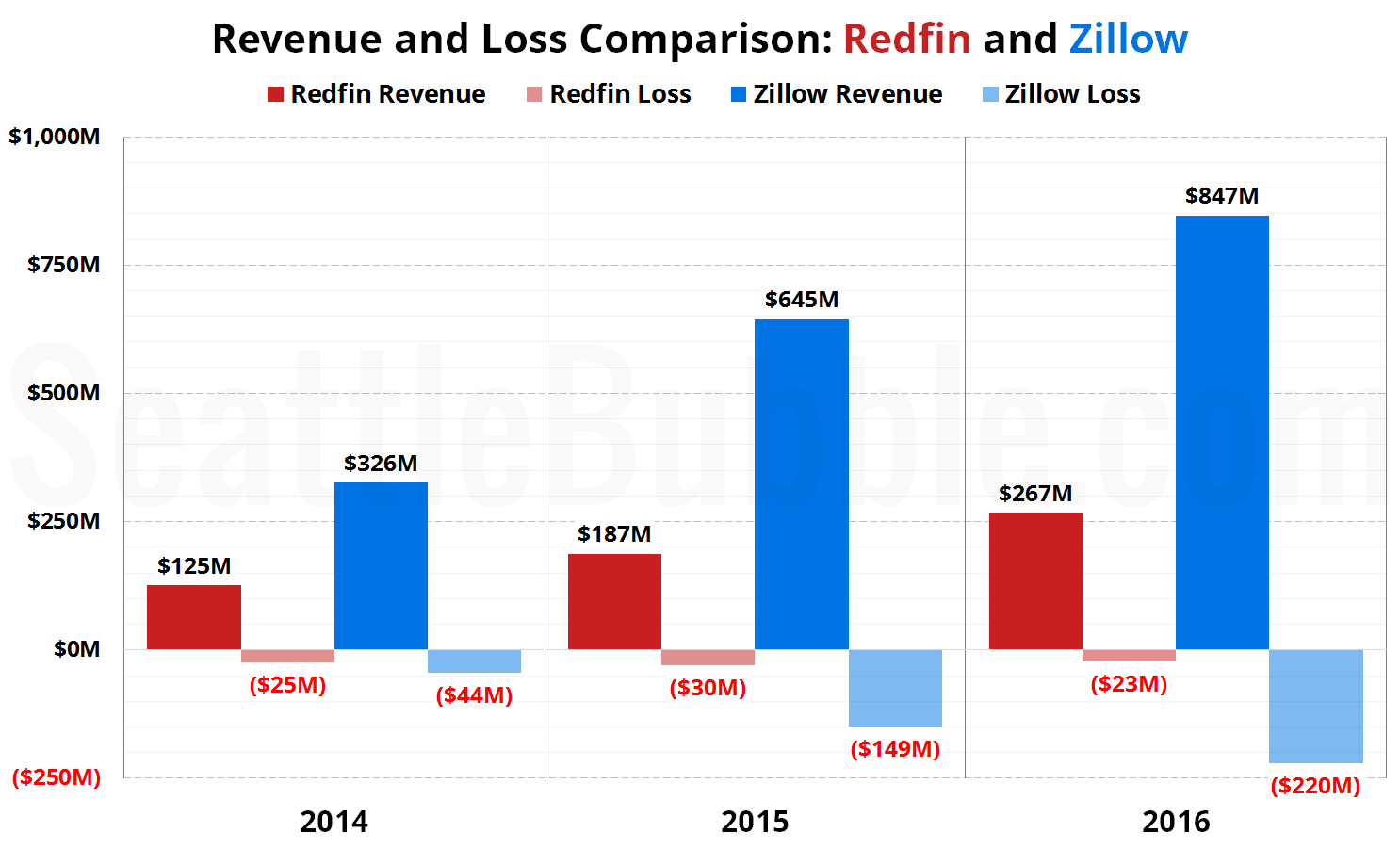 Zillow's revenues are roughly three times Redfin's revenues. What's interesting about this to me is that Zillow has been getting over eight times as many "average monthly unique visitors" than Redfin. The SEC filing shows Redfin's monthly average unique visitors at 20.16 million, while Zillow's first quarter 2017 report put theirs at 166 million. It would seem that Redfin's business is a lot more efficient at converting web visitors into dollars.
Also interesting: here's the loss shown in the chart above, expressed as a percentage of total revenue:
While both Redfin and Zillow have lost money the last three years, Redfin's trajectory looks a lot more promising than Zillow's.
Again, this is not investment advice. I have no idea whether Redfin's IPO will be a good investment or not. I certainly hope that Redfin will go on to be a profitable business long into the future, but I have no way of knowing whether or not that will happen.