Disclosure: Tim worked at Redfin from 2010 through 2013, and owns a modest amount of Redfin stock.
Disclaimer: Nothing in this post should be construed as investment advice.
Redfin's long-awaited IPO went well for the Seattle-based technology-powered real estate brokerage this morning. They priced the IPO at $15 per share last night, raising $138 million for the company. When shares started trading on the open market this morning under the ticker symbol RDFN they opened at $19.56.
.@Redfin takes over Times Square after ringing the @Nasdaq Opening Bell in celebration of their IPO!!🎉🎉 $RDFN #NasdaqListed pic.twitter.com/cKbM5ZBFeO

— Nasdaq (@Nasdaq) July 28, 2017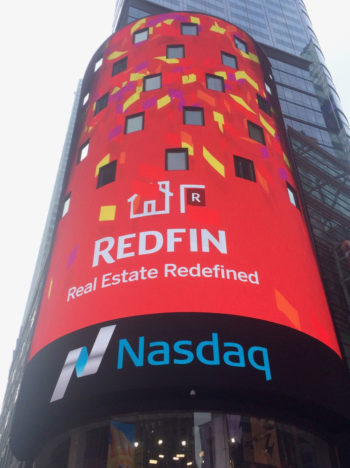 My friends over at GeekWire have been publishing great coverage this morning and last night in a series of articles (updated with two more links):
As of 11:00 AM this morning, RDFN has climbed to over $21 per share, which gives the company a market cap of about $1.67 billion.
Here's hoping that Redfin goes on to do great things with the new cash infusion, bringing much-needed change to the industry. I'm rooting for them, and not just because I'm a shareholder.
I'm raising my glass to the @Redfin IPO this morning!

Seriously though, I hope it goes great. $RDFN #RedfinIPO pic.twitter.com/KMvxv5cG4O

— The Tim (@The_Tim) July 28, 2017