Yes, it has been over a month since the last update here. What is there to say when the market is the same frenzied nonsense day after day, week after week, month after month? It's exhausting, and I'm not even in the market to buy a home. If you are, you definitely have my pity.
Even when I'm not posting here, I am still keeping my spreadsheets up to date and sharing them with those who support my ongoing work as members of Seattle Bubble.
Anyway, I'm back because there's something definitely interesting in our regular monthly "preview" charts for May. Unless something has really broken in my data collection, it looks like we're seeing a sudden surge of listings begin to pile up.
Here's the summary for May: Sales look to be a bit lower than last year, even as the spring bump has begun. Listings are still struggling to make gains. Foreclosures are still nearly non-existent.
Here's the snapshot of all the data as far back as my historical information goes, with the latest, high, and low values highlighted for each series:
Since this is where the interesting data is, let's start with an update of the inventory charts, updated with previous month's inventory data from the NWMLS.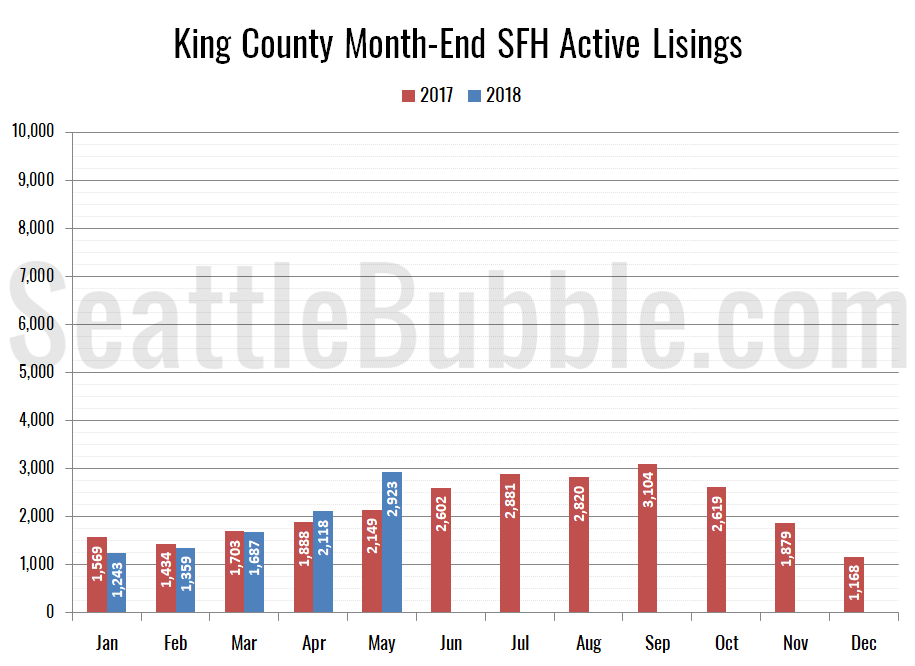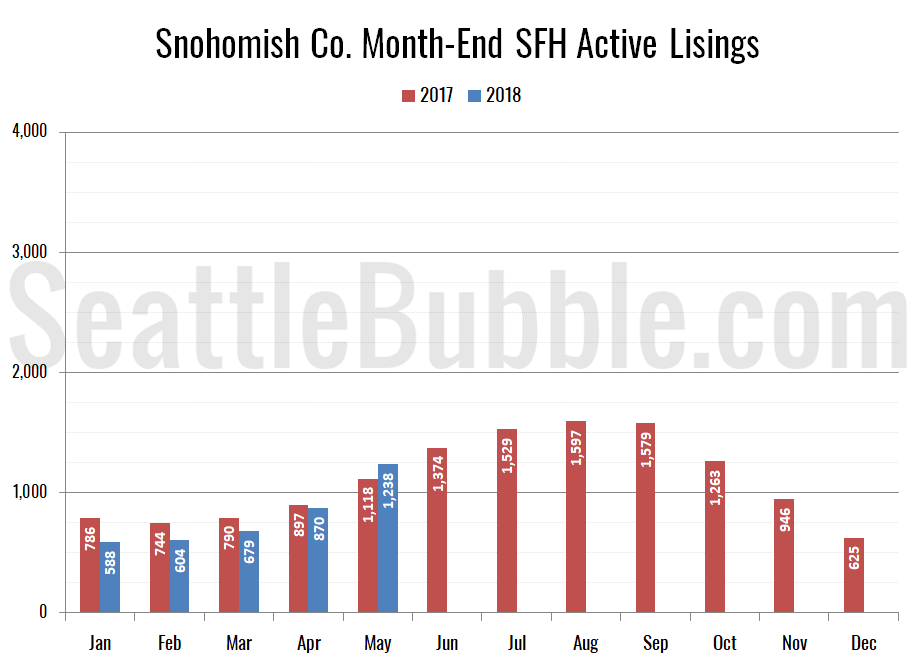 The number of homes on the market in King County shot up thirty-six percent in May. This is the largest increase since May 2008. If this isn't some kind of data collection error, this is a pretty big spike. It follows a reasonably large increase of twelve percent the month before, so we could finally be seeing the beginning of a trend that points toward an easing market.
In Snohomish County the inventory gains were a lot smaller at just eleven percent, which is the largest increase since October 2014.
Next, let's look at total home sales as measured by the number of "Warranty Deeds" filed with King County:
Sales in King County increased twelve percent between April and May (a year ago they rose thirty percent over the same period), but were down seven percent year-over-year—another sign that the market may be softening.
Here's a look at Snohomish County Deeds, but keep in mind that Snohomish County files Warranty Deeds (regular sales) and Trustee Deeds (bank foreclosure repossessions) together under the category of "Deeds (except QCDS)," so this chart is not as good a measure of plain vanilla sales as the Warranty Deed only data we have in King County.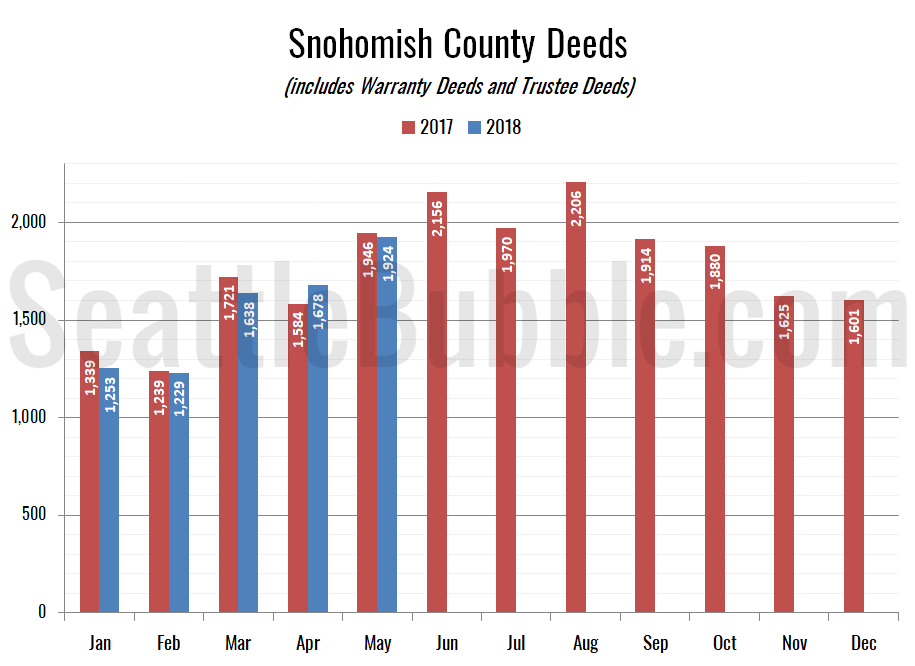 Deeds in Snohomish increased fifteen percent month-over-month (vs. a twenty-three percent increase in the same period last year) and were down one percent from a year earlier.
Next, here's Notices of Trustee Sale, which are an indication of the number of homes currently in the foreclosure process: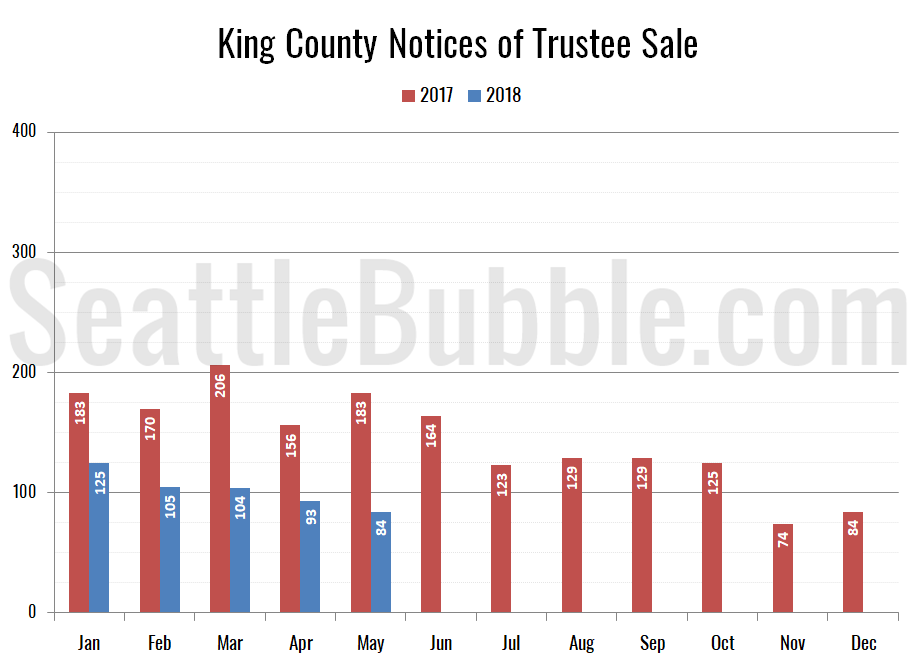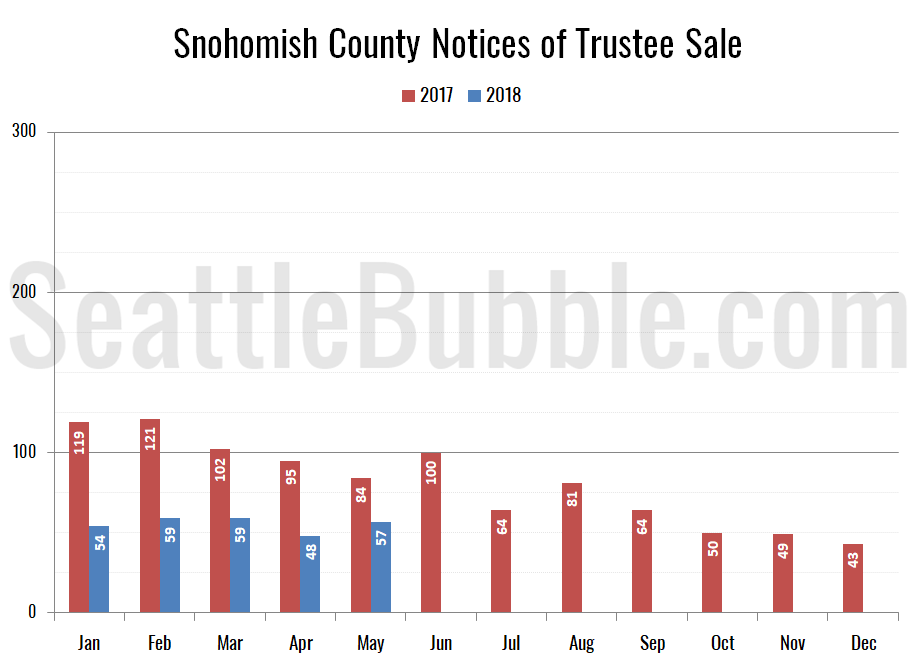 Foreclosure notices in King County were down fifty-four percent from a year ago and Snohomish County foreclosure notices were down thirty-two percent from last year. As low as these foreclosure numbers are, I'm surprised that they continue to drop year-over-year.
Here's another measure of foreclosures for King County, looking at Trustee Deeds, which is the type of document filed with the county when the bank actually repossesses a house through the trustee auction process. Note that there are other ways for the bank to repossess a house that result in different documents being filed, such as when a borrower "turns in the keys" and files a "Deed in Lieu of Foreclosure."
Trustee Deeds were down sixty-four percent from a year ago. The only time there have been fewer trustee deeds than we've seen over the last few months was August through October of 2003.
Note that most of the charts above are based on broad county-wide data that is available through a simple search of King County and Snohomish County public records. If you have additional stats you'd like to see in the preview, drop a line in the comments and I'll see what I can do.
Stay tuned later this month a for more detailed look at each of these metrics as the "official" data is released from various sources.