I'd like to try something a little different. Since posting on here tends to break up the various topics that make up the whole of the housing market, I thought it would be useful to put together a "state of the market" post once a quarter or so that brings everything together.
We'll cover the basics of what's going on in the local housing market right now, with links to relevant recent posts in case you missed them. If this is something you would like to see on a regular basis, let me know in the comments.
Supply: Inventory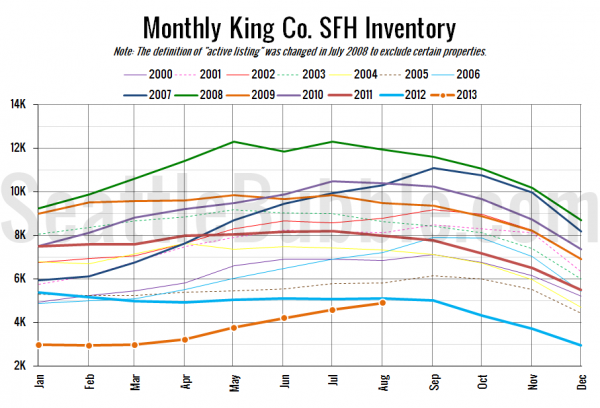 Listing inventory is finally heading back up after falling nearly every single month since July 2010 and setting record seasonal lows for 18 months straight. We're still at almost the lowest point we've ever seen, but listings are moving back toward a normal level, which indicates that a more balanced market should be on the horizon.
Demand: Sales
Sales have come in very strong this year, due to a combination of ultra-low interest rates and near-the-bottom home prices. If interest rates continue to rise up to five percent or more, expect sales to drop off dramatically (though not as dramatically as they did when the recession hit in late 2008)
Prices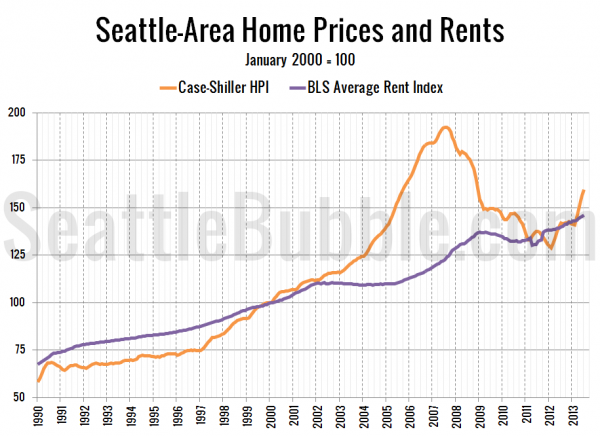 The combination of this year's ultra-low inventory and strong sales have led to a dramatic increase in home prices. This year's gains have now put home prices above a level that is supported by local fundamentals such as rent levels. Some of the recent spike is due to a changing mix of homes selling in more expensive regions and fewer distressed sales, but some of it is definitely homes just getting more expensive. I expect home prices to settle down over the next few months.
Other Factors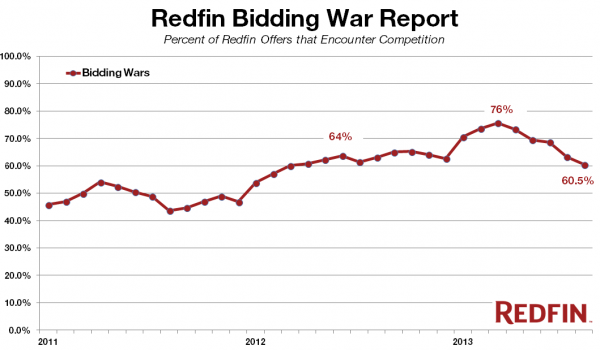 Thanks to the increasing inventory, the record-high level of bidding wars has tapered off in recent months. This is good news for buyers, but for homeowners thinking of selling who didn't pull the trigger this year it means that you may have missed the best window of opportunity.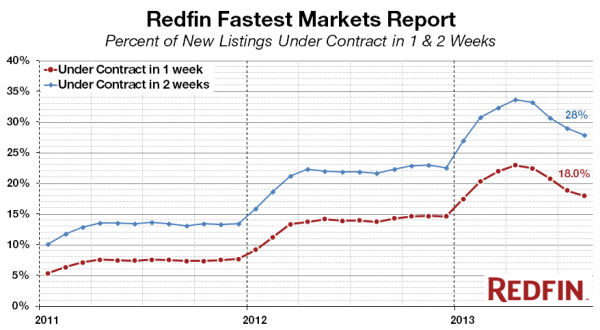 Similarly, the speed at which homes are selling has been tapering off over the last few months as well, indicating that later this year and early next year should see a more calm market.
Summary
In general, we're currently in a housing market that is still skewed strongly in favor of sellers, but the trend over the last few months has been toward buyers. Home prices are high relative to a year ago, but rising interest rates and increasing inventory should work to slow price gains to more reasonable levels in the coming months.
If you're thinking of buying, you'll probably have less competition and slightly lower interest rates if you buy in the next few months instead of waiting until next spring, but inventory gains probably won't really pick up steam until then. If you're thinking of selling, you might want to think about listing now. If a lot of homes hit the market and interest rates continue to rise, attempting to sell a home next spring could be a frustrating experience.